Wanna know all the big outdoor/street parties/festivals going on next week for Seattle LGBTQ Pride Week celebrations?
Let's list and chat about ALL of them!
This post is only going to go over the stuff that is almost strictly outdoors in festival settings and consists of two types: open to all and "ya need to be 21 to get in".
Friday is when the fences start going up (actually late Thursday night/very early Friday morning!) especially on Capitol Hill as several big parties get cracking.
The easy one, that's free and open to everyone is Seattle Trans Pride Festival & March which happens in Capitol Hill's Cal Anderson Park on the end closest to Pine Street and 10th and 11th Avenue. It's the 7th edition of the popular event centered on the city's transgender community with the usual array of booths, events, speakers, entertainment and a march. Here's a schedule:
5:00 PM
Volunteer & Tabling Check In
March Assembly @ Thomas & Broadway

March Steps Off Down Broadway

Resource & Tabling Fair in Cal Anderson Park
6:30 PM – 9:30 PM
Main Stage Programming in Cal Anderson Park
You should be aware that a fascist homophobic MAGA hat wearing group, "Proud Boy" is planning on staging some sort of counter march during the Trans March. Everyone is very much on alert this year, with that threat so be alert in public gatherings!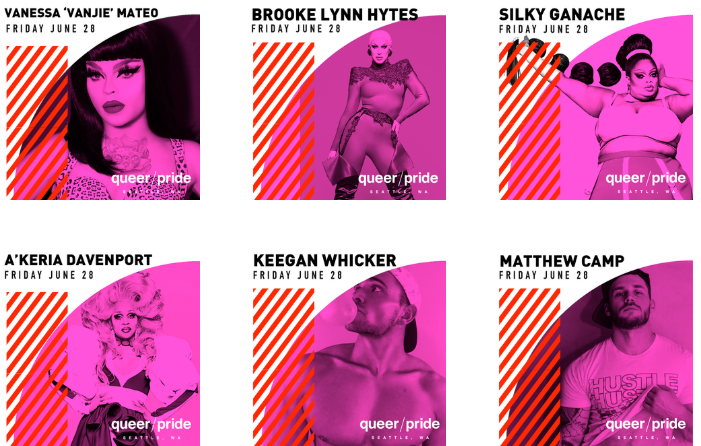 Across the street from the park, down 11th, there's another huge Pride festival kicking off Friday night as well…it's Queer Bar's 2nd annual QUEER BAR PRIDE FESTIVAL with a huge line-up of talent scheduled over the three day weekend including pop star Mýa, the bounce queen Big Freedia, the original Queer Eye star Carson Kressley and heaps of RuPaul's Drag Race stars, especially several from the last season including Vanjie, Brooke Lynn and Silky. There's a number of pass/ticket options available; go HERE to snag them. Obviously, this is a 21+ and you'll need a pass/ticket to attend all events within the fenced in festival area on 11th Avenue in front of Queer Bar as well as the bar itself, from 5pm on Friday the 28th through 10 pm on Sunday, June 30th.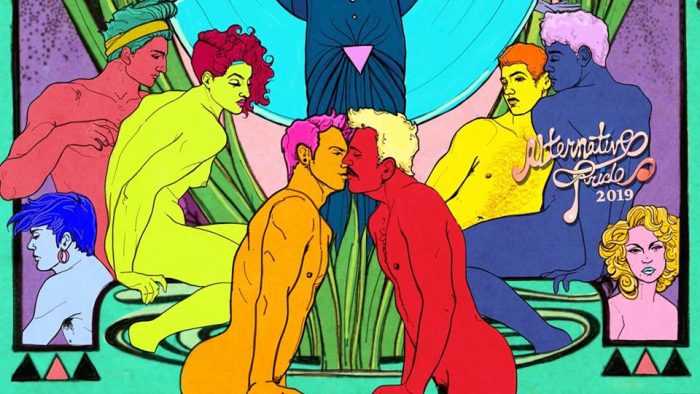 In conjunction with Queer Bar's Pride Festival (sorta) is

Nark Magazine's Alternative Pride

which is also happening on 11th Avenue (mostly) and centered on the club called Grims but rebranded as "Nark Bar" for Pride Weekend. An Alternative Pride Week Pass would also get you into the Queer Bar Pride events but the Alt Pride Week Pass has now sold out and the ticket site says there will be tickets to specific Nark Alternative Pride events available "soon" and "at the door" to Grims/Nark Bar which is NOT within the fenced off Queer Bar Street Party…the Grims/Nark Bar entrance will be available for everyone (over 21 and with a ticket or pass) to enter. Yes, it's all a bit confusing…
Here's the rundown of Nark's Alternative Pride events. It does NOT include Nark's famous Saturday Afternoon Pride Cruise, which has already sold out. It DOES include the Thursday night LASER SHOW at the Pacific Science Laser Dome which IS an all ages show.
Wednesday Night – LQQKS Market
Join us for your first look at Nark Bar Wednesday night when we set up a special market for local merchants and mini queer group-garage sale, the perfect place to buy and exchange clothes and accessories to get your new looks together for the weekend! To inquire about selling at LQQKS Market please email kevin@narkmagazine.com
Where: Nark Bar (aka Grimms)
7pm-Midnight (drinks served til 2am)

Thursday Night – LASER SHOW
Thursday night we have a very special laser show featuring talented underground budding and fresh DJs curating live sets to laser shows at the Pacific Science Center Laser Dome, this show is ALL AGES!
w/ DJ Gag Reflex and s O F T P E A K s (Portland)
Where: Pacific Science Center Laser Dome 
7pm-10pm
After Party at Nark Bar

Friday Evening – Rooftop Social
Let's kick off the meat of this weekend by gathering at the beautiful rooftop deck, bar and restaurant that is Mbar, soak in the gorgeous views and the beautiful sunset of our sparkly emerald city and meet up with all the cute friends to start planning all the weekend trouble! Part of proceeds will go to our beneficiaries.
Where: Mbar
When: 5pm-10pm

Friday Night at Nark Bar – Pigs Fly Fetish Night, a fetish encouraged night of leather and lace for all with grimey dancefloor action, live demos and more.
Where: Nark Bar
8pm-Close

Saturday Night 5pm – Sunday 9pm – Pride is for Everyone 28 Hour Party by Bottom Forty
This is the biggest dance party of the year featuring all the local community-caring crews and now it's also going to be the LONGEST! Very special lineup TBA, alcohol will be served at all hours except between 2 and 6am, specially catered brunch foods and snacks available to all wristband holders for free, space is limited, full set times will be posted so you can find your best time to attend, this party is for EVERYONE, EVERYBODY and EVERY BODY.
Where: Nark Bar
5pm Saturday being 9pm Sunday end

Sunday Night 9pm-?? – BACKDOOR SEATTLE 
Vancouvers biggest rule breaker soiree returns to Seattle for another round of induced debauchery, featuring special guests DJs, queens, hosts and more
Where: Nark Bar
9pm – ??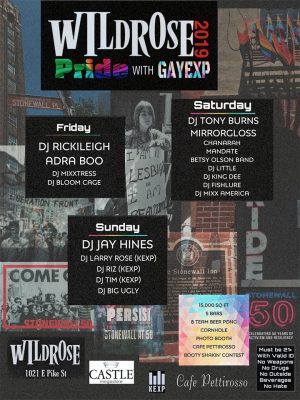 Also kicking off Friday night and an event near and dear to Seattle's Lesbian community…the very popular WILDROSE PRIDE in their lovingly named "Bush Gardens" beer garden at 11th and Pike Street. It's 15,000 square feet of women/womyn space (allies welcome/be over 21 with legal ID, though!!!) with 5 bars, 3 beer stations, games, dance areas…BEER PONG!
They'll open at 6pm on Friday the 28th w/ DJ Cage Bloom, Mixxtress, a performance by AdraBoo and then DJ RickiLeigh will take over as the party moves inside the Wildrose at Midnight and lasting until 2am. $20 at Door and $5 off when you present your June 28th SEATTLE STORM ticket.
On Saturday, the 29th, the gates open at 1pm  with DJ Fishlure, DJ King Dee, DJ LittleDJ Tim, and dancing all afternoon! Live performances begin at 7 with Betsy Olson Band, Mandate, Chanarah, and Mirrorgloss! To finish the night, DJ Tony Burns takes the stage to keep you and The Wildrose Dancers dancing until the stage closes at Midnight! DJ Mixx America finishes the night inside.
$25 at the door
On Pride Day, June 30th, the fun starts at 1pm with djs from KEXP taking over: DJ Tim, DJ Riz and DJ Larry Rose will be spinning all afternoon leading up to the the Annual Booty Shakin' contest. DJ Jay Hines takes the stage with The Wildrose Dancers to finish out the night (midnight outside/2am inside).
Food is available at Café PettiRosso in the Beer Garden. NO advanced ticket sales! Tix only at the gates/door. And, you must have legal I.D.!!!!!
A new addition to the outdoor party/beer garden Pride experience is Union, the new bar at 14th and Union, that is throwing their first UNION PRIDE starting on Friday the 28th and lasting through Sunday evening. It's a low-key, NO COVER event featuring outdoor bars and guest vjs but no apparent live entertainment. (also, obviously, a 21 + event, ID required!) They're also teaming up with their next door neighbor, the not gay bar but friendly, Bar Sue for the event. (Bearish gay bar Diesel, which is next door to Bar Sue on the other side, is NOT part of this party.) It will be especially joyous for Union, since they had to close for a few weeks last month after a small fire.
A bit more info:
Every day at 6pm our VJ's will perform a special set: "Songs of Stonewall" featuring the best hits from the 1969 jukebox at The Stonewall Inn. This tribute is in honor of the 50th Anniversary of the Stonewall Riots which will take you back to an era of great music, bell bottoms, and the birth of the modern gay rights movement.

Friday the 28th: 4pm to 2am

Saturday the 29th: 2pm to 2am

Sunday the 30th: 2pm to 2am
On Saturday, June 29th, EVERYONE gets a chance to have Pridey Fun in the Great Outdoors with CAPITOL HILL PRIDEFEST happening on Broadway on Capitol Hill and in Cal Anderson Park. It's blocks and blocks of booths, stages, entertainment and food/drink options for EVERYONE since the event is all free and open to the public. It's one of the most popular annual Pride events (who doesn't enjoy walking down the middle of a street and running into people you haven't seen all year, for a nice gossip??!!!?) It starts at Noon with parts of the festival going until 10pm.  See schedule below:
OFFICIAL SATURDAY CAPITOL HILL PRIDEFEST SCHEDULES (subject to change, of course)

SATURDAY: MAIN STAGE SOUTH
HOST: Gaysha Starr from 2-6PM
12-12:30 DJ Tony Burns
12:30-12:50 Isabella Extynn
12:50-1:10 DJ Tony Burns
1:10-1:30 Seattle Twerkshop
1:30-2:15 Chi Chi LaRue (DJ Set)
2:15-2:20 Ethylina Canne (Palm Springs) – hosting from 12:45 until 2:15, with a number to end set
2:15 Gaysha arrives to host until after Arson Nicki goes on
2:20-2:45 DJ Reverend Dollars
2:45-3:05 Tacoma Pride Promo with Indika Haze & Anita Spritzer
3:05-3:15 DJ Reverend Dollars
3:15-3:30 Varla Jean Merman Teaser
3:30-4:15 KINGS
4:15-4:45 DJ Tony Burns
4:45-5 DJ Joy
5-5:30 Londyn Bradshaw
5:30-6 DJ Joy
6-6:30 Arson Nicki
6:30-7 ART OF HOT (Flight, PDX)
7-7:45 Latin X Showcase
7:45-9 ART OF HOT (Flight, PDX)

SATURDAY: FAMILY DAY/QUEER YOUTH PRIDE STAGE IN CAL ANDERSON PARK
1:00-4:00 Family Pride
1:00-2:00 Drag Queen Story Time featuring Aleksa Manila
2:30 Registration for Doggy Drag Show (Seattle Humane Society)
3:00-4:00 Doggy Drag Show
4:00-7:00 Queer Youth Pride

SATURDAY: NORTH STAGE ON BROADWAY
12-6 Karaoke
Another popular side event: PROM DRESS RUGBY happening adjacent to PrideFest in Cal Anderson Park's playing field…it's the hella fun annual event where hot, beefy rugby players put on ugly prom dresses to raise money for charity!!! It happens 1:45pm to 4pm.
One of the longest running annual events is also near and dear to Seattle's queer women: the annual DYKE MARCH & RALLY which centers on the corner of Broadway & Pike at Seattle Central College's Plaza where the march begins and ends and where the rally happens with speeches and entertainment. It starts at 5pm and goes until 8pm and of course it's a free event open to all allies.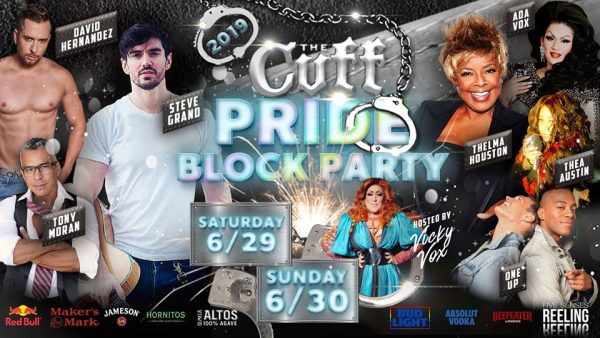 The other big deal is the fact that The Cuff Complex is now a 2 day CUFF PRIDE with a big Saturday show in addition to the traditional Sunday outdoor street event they've done for decades, outside the club at 13th Avenue and Pine Street. This year also features the very SMART change of moving the ticket/wristband purchase to FRIDAY, June 28th. In the past, you had to get up early (or leave the party you were still at, in the wee hours) on Pride Sunday and bop over to the Cuff the morning OF the event to stand in line to snag your ticket/wristband. NOW you can grab those wristbands on that Friday, the 28th, at The Cuff….$30 for each day separately or a combined ticket for $55 (obviously 21 and over).
Both the Saturday and Sunday Cuff Pride events start at Noon and go to 2am for each day. (And, yes, noise laws mean that the action moves from the outside to INSIDE the club at Midnight). The Saturday show will star country western beefcake, Steve Grand and American Idol finalist David Hernandez and DJ Tony Moran. The Sunday event will feature Grammy winning singing star Thelma Houston, Billboard star, Thea Austin plus American Idol's Ada Vox and from The Voice, ONE UP. Los Angeles drag star Vicki Vox will host BOTH days.
Sunday, June 30th is the Big Day itself, with the Seattle Pride Parade in downtown Seattle with the huge PrideFest festival to follow at Seattle Center starting at Noon with some stages going until 8pm. The usual fabulous array of booths, food and entertainment with NO COVER and open to all. 
OFFICIAL STAGE SCHEDULES (subject to change)

SUNDAY: MAIN STAGE
Hostesses:
Aleksa Manila 1:00 – 4:00
Ethylina Canne 2:00-4:00
Caesar Hart 2-6PM

12:00-1:00 The Other Side of Pride – Eric Martin
1:00-1:25 Seattle Ladies Choir
1:25-1:30 Host Welcome
1:30-1:35 Mayor
1:35-1:45 Wedding
1:45-1:48 STONEWALL HISTORY MOMENT
1:48-1:58 Fit For Pride
1:58-2:10 Ethylina Canne "The Queen of Palm Springs"
2:10 -2:35 Varla Jean Merman
2:35-2:45 Cheer Seattle
2:45-2:48 STONEWALL HISTORY MOMENT
2:48-2:58 SailorHank
2:58-3:08 Whim W'him
3:08 –3:12 Sponsor thanks and hosts chatting and STONEWALL HISTORY MOMENT
3:12-3:35 The Purple Lemonade
3:35-3:55 Jaimie Wilson
3:55-4:00 Egan Orion Festival Focus STONEWALL HISTORY MOMENT
4:00-4:05 Imagine
4:05-4:30 Jinkx Monsoon
4:30-4:35 AMP Feature
4:35-4:55 AJA
4:55-5:10 Mama Tits – Judy Garland Tribute
5:10-5:14 Sponsor Thanks (HOST) and STONEWALL HISTORY MOMENT
5:14-5:44 LATIN X SHOWCASE
5:44-5:59 Sponsor Thanks and STONEWALL HISTORY MOMENT
5:59-6:40 Featured Artist

Sunday: Mural Stage
12-12:25 Flight Crew (PDX) (And in between acts)
12:25-12:35 Lorenzo Manuel
12:55-1:15 Ade
1:35-1:55 Patrick Masse
2:15-2:35 Loungettes
3:00-3:20 Manolito Daniel
3:40-4:00 Holy Pistola
4:15-4:40 Stephanie Anne Johnson Hi Dogs
5:00-5:20 Saturn Risin9
5:35-6:00 The Txlips
12 – 6 PM Adra Boo (Host)

Sunday: Fountain Stage
12-1 DJ Joy
1-1:05 Isabella Xtynn
1:05-1:45 R Place Takeover
1:45-1:55 Seattle Twerkshop
1:55- 2:35 Chi Chi LaRue
2:35-2:40 Indika/Anita Number
2:40-3:45 Princess Superstar's Retro Electro Party featuring Larry Tee and Princess Superstar PA
3:45-5:10 Beauty Boiz
5:10-5:18 KINGS
5:18-6:00 Arson Nicki
6-6:05 London Bradshaw
6:05-7:00 Trinitron
7-7:05 Surprise
7:05-8 DJ Tony Burns
(Visited 2 times, 1 visits today)