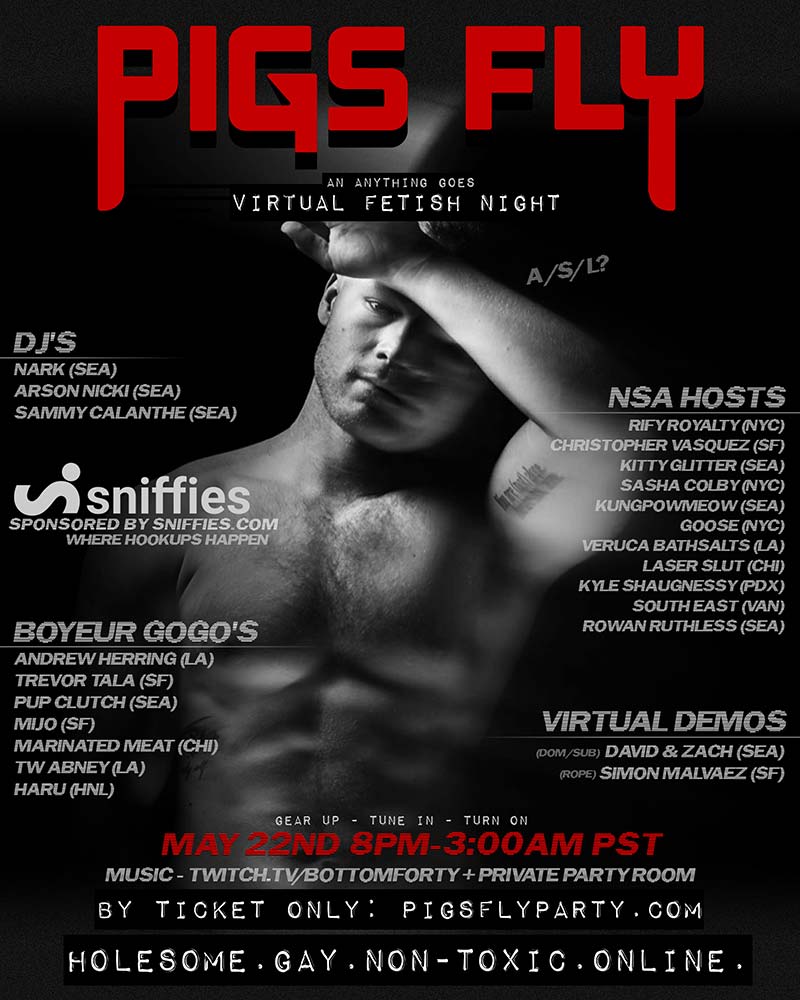 Tired of being cooped up at home with no outlet for your…urges?
You know….your urges to dance the night away with the sweaty mens on the dance floor of your favorite club, like at Nark's monthly sexy fetishy dance party PIGS FLY that just prior to this damn pandemic, moved from Queer Bar to The Cuff Complex.
Obviously, that hasn't taken place since February BUT Nark has now partnered with dirty flirty hook up site SNIFFIES to present a worldwide digital dance party complete with multiple djs, go gos, drag hosts and so much more.
It's happening FRIDAY, May 22nd to kick off the Memorial Day Weekend and it's starting at 8pm Pacific Time and lasts until 3am.
Also obvious but it must be said, this is an adult 18+ party. It gonna get durty in there…..
More deets:
We get it, you're stuck in quarantine and need something a little more… interesting to look forward to. Don't worry, we've got you covered.

Sniffies has teamed up with Nark Magazine to give you our first virtual fetish night, PIGS FLY, an electronic disco-pumping, gogo-showoff, fetish playground…so gear up, tune in, show off or just voyeur our world online.

For our Sniffies buds, (yep that's you) we are giving 20% off tickets and a free week of Sniffies Plus when you login to or create your Sniffies account here:

Get 20% Off Tickets + Sniffies Plus

Pigs Fly Online is 18+ and a ticket is required for access. The music and visuals will stream from Bottom Forty TV and the party will be in a shared private room. Turn on your camera (we keep the audio off), and/or sit back and chat with all the cuties and our Boyeur Gogos and demo exhibitionists from all over the country.
Our room is private and password protected. Feel free to express yourself in a safe environment.
Our ticket site, Universe, will send you the entry information 1-hour before the event. Any tickets purchased after that time or while the event is in progress should receive the entry information from the ticket site within a few minutes.
DJ's
Nark (SEA)
Arson Nicki (SEA)
Sammy Calanthe (SEA)
Boyeur GoGo Boys
Trevor Tala (SF)
TW Abney (LA)
Pup Clutch (SEA)
Mijo (SF)
Andrew Herring (LA)
Marinated Meat (CHI)
Haru (HNL)
Hosts
Rify Royalty (NYC)
Kitty Glitter (SEA)
KungPowMeow (SEA)
Goose (NYC)
Sasha Colby (LA)
Veruca Bathsalts (LA)
South East (VAN)
Rowan Ruthless (SEA)
Laser Slut (CHI)
Kyle Shaugnessy (PDX)
Christopher Vasquez (SF)
Demos
David & Zachery (SEA) (Dom/Sub)
Simon Malvaez (Rope)
Moderators
Nark, Sammy, Tyler
When
Friday May 22nd, 8pm-3:00am PST
PIGSFLYPARTY.com
(Visited 32 times, 1 visits today)