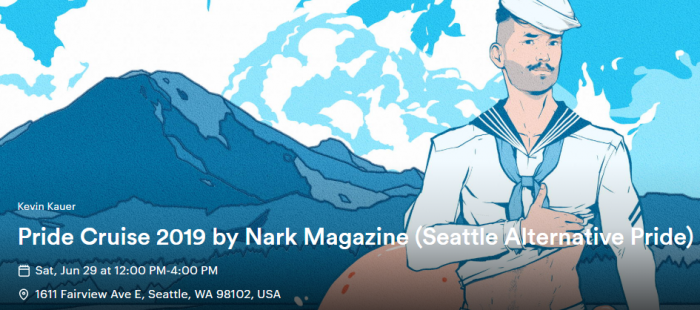 Good grief.
It's January 25th and folks are already announcing dates for events celebrating Seattle's LGBTQ Pride for 2019. Obviously the date for the annual parade and festival was set long ago…it's gonna be a late one this year with Pride Sunday scheduled for the last day of the month, June 30th.
Seattle Women's Pride nailed down Saturday, June 22nd for their popular annual event…they have have Early Bird Tickets available for sale despite the fact they haven't announced a venue or any talent. (Go HERE to grab one of those tix.)
And, DJ Nark from Nark Magazine just announced this week that tickets for his insanely popular annual Pride Saturday Lake Cruise Party are up for sale…looks like he targeted that info to previous ticket buyers but all savvy shoppers can grab those tix…IF YOU EFFIN' HURRY AND DO IT! Because, this event ALWAYS sells out and usually pretty quickly, you really need to do it NOW if you want to get on board one of the TWO boats scheduled to lazily boat around Seattle with a bunch of hot sweaty drunk men on board.
HURRY!
More info on Nark's Pride Cruise…looks like prices have gone up a bit for 2019:
Our infamous pride cruise returns for its millionth year! (estimated amount of years). This is a Saturday DAYTIME cruise in the afternoon, we will open up boarding at NOON and set sail at 1pm, and be back on the docks at 4pm!

There are TWO boats to choose from, they will cruise in tandem alongside each other!

*BOTH BOATS BOARD AND CRUISE TIMES ARE THE SAME – BOAT LEAVES FROM THE SAME DOCK

-BOAT ONE The Islander Yacht

Featuring DJs: TBA

-BOAT TWO The Spirit of 76

Featuring DJ's: TBA

Space is limited and THIS CRUISE *ALWAYS* SELLS OUT, don't sleep on getting your ticket!!

SATURDAY of SEATTLE PRIDE WEEKEND 6/29

12PM BOARD – 1PM SAIL – 4PM RETURN

1611 Fairview Ave E

*NOT INCLUDED in the Nark Magazine Alternative Pride Week Pass

*note: Due to rising expenses on venue rental the ticket this year has increased to $40, we apologize for any inconvenience.
(Visited 1 times, 1 visits today)