May 10, 2019

•
by
Michael Strangeways
And, the Seattle LGBTQ Pride announcements continue to pour in as everyone and their gay grandma are planning big fun events to celebrate LGBTQ Pride in Seattle in June, and specifically on Pride Weekend, Thursday, June 27 through Sunday, June 30th. 
The local queer party producers, BEAUTY BOIZ have announced they're putting on two awesome events, both at Fred Wildlife Refuge on Capitol Hill, with one on Thursday, June 27th and the other on June 28th and both going from 9pm to 2am.
First up is their Thursday, June 27th party ICONZ which will be very drag specific with a bevy of local drag stars impersonating beloved celebrity icons like Gaga, Beyoncé, Madonna, Divine and many more.
Then, on Friday, it all turns QUEER AF with an extravaganza that features:  a stage variety spectacular featuring drag performances, live music, aerial and burlesque, followed by a dance party with DJ Cookie Couture featuring pop-up performances, gogo dancers and a late night BeautyBoiz Runway.
It gonna be BIG! Snag tickets HERE…you can buy single tickets if you just want to attend one event, or a special duo ticket which gets you into BOTH!
Lots more info down below on line-ups and what to expect. The BeautyBoiz put on a helluva show….it's very glitzy but arty and with an emphasis on fierce glamour and putting together your "lewks". The perfect parties for folks who like to DRESS UP when they go out.  AND, you have a month to put together what you're gonna WEAR!
SPARKLE, NEELY….SPARKLE!!!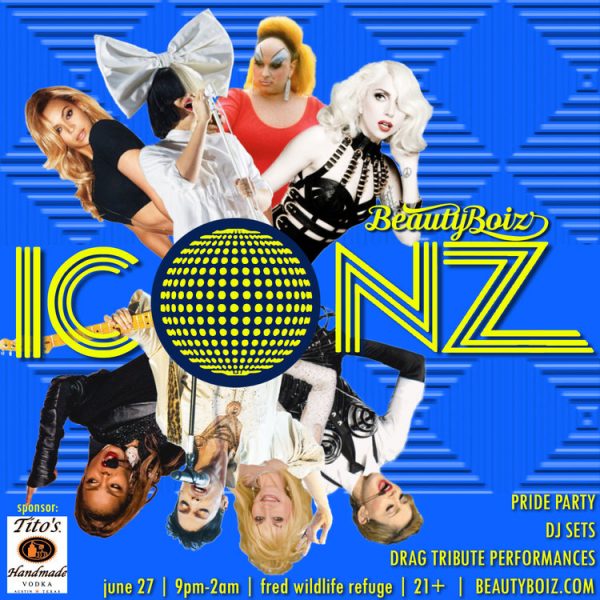 BeautyBoiz Announces Pride 2019 Lineup

ICONZ and QUEER AF

Thursday, June 27th and Friday, June 28th, 9pm-2am

Fred Wildlife Refuge

128 Belmont Ave E, Seattle, Washington 98102

BeautyBoiz is proud to announce our 2019 Pride lineup, including two larger than life parties back-to-back at Fred Wildlife Refuge (128 Belmont Ave. E, Seattle WA 98102).

First up is ICONZ on June 27th, 9pm-2am.

Kick off your Pride weekend early with the BeautyBoiz as we celebrate some of the most gag-worthy pride ICONZ through the ages, including Madonna, Janet Jackson, Divine, Lady Gaga, Prince and more. Performances will happen throughout the night, with DJ sets from MMMelt and Play__Pranks bringing you the pride hits on the dance floor between performances.

Tribute Performances from:

Monday Mourning as Lady Gaga

Amora Dior Black as Beyoncé

LaSaveona Hunt as Janet Jackson

Hellen Tragedy as Madonna

Eucalypstick as Dolly Parton

Baby Guuurl as Divine

Butylene O'Kipple as SIA

CarLarans as Prince

This event is sponsored by Tito's Handmade Vodka. There will be specials on Tito's cocktails all night!

 

On Friday, June 28th from 9pm-2am, join us for our second annual QUEER AF party featuring a seated 1hr performance and dance party. The party will start with a stage variety spectacular featuring drag performances, live music, aerial and burlesque, followed by a dance party with DJ Cookie Couture featuring pop-up performances, gogo dancers and a late night BeautyBoiz Runway. Doors open at 9pm, show at 10pm, and the dance party kicks off at 11pm. The evening features performances from Thadayus, Kimber Shade, LüChi, Karmen Korbel, Beau Degas, Angela Visalia, Cody James, Faggedy Randy, Gunnar Field and Brandon Lentz. There will be a photobooth to capture your pride lewks, and a runway photographer for your fashion moment.

Both parties are sponsored by Tito's Handmade Vodka. VIP options are available including a dedicated entrance, free coat check, a free Tito's cocktail, and a reserved seat for QUEER AF. There will be digital art installations on the 60' wrap around projection screen keeping the dance floor on max from Rajah Makonnen.

In addition to all the performances and fun, there will be gogo dancers, a 2 floor venue featuring multiple bars, and Tito's drink specials all night. As always, bathrooms will be gender neutral.

These events are 21+. Combo tickets are available starting at $30. Individual party tickets start as low as $15. Tickets are available now at beautyboiz.com

BeautyBoiz is powered by Forward Flux Productions, a 501(c)(3) non-profit live arts production company.
(Visited 1 times, 1 visits today)
As the Editorial Director/Co-Owner, Michael Strangeways writes, edits and does about a million other jobs for Seattle Gay Scene, Puget Sound's most visited LGBTQ news, arts and entertainment website now celebrating its 14th year as a media outlet. A semi-proud Midwesterner by birth, he's lived in Seattle since 2000. He's also a film producer who would like you to check out the Jinkx Monsoon documentary, "Drag Becomes Him" now available on Amazon.com. In his spare time, he gets slightly obsessive about his love for old movies, challenging theater, "otters", vodka, chocolate, "I,Claudius", Lizzie Borden, real books made out of paper, disaster films, show tunes, Weimar era Germany, flea markets, pop surrealistic art, the sex lives of Hollywood actors both living and dead, kitties, chicken fried steak, haute couture and David Bowie. But, not necessarily in that order.
Related Posts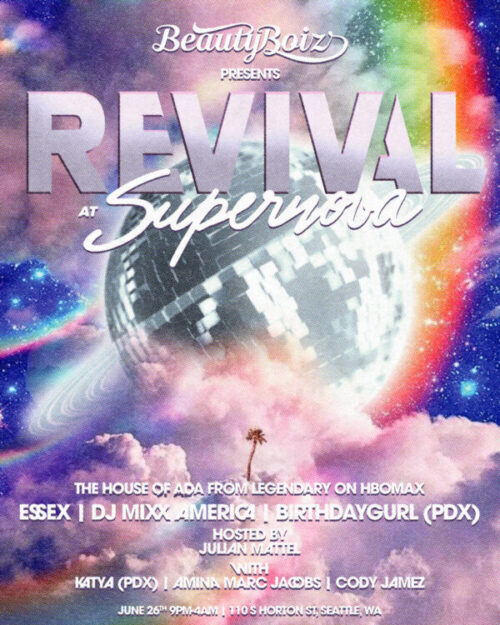 After Dark / After Hours • Bars & Nightclubs • DJ Dance Party • Drag O'Tainment • Nightlife • Pride • Seattle Lesbian Scene • Seattle Pride 2022 • We Love The Nightlife • Women's Nightlife
Big disco nightclub SUPERNOVA exploded onto Seattle's nightlife scene in
...