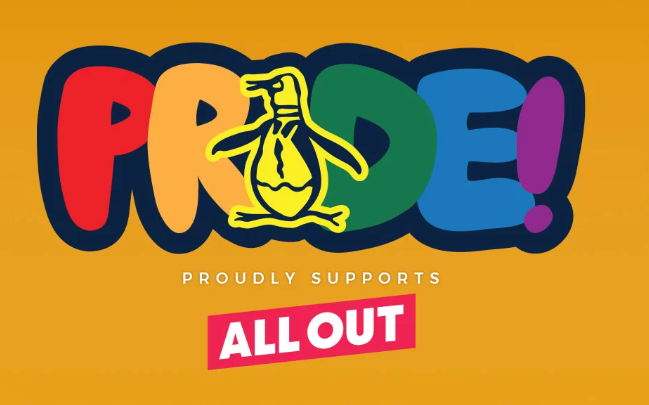 So, we're a BIG fan of Original Penguin, the clothing line that's been around for hundreds of years. Originally known for their resort wear/sports wear including their famous polo shirts with their adorable little penguin mascot/emblem on them, the brand has branched out to all sorts of different clothing lines over the years as well as items for the home. 
Bopping around the internets today, we came across a post about a Original Penguin's "Pride! Capsule Collection" for Pride 2019 that centered on cutie pie/big biceped comedian Matteo Lane modeling a whole slew of adorable Pride inspired polos, shirts and shorts from Original Penguin so we poked around and got them to send us some p.r. about this fun new line.
What we learned: "Original Penguin by Munsingwear®" is now apparently a subsidiary of Perry Ellis International….who knew??!?!?
And, more importantly, Perry Ellis will make a donation to the "global non-profit group All Out. All Out is rooted in changing policy in countries around the world so that no person has to sacrifice their family or freedom, safety or dignity because of who they are or who they love…"
Annoyingly, there aren't any stores locally carrying Original Penguin, a sad comment on the state of brick & mortar retail, (Bon Marche used to carry Original Penguin, and I think Macy's did, too) but you can purchase online HERE!
Renowned menswear brand Original Penguin by Munsingwear® is proud to demonstrate it's support for their LGBTQ+ brothers and sisters, through the launch of their global "PRIDE!" Capsule to celebrate and elevate the community's expression of freedom, love, and originality. Embracing the lifestyle and all social aspects including cheering at a parade, or chilling with loved ones, Original Penguin wants to make Pride 2019 a memorable experience.

The Capsule offers a collection inclusive of polos, tanks, tees, wovens and swim trunks. It's design inspiration draws from the iconic rainbow flag and expresses this through novelty detailing including taping, striping and color blocking. The capsule will be available for purchase starting in May of 2019 at Original Penguin stores and originalpenguin.com, as well as select retail partners both domestically and internationally.

Original Penguin partnered with two notable illustrators, Paul Tuller and Peen, from the LGBTQ+ community. Each artist designed original artwork for the t-shirts. "We are proud to create a collection that represents unity and supports the LGBTQ+ community and reflects our corporate social responsibility" said Oscar Feldenkreis, President and CEO of Perry Ellis International.

To fully showcase the fun and bright colors of the Capsule, the brand partnered with New York based comedian Matteo Lane to produce a humorous socially driven digital campaign.

As another core element of the campaign, Original Penguin by Munsingwear® is proudly partnering with the global non-profit group All Out. All Out is rooted in changing policy in countries around the world so that no person has to sacrifice their family or freedom, safety or dignity because of who they are or who they love. The brand will be making a charitable donation to All Out to help them in this global quest.

---

About An Original Penguin by Munsingwear® In 1955, Minneapolis-based Munsingwear® – an underwear and military supply company – ironically became the touchstone of suburban sport with the introduction of the first iconic golf shirt to America – an ORIGINAL PENGUIN®. Known for its unique, humorous and detail-oriented clothing, Original Penguin offers a full range of men's and children's clothing, accessories and fragrances. Original Penguin is present in North, Central and South Americas, Europe as well as India and the Philippines. There are over 1,250 points of sale, more than 99 Original Penguin® stores worldwide and two dedicated e-commerce websites: originalpenguin.com and originalpenguin.co.uk.

About Perry Ellis International Perry Ellis International, Inc. is a leading designer, distributor and licensor of a broad line of high quality men's and women's apparel, accessories and fragrances. The company's collection of dress and casual shirts, golf sportswear, sweaters, dress pants, casual pants and shorts, jeans wear, active wear, dresses and men's and women's swimwear is available through all major levels of retail distribution. The company, through its wholly owned subsidiaries, owns a portfolio of nationally and internationally recognized brands, including: Perry Ellis®, An Original Penguin by Munsingwear®, Laundry by Shelli Segal®, Rafaella®, Cubavera®, Ben Hogan®, Savane®, Grand Slam®, John Henry®, Manhattan®, Axist®, and Farah®. The company enhances its roster of brands by licensing trademarks from third parties, including: Nike® for swimwear, and Callaway®, PGA TOUR®, and Jack Nicklaus® for golf apparel and Guy Harvey® for performance fishing and resort wear. Additional information on the company is available at www.pery.com.

MATTEO LANE Matteo Lane is a New York-based comedian whose stand-up special can be seen on Netflix's THE COMEDY LINEUP. He's also currently developing a half hour pilot at Comedy Central. Matteo has performed stand up on THE LATE SHOW WITH STEPHEN COLBERT, LATE NIGHT WITH SETH MEYERS, Comedy Central's ADAM DEVINE'S HOUSE PARTY and THE COMEDY JAM, as well as HBO's CRASHING. Fluent in five languages and with a singing range of six octaves, Matteo lived in Italy as an oil painter and opera singer before starting his comedy career.

ALL OUT ALL OUT is an independently governed and financed global movement that operates as a U.S. registered 501(c)(4) non-profit advocacy organization focused on changing policy. All Out also maintains a U.S. registered 501(c)(3) fund, administered by the Tides Foundation, focused on education and changing culture.
(Visited 6 times, 1 visits today)