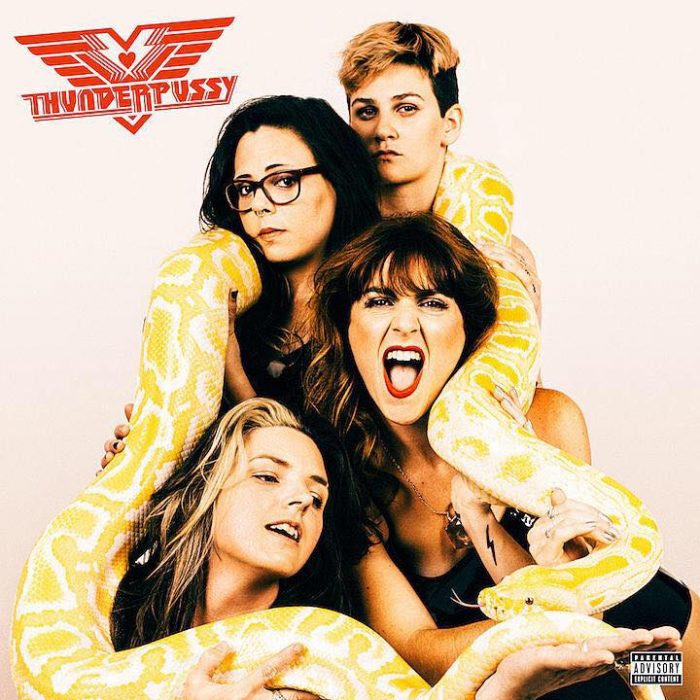 Seattle Pride (the parade people; not the festival people) just announced the line-up for the big Volunteer Park Pride Festival set for Saturday, June 8th (also known as the event called "Pride Picnic"). They have a bevy of terrific local musical performers scheduled including THUNDERPUSSY, the very popular all female quartet who will embark on a North America Tour starting on July 12th in Santa Fe, New Mexico and wrapping up in August.
The other talented performers include Sassyblack, Whitney Mongé, J GRGRY and Left at London. This year's event is hosted by that up and coming drag diva BETTY WETTER along with KEXP's MARCO COLLINS and DJ KIRK.
This is a FREE, all ages event that will start at noon and go to 7pm. There will be food trucks and booths and a BEER GARDEN.
This has become a great, must do event during Seattle's LGBTQ Pride month. Seattle Pride has really turned it around from a rather sad, dull event into a well-programmed after of fun that's accessible to everyone in the community.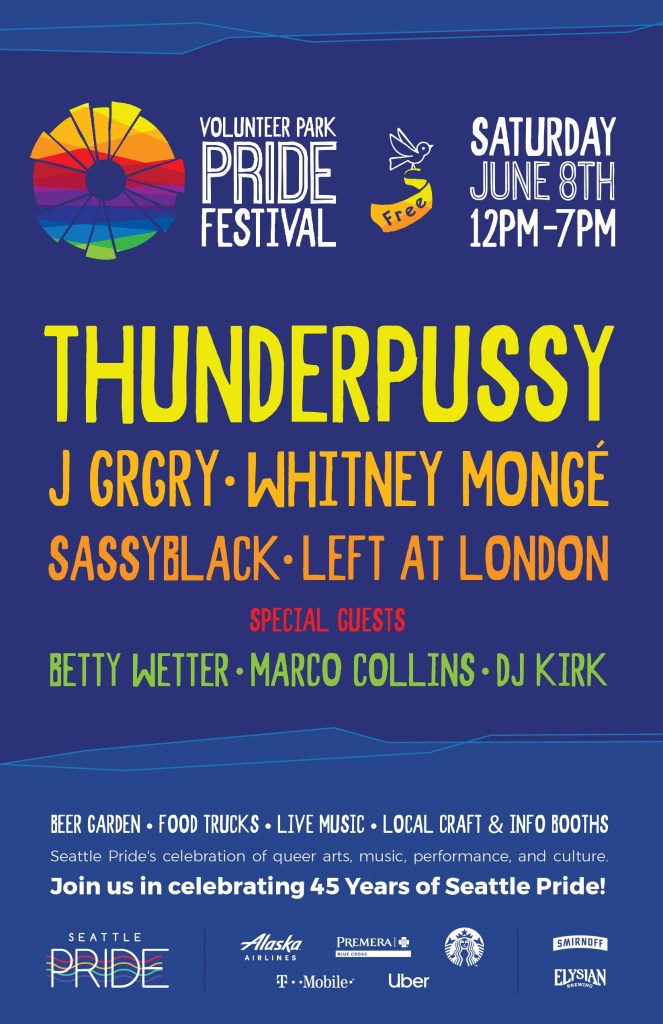 More info:
Seattle Pride Announces Music Lineup Celebrating LGBTQ+ Arts

Thunderpussy to Headline Seattle Pride's Volunteer Park Pride Festival on June 8th

SEATTLE – May 7, 2019 –Seattle Pride is kicking off this year's Pride celebration with the annual Volunteer Park Pride Festival from noon to 7:00 p.m. on Saturday, June 8 in Seattle. The event is Pride's annual celebration of queer arts, music, performance and culture. The free event will feature a beer garden, food trucks, local crafts fair, sponsor and community nonprofit informational booths, and is highlighted by live concert performances.

The can't-miss music lineup, which celebrates LGBTQ+ arts, features nationally recognized local artists. The festival will be hosted by popular drag queen Betty Wetter, KEXP's Marco Collins, and DJ Kirk known for his disco, house R&B, and dance beats – and will be headlined by Seattle-based band and phenomenon,Thunderpussy.

Thunderpussy's quartet—Molly Sides [vocals], Whitney Petty [guitar], Leah Julius [bass], and Ruby Dunphy [drums]— breaks through all rock 'n' roll stereotypes. The band's highly popular self-titled debut album Thunderpussy [Stardog Records/Republic Records] produced by Sylvia Massy, features their hit single Speed Queen. The track begins with a revving engine and arena-size percussion before snapping into a muscular and majestic riff and vocal proclamation, "Long live the Speed Queen." Certain to draw audiences to the Festival, Thunderpussy is expected to deliver an unforgettable performance.

The highly anticipated musical lineup also includes:

To learn more about the Volunteer Park Pride Festival and other Pride-related events, visit www.seattlepride.org and follow Seattle Pride on Facebook and Instagram at @SeattlePride, and on Twitter at @OurSeattlePride.
More on Thunderpussy:
Seattle-based all female rock band Thunderpussy today announced a national summer headline tour in July and August with stops in Brooklyn, Chicago, Boston, Philadelphia and more, in addition to dates with Black Pistol Fire starting July 12th at Meow Wolf in Sante Fe. The band also shared a live video for their fiery cover of Jefferson Airplane's "Somebody to Love" in anticipation of the upcoming summer shows. Full list of tour dates is below – tickets for summer headline dates go on sale this Friday, May 10 at 10am local time and can be purchased here.

Thunderpussy's cover of "Somebody to Love" released last month follows their self-titled debut album released last year via Stardog Records/Republic Records, which Pearl Jam's Mike McCready lent guitar and production on, calling them his "favorite new band." Listen to Thunderpussy HERE!

"Nothing Scandalous Here: It's Time To Grant Thunderpussy's Trademark!" –Forbes Magazine

The band is currently awaiting the outcome of a Supreme Court case, Iancu v. Brunetti, which will determine the fate of trademarking their name. In May 2015, Thunderpussy applied for a US trademark to protect their name and brand in preparation for world domination. A short time later, they received a letter from the US Patent & Trademark Office (USPTO) denying the band their trademark on the grounds that their name was "immoral" and "scandalous" per the guidelines laid down in the Truman-era Lanham Act of 1946, even citing Urban Dictionary as a credible source as to why the word pussy is regarded as a derogatory term. As women, Thunderpussy's intention has always been to shed a positive light on a word that has been used in a derogatory manner and seen as a joke or weak. Because it is exactly the opposite – the word pussy is powerful.

DON'T MISS THUNDERPUSSY LIVE!

5/11: Bellingham, WA @ Wild Buffalo House Of Music
7/12: Santa Fe, NM @ Meow Wolf*
7/13: Telluride, CO @ The Ride Festival
7/14: Telluride, CO @ The Ride Late Night Show @ The Roma
7/16: Phoenix, AZ @ Crescent Ballroom*
7/17: Los Angeles, CA @ El Rey*
7/19: San Diego, CA @ Belly Up*
7/20: Sacramento, CA @ Holy Diver*
7/22: Eugene, OR @ Wow Hall
7/23: Portland, OR @ Hawthorne*
7/25: Salt Lake City, UT @ Metro Gallery*
7/26: Aspen, CO @ Belly Up Aspen*
7/29: Kansas City, MO @ The Riot Room*
7/30: St Louis, MO @ Firebird #
7/31: Columbus, OH @ The Basement #
8/2: Cleveland, OH @ Grog Shop #
8/3: Buffalo, NY @ Cobblestone Live
8/4: Montreal, QC @ Turbo House #
8/5: Toronto, ON @ Horseshoe Tavern #
8/7: Cambridge, MA @ Sonias #
8/8: Asbury Park, NJ @ The Saint #
8/9: Brooklyn, NY @ Brooklyn Bowl #
8/10: Philadelphia, PA @ Milkboy #
8/11: Baltimore, MD @ Metro Gallery #
8/13: Nashville, TN @ High Watt #
8/15: Indianapolis, IN @ Hi-Fi Indy #
8/16: Chicago, IL @ Reggie's Rock Club #
8/17: Saint Paul, MN @ Turf Club #
8/19: Bozeman, MT @ The Eagles Ballroom #
8/20: Boise, ID @ Humpin' Hannah's

*w/ Black Pistol Fire
# w/ Hollis Brown 
(Visited 1 times, 1 visits today)