It should be huge….the first live Seattle LGBTQ+ Pride Parade since 2019. It's been a loooooooong ass time since we were able to gather as a group to watch a 3 hour long parade! OR, be in the parade, which is actually more fun/inspiring. Seattle Pride Parade returns to 4th Avenue in downtown Seattle on Sunday, June 26th at 11am.
Expect…well, expect the same kind of parade you've seen in the past! But, that's the fun of it.
Familiarity!
To be fair (and less snarky but…hey! That's my schtick!) they're also trying to make the parade a bit shorter by limiting the size of groups marching…which is odd when you think about it because it's technically supposed to be a political march proclaiming our Pride but…(insert shrug emoticon thingie here).
AND, of course Seattle Pride made headlines earlier this year when they kicked Amazon to the curb…our hometown oligarchical mega corporation wanted to sponsor the parade by giving a big check to Seattle Pride but they had all sorts of strings attached so Seattle Pride used their Amazon Prime Gold Card to return the check and give them a bad one star review.
IRONY!
Though, I'm proud of them for taking a stand, I wish they had kept a BIT of that money to hire someone to design better ad artwork for them…if you know what I mean and I think you do. (see below).
EVERY THING you need to know is in this press release including the parade announcers (mostly drag queens), judges, grand marshals, beer gardens and much, much more!
Let the Pride Parade…BEGIN!
National LGBTQIA+ Pride Month will culminate in Seattle with more than 15,000 individuals marching in support of the LBGTQIA+ community at Seattle Pride's annual Seattle Pride Parade starting at 11am on Sunday, June 26th– after two years of virtual festivities.

With more than 200 groups participating, this year's Seattle Pride Parade will be the Family Reunion – this year's theme – Seattle's LGBTQIA+ community has been waiting for. Contingent sizes have been reduced to 200 people or less to make this year's parade shorter in length with just as much variety and representation. This year's order is a parade first, with nonprofit organizations and official Seattle Pride partners intermingled throughout the parade, with many partners sponsoring nonprofit contingents' participation. With such a diverse set of contingents, paradegoers can expect to see all of the major Seattle sports teams, advocacy groups, politicians, local favorites including Gothic Pride, Girl Scouts, the Rainbow City Marching Band, the Seafair Pirates and so many more.
And, how can you escape a press release from Seattle Pride without a statement from its Executive Director Krystal Marx?
Answer: "YOU CAN'T, BLANCHE!!! YOU CAN'T!!!!!!!!!!!!"
The parade will run along Fourth Avenue in downtown Seattle between Pike Street and Denny Way. The parade route features three alcohol gardens (located at Westlake Park, Bell Street, and Denny Way), an all-ages non-alcohol garden (Lenora Street) grandstand seating (available for purchase at bit.ly/seattlepridetickets), three parade stages featuring ASL interpreters, and LGBTQIA+ celebrity announcers DonnaTella Howe and Versace Doll at the Westlake stage; Betty Wetter and LatinRose at the 4th & Bell Street stage; and Cookie Couture and Goddess Briq House at the 4th & Denny Way stage. Judges for this year's parade include popular performers Mx. Pucks A'Plenty, Vincent Milay, Hailey Tayathy, Londyn Bradshaw, and Ceasar Hart.
Grand marshals for this year's Seattle Pride Parade include a contingent of LGBTQIA+ frontline workers, who have made enormous contributions to the community throughout the COVID-19 pandemic, and community-selected Grand Marshals, Nikkita Oliver and Gaysha Starr.
WARNING! Time for another pull-quote!!!!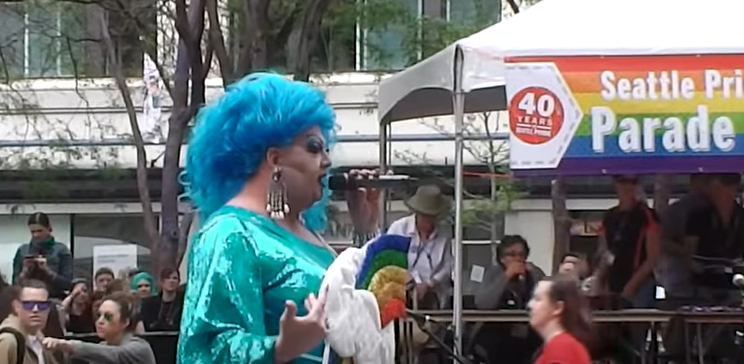 Accessibility accommodations such as priority seating, ASL interpreters, ADA restrooms, and designated assistants to support individuals in accessing food and beverages will all be available. An accessibility guide can be accessed on Seattle Pride's website.

The first two hours of the parade will livestream on KIRO-TV's website and on the KIRO-TV app, in addition to a half-hour special airing on KIRO-TV on Saturday, June 25 at 9 p.m. and Sunday, June 26 at 11:30 p.m.

Seattle Pride is made possible by the generous support of its sponsors, including this year's presenting sponsors – Alaska Airlines, Chateau Ste Michelle, and T-Mobile. For Seattle Pride sponsorship information and a complete list of 2022 Seattle Pride sponsors please visit SeattlePride.org.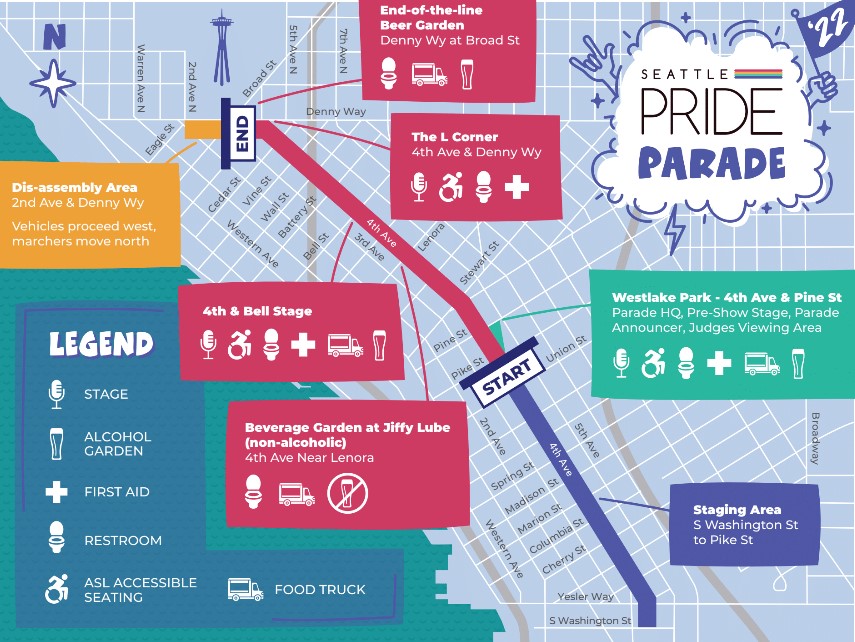 About Seattle Pride
Seattle Pride is the 501(c)(4) not-for-profit organization which produces the Seattle Pride Parade, Seattle Pride in the Park and other pride-related events and promotions, as well as provides grants and sponsorship support to community-based LGBTQIA+ serving organizations statewide, and year-round advocacy in support of diversity, inclusivity and equal human rights for all.
About Seattle Out & Proud Foundation
Seattle Pride's Seattle Out & Proud Foundation is a 501(c)(3) non-profit foundation which exists to educate the public about the LGBTQIA+ community and the rights of its members; to eliminate discrimination against; and to further the civil rights of members of the LGBTQIA+ community by promoting the arts and supporting leadership development.
To learn more about Seattle Pride and Pride-related events, grants and advocacy, visit SeattlePride.org; subscribe to our e-newsletters and advocacy alerts; and follow us on Facebook, Instagram, TikTok, and LinkedIn @SeattlePride, and on Pinterest and Twitter @OurSeattlePride.
(Visited 19 times, 1 visits today)