DUE YOUR DUTY AND DANCE IT OUT!
Virtual Pride 2020 and 2021 can suck it!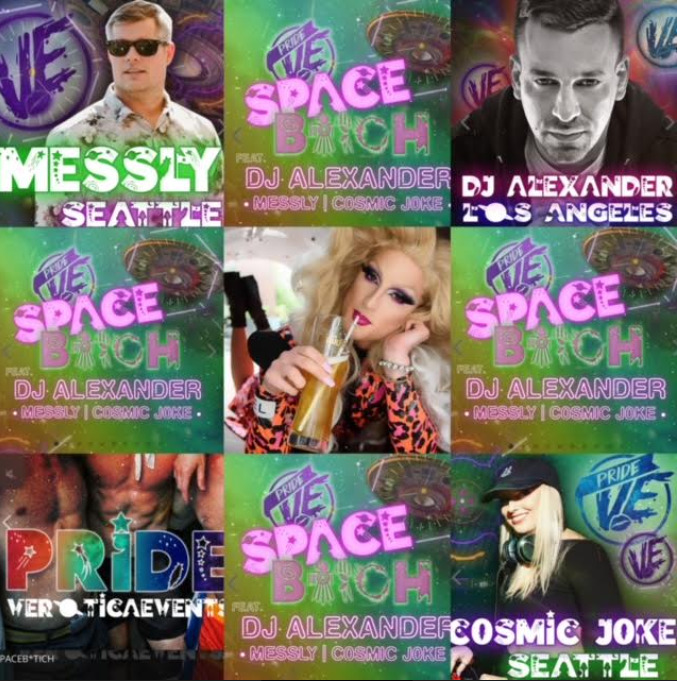 Verotica Events, Seattle's Premier Gay Circuit Events Production Company returns this Saturday, June 25th with SPACE BITCH at First and Bell in Belltown. The highly anticipated event has enjoyed online success selling even more tickets than their best pre-pandemic levels.  Seattle Gay Scene caught up with event producer Zachary Allen about Saturday's upcoming festivities and what he and his "twin sister" Verotica Prudemoore have been up to since we last chatted pre-pandemic.
---
Seattle Gay Scene (SGS): Like any good journalist would due before interviewing anyone we Facebook and Instagram stalked you and noticed that you still has #StayHomeSeattle on your profile picture? What's up with that? How come your grindr profile has new photos but not your facebook? LOL J/K but seriously were you on a social media cleanse or something?
Zachary Allen (ZA): I should probably change that huh?
SGS: Event producing was a rough gig to have during the pandemic. I think I saw you held a few events during 2021.  How did those turn out? 
ZA: Coming out of the pandemic, I thought it would be fun to have a theme that was s a play on words, which is why our first event back was called "Unmasc'd." Well that name didn't go so well with the Washington State Health Department since the mask mandate was reinstated the week of the event. So we had to rename it "Re-masked" which took the wind out of my sails a little bit. Even though we had two events following (Halloween and NYE), I really couldn't get into it or inspired like I used to… so I needed a break. Which is tragic because I just had a long one. Overall it's been hard to get back into it…I usually draw inspirations from my travels or seeing other artists or producers at their best and there hasn't been a ton of opportunities in the last few years.
SGS: So we are seeing more of Zachary and less of your sister Verotica.  Is this like a Donatella and Gianni Verse/Versace switcharoo thing? Where is Verotica? What happened to her?
ZA: Well I tried to kill Verotica at my Purgatory event back in early 2019 but that bitch has more lives that Cher or Mark Finley. I kept finding her come alive in me after a few cock-tails and she just won't away. So I realized I need to channel her a little more in my everyday life as Zachary. Plan on seeing Zachary but who knows, Verotica my be that unfortunate surprise that walks over to your door at 4AM someday.
SGS: What are you up to these days now that we have begun to live again during the "new normal." 
ZA: Prior to this I've always done Verotica Events as a hobby and the pandemic gave me a push out the door that maybe I needed, aka I had to find a new job. Well, while I was on the hunt for a new career, I started to realize that I had multiple established brands that if I took as serious as I did my "day job", maybe I could be a full-time event producer. I recently acquired an office space at Julia's Wallingford that I am currently renovating, and I hope to move in next month.
SGS: Tell us about your big Pride event!
ZA: Oh, so you've seen photos… of our previous Pride events then 😏. If you've been or you're thinking about it, this is the year to go. I guess there was some built up circuit energy, because this is looking to be our largest event yet. In addition to being fabulously up against your fellow circuit queens, you'll find some new additions to this event that I believe really outdoes our previous years. After deciding to try my luck as a full-time entrepreneur, I've been able to get down to the details that make the Verotica experience nothing like any other event in the city.
SGS: What are you most excited about for this event?
ZA: Coming from someone who hasn't changed their profile picture on Social Media for two years, it might seem odd to hear me say this… we just added a 360 video booth. If you haven't seen this before, you HAVE to google it. I think my favorite thing about producing events is discovering new technology to make the experience special, I'm kind of a nerd.
SGS: Where did you get the name Verotica from? (might have spoke about this before, we should check but we're hella lazy…)
ZA: Well, speaking of being a nerd, when I was 13 I needed a name for my Destruction Warlock (Blood Elf) on World of Warcraft and I was listening to Madonna's Erotica. Then BAMN! I had an epiphany and the ovbious, just add a V to it and we have Verotica. My original name was Verotica Prudemoore and then over time I realized (with some good advice) that the name Verotica as a stand alone could carry itself and it's much sexier. Also, it makes me feel like a Cher or Madonna, so that helps me sleep at night without a Xanax.
SGS: Tell me about your upcoming events after Pride? I've heard they have been very well received pre-pandemic?
ZA: Well, I don't want to jump the gun on this. However, If all goes to plan (which it never does in nightlife 🤣), I am looking to have another large scale event this year. My vision for this is to collaborate with other producers from around the world to bring a circuit weekend to Seattle. My focus going forward with Verotica Events is to have a few high end productions a year and bring a boutique experience to attendees.
SGS: Would you mind elaborating on what you mean by boutique? How is this different from other circuit events?
ZA: Most circuit events use muscle and sex to sell tickets and they tend to seem cold. It's almost as if the events are more commercial and there isn't a person or team behind it. At times, it's not relatable and sometimes feels unwelcoming and corporate. While I am guilty of being a flirt in my marketing, I try to bring my personality through Verotica to make the vibe feel as though you are going to a house party and you are welcomed by the host. The experience a guest has starts from the minute I launch the events, I think though the description, graphics and even the way I design the website. The last thing you want to experience is trouble buying a ticket, not a good start. I've even designed a unique system that contacts guests via texts with their ticketing information. This system even allows them to directly text me back with any questions or issues they may have. I want guests to know I am here to help and they are not just a dollar sign to me. While my events haven't been very profitable growing the foundation of Verotica Events, I know that if I keep working hard and create new ways that make the guest experience better and unique to other producers, everything I've worked hard for will come in time.
SGS: Why should people be interested in your events given there are always so many in the community?
ZA: Simple, you can't find any other experience in Seattle like our events. If you've attended, you know what I am talking about and if you haven't come and find out. For nearly seven years now, I've hustled to create an environment I want my guests to have. Because it's the type of enviorment I want to attend myself. This might sound stupid, but after going to productions all over the world, I know what can make or break them. I really only did it for market research, I swear.
SGS: Tell me a few fun things you did during the pandemic?
ZA: Excuse me, what fun things did you do during the pandemic? 🤣
SGS: Fair point. I did get invited to a huuuuggeee party at a local producer's "Speak Easy." LOL
SGS: Tell me some of the worst parts of the pandemic?
ZA: Well, when you have too much free time you tend to make poor choices. One day I was minding my own business and had a few too many and I pulled my vanity down on myself. Gave myself too black eyes and the room looked like I was a bit sloppy when I was drinking my sensible glass of wine. That would be a headline for sure: DRAG QUEEN, DEATH BY VANITY.
SGS: Seattle Gay Scene would have definitely been the first to break that story. So what are some lessons learned looking in hindsight during the pandemic?
ZA: Sometimes you have to just bend over and take it. As much as I want people to get what they deserve, that really isn't how the world or capitalism works. People with more money or connections will always shake you down and get what they want. While I've had multiple learning experiences in the past few years and one I will never forget is the battle to keep my name Verotica. One beautiful rainy day in Seattle I get a call from my Trademark lawyer that the one and only Glenn Danzig (lead singer from the Misfits) is challenging my established trademark, because he wants to make a movie called Verotika… its terrible don't watch it. Well, long story short, he is a tad bit richer than myself and we ended up setting that I can still use the name but he gets the Trademark. In the words of Regina George, he's a "groskey little biotch". 
SGS: From my understanding, you are transitioning?!? To a FTP (Full Time Producer or is that a File Transfer Protocol? Besides circuit parties for Verotica Events what other things will you be occupying your time?
ZA: Was it my outfit that gave it away? Since 2019 I've been working with other producers to bring in some major talents to Seattle. I've been fortunate enough to assist in bringing names like Dillion Francis and Diplo. While I am not on the front end of the marketing or production, I am overseeing the food and beverage. This was a connection I developed through Verotica Events and I am extremely grateful for this opportunity. The next few shows I am helping produce are Chris Lake on July 4th at the Seattle Amphitheater and Purple Disco Machine on August 7th at the Fisher Pavilion at Seattle Center.
I also am still building the Queen Crawl brand that helps local nonprofit organizations raise money. Our first year we did $20,000 and we have some great support to help us grow.
SGS: Why SpaceB*tch?
ZA: I've actually always wanted to do a space theme, it is long overdue. I did have a space theme planned for Pride 2020 and that didn't quite work out. That year I was planning on having two events and the first one was Labyrinth (which was brought back for Halloween 2021) and the second was Barbarella, at the time I was channeling classics loved by the gays. However, a name or a theme of a party always has a expiration date and Barabarella wasn't doing it for me this time. The title SpaceB*tch was fabricated from an old nickname a friend had of Bionic Bottom, but I knew I wanted a space theme. The original name for the event was going to be Bionic SpaceB*tch. But I took a note from Coco Chanel and took one accessory off before I left the door and this time it was the word Bionic. See you in Space, B*tch! Xo.
SGS: To get tickets go to www.veroticaevents.com
(Visited 8 times, 1 visits today)