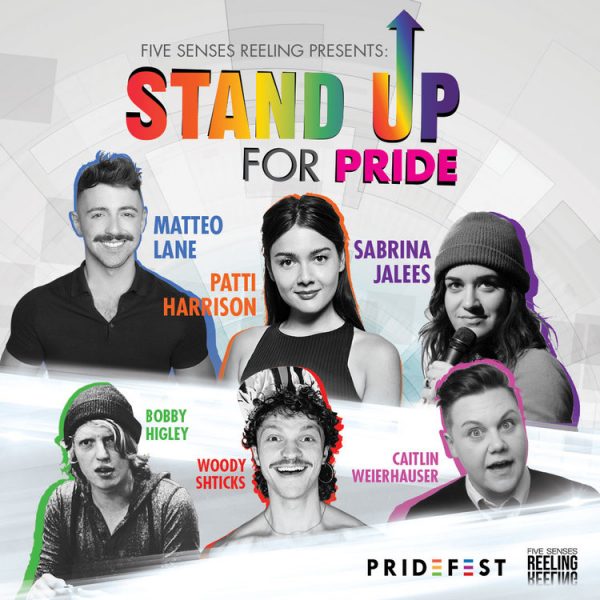 Five Senses Reeling production company has announced their show for Seattle Pride Week…in past years they've focused mostly on drag events but last year they also did a popular comedy show with Fortune Feimster and they return to the comedy well for their only big show for this Pride season with STAND UP FOR PRIDE which will be produced in Seattle on Thursday, June 27th but also in Boise, Idaho for their Pride Weekend on June 12th (for Boise area readers go HERE to snag those Boise tickets.)
The Seattle show will take place at the Egyptian Cinema on Capitol Hill and you'll have two shows to choose from, one at 6:30pm and one at 9:30pm. $1 of each ticket sold will go to support Seattle PrideFest who produce the free Seattle LGBTQ Pride festivals on Capitol Hill on Pride Saturday, the big Sunday Pride event at Seattle Center. Grab the tickets to the Seattle show HERE!!!
Stand Up For Pride will feature both national and local comedians with MATTEO LANE (who we just featured in a story on Penguin brand pride clothing HERE) and Sabrina Jalees, Patti Harrison and Caitlin Weierhauser. Local comedians Bobby Higley and Woody Shticks will also perform.
More info:
Thursday, June 27th
Doors 6 pm Show 6:30 pm
Doors 9 pm Show 9:30 pm
Meet & Greet is combined for both shows and held at 5 pm.
Tickets are $25-50 with a separate $30 meet & greet with Sabrina, Patti, and Matteo which can be
combined with any ticket level.
https://www.fivesensesreeling.com/stand-up-for-pride
Meet the Cast
Tags: Bobby Higley, Caitlin Weierhauser, Five Senses Reeling, LGBTQ Comedians, Matteo Lane, Patti Harrison, Sabrina Jalees, Stand Up For Pride