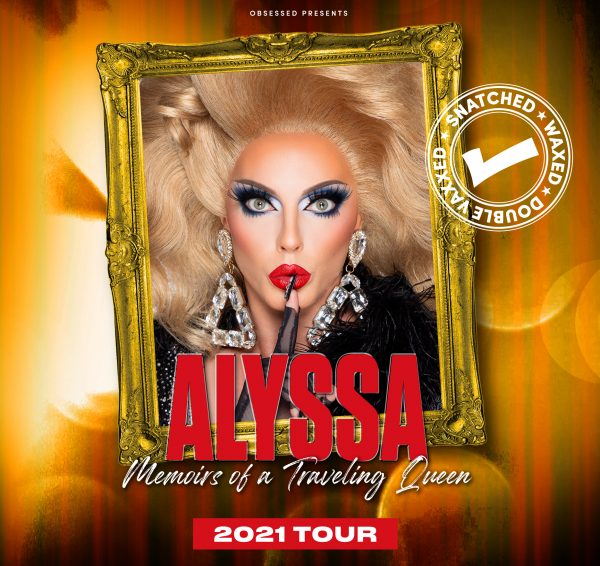 A fan favorite from waaaaaaay back in Season 5 of RuPaul's Drag Race (the season Jinkx won), the one and only ALYSSA EDWARDS has just announced a tour for this fall..Alyssa Edwards: Memoirs of a Traveling Queen, presented by Obsessed and powered by local production company Five Senses Reeling.
The sassy Texan known for her dance moves (she owns her own dance academy!) will be strutting into Las Vegas, Denver, San Francisco, Portland and yes….SEATTLE!
For three nights!
Miz Edwards will be struttin' the stage at the Broadway Performance Hall on the Seattle Central College campus on October 14, 15 and 16.
Happily, her annoying arch rival Coco Montrese will NOT be part of this tour. (Damn, that "feud" was freaking annoying…I almost stopped watching Season Five because Coco's constant drama was such a bore.)
ANYWAYS, here's all the info you need down below. Tickets go on sale this Friday, August 13th.
More:
Alyssa Edwards announced a preview tour of her new show, Alyssa Edwards: Memoirs of a Traveling Queen, presented by Obsessed powered by Five Senses Reeling. The tour will kick off October 7, 2021, in Las Vegas, NV, with eight additional dates ending in Portland, OR. A complete list of tour dates and venues is below.
"This show is a lifetime in the making," said Alyssa Edwards. "I'm taking you home, to my home, to my beginning. There's so much I want to finally tell you."
After a critically acclaimed, sold-out run on London's West End, Alyssa Edwards returns to the U.S. to bring her life story to the stage. She unlocks her diary and opens up in a way she never has before. With high kicks and star turns on RuPaul's Drag Race and RuPaul's Drag Race All Stars, to her original Netflix series Dancing Queen, she has some delicious tea to spill.
A limited number of upgrade packages will be available for sale each night. The package includes early entry to the venue, a tour poster autographed by Alyssa Edwards, an opportunity to shop for exclusive tour merchandise before the general audience, commemorative tour lanyard and laminate, and a photo opportunity with Alyssa Edwards. These packages are upgrades and do not include a ticket to the show. Tickets must be purchased separately.
Tickets and upgrade packages go on sale Friday, August 13, at noon local time. Tickets for the Las Vegas, NV show only go on sale August 19 at noon MT. Tickets are available at visit http://www.alyssaedwardslive.com/. Ticket prices range from $29 – $79, and upgrade packages are $40 each.
October 7 – Las Vegas, NV – International Theater at Westgate (a Las Vegas Pride event)
October 10 – Denver, CO – The Oriental Theater
October 11-12 – San Francisco, CA – Alcazar Theatre
October 14-16 – Seattle, WA – Broadway Performance Hall
October 17-18 – Portland, OR – Aladdin Theater
For complete tour and ticketing information, visit http://www.alyssaedwardslive.com/
"She's the sickening queen supreme, mistress of the death drop and the tongue pop, a formidable lip-sync assassin." -The Times

"a whistle-stop tour of drag excellence" -Pocket Size Theatre

"..a fabulously put together show full of heart and hilarity." -All That Dazzles

"It's not hard to see why she has become one of the most famous and adored queens of her time. The stage is her home and it's a joy to be welcomed into it. " – The Upcoming
About Alyssa Edwards
Justin Dwayne Lee Johnson, known by his stage name Alyssa Edwards, is an American entertainer, choreographer, drag performer, and television personality. Prior to his television debut, Johnson was a gifted dance instructor and accomplished performer in the drag pageantry scene before rising to international prominence on the fifth season of RuPaul's Drag Race, where he quickly became a fan favorite. In 2012, Johnson was chosen as one of the 14 drag queens to compete on the fifth season of RuPaul's Drag Race, where he immediately catapulted to fame for his candid testimonials, outrageous tongue-pops and quirky personality. Johnson returned for Season 2 of RuPaul's Drag Race All Stars, where he stole the hearts of the audience, ultimately finishing as fourth runner-up. Johnson currently resides in Mesquite, Texas, a small suburb of Dallas, where he owns and runs an award-winning dance studio, Beyond Belief Dance Company. Johnson and his dance studio are the centerpieces of the Netflix Original docuseries Dancing Queen, produced by RuPaul and World of Wonder.
(Visited 3 times, 1 visits today)