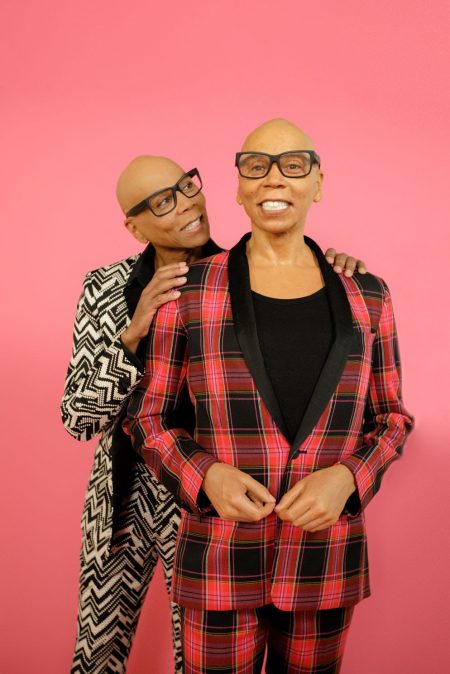 Everyone's favorite drag queen, (well, mostly) is getting yet another wax job. The iconic host/ess of the RuPaul's Drag Race empire already has one wax figure in Madame Tussauds famous tourist trap, in NYC and not surprisingly, it features the diva in her trademark Glamazon drag.
Now, "boy" RuPaul has been honored with another figure, this time in the Las Vegas branch of Madame Tussauds, and this time the wax dummy represents RuPaul presenting as a traditionally male dressed figure.
In the press release, Ru declares: "It's special because I'm doing this one out of drag. This is my male persona, which in recent years has become just a famous as my drag persona." Which is true-ish, we suppose, since Ru has made it a point to establish both the drag character and his own male self as individual personas, which is smart because at some point, Ru may not want to be an 80 year man tottering around in high heels.
Though we'd argue that Girl RuPaul is probably more revered than middle aged bordering on elder queer guy RuPaul. I mean, which one would you pay the most money to go see?
Bless her heart…
RuPaul Reveals First Wax Figure Out of Drag at Madame Tussauds Las Vegas
Guests Invited to Strike a Pose and Sashay Down the Rainbow Runway, Taking Cues from the World's Most Successful Drag Queen
Las Vegas, NV (Aug. 17, 2021) – It's time to 'sissy that walk' down Madame Tussauds Las Vegas' Rainbow Runway. RuPaul revealed a new wax figure at the must-see attraction on the Las Vegas Strip. The all-new experience invites guests to 'meet' and take cues from the most commercially successful drag queen of all time, RuPaul.
This is the second time RuPaul has been honored with a wax figure. The first was revealed in 2000 at Madame Tussauds New York and made history as the first drag queen wax figure created by Madame Tussauds. RuPaul says his new figure is important for a different reason, "It's special because I'm doing this one out of drag. This is my male persona, which in recent years has become just a famous as my drag persona."
"RuPaul is an icon," said Brittany Williams, spokesperson for Madame Tussauds Las Vegas. "We're thrilled to have the opportunity to create an exclusive experience that allows guests to playfully interact with one of the most influential people in the world in a way that's only possible at the world's greatest wax museum."
To create RuPaul's figure more than 200 measurements were taken during a "sitting" to ensure Madame Tussauds Las Vegas captures every unique detail. His eyes, hair and skin were each color matched by studio artists and were used as a reference during the creation of his figure. Guests who visit Madame Tussauds Las Vegas will experience "Mama Ru" deliver an exclusive abridged masterclass as they sashay down the illuminated Rainbow Runway in the ultimate catwalk moment.
The American actor, model, singer, songwriter, television personality and author is widely known as the executive producer and host of the reality competition series RuPaul's Drag Race, for which he received five Primetime Emmy Awards. RuPaul was also included in the annual Time 100 list of the most influential people in the world.
Madame Tussauds wishes a 'condragulations' to RuPaul on his latest figure and all he has accomplished. Glamazon's can get ready for their trip down the Rainbow Runway by heading to https://www.madametussauds.com/las-vegas/.
About Madame Tussauds Las Vegas
Madame Tussauds Las Vegas is the ultimate adult playground located inside the Grand Canal Shoppes at The Venetian Resort Las Vegas. Fans can meet GRAMMY Award-Winning artist Drake's figure in his fully interactive set giving a nod to the popular video "Hotline Bling." For more information, visit the website at madametussauds.com/lasvegas/, on Facebook, and Twitter and Instagram.
(Visited 8 times, 1 visits today)