Princess Superstar's Retro Electro Party is coming to town not only to bring the Prideful vibe alive, but to give us a glimpse back to a magical time with Electro was all we had running in and out our earholes.  When I say magical, I mean magical. I loved all the imagery, (most of) the music, and just about everything my dear friend Princess Superstar did, which included a collabo with Larry Tee. Yes, THE Larry Tee. Two, two, two legends in one piece!  I asked Princess Superstar to do a fun interview for the Seattle Gay Scene as part of our PrideFest Media sponsorship and, as usual, she was game! (Girl is game for almost anything, as long as you have a mirrorchair – and if you don't get that joke you need to study up before Pride times hit this city of ours!  Check out this awesome interview between Princess Superstar and Larry Tee…..
– L.A. Kendall
---
Princess Superstar: LARRY! I am so excited to be interviewing you as I feel like us crossing paths was Divine fate! Let's start waaaay at the beginning. Ok, you wrote the legendary "Supermodel Work" for Ru-Paul back in the day. You need to tell me about that one! How did it all happen? How did you get the idea?
Larry Tee: Well, I grew up with RuPaul in Atlanta and we learn how to do show business down there by making movies and running parties at clubs. I made an earlier album with her called Starbooty about her superhero character that avenged the abuse of hookers by the evil 'man'. We moved to NYC together with another drag named Lahoma and lived together in a brownstone in the Meat Market District. When RuPaul got a deal with hiphop label Tommy Boy, I thought it would be amazing to get a song writing credit on a cool label like that. To be honest, I didn't write it because i thought it would be a sensation that would pay my rent for 25 years. DAMN! I wrote it because I believed in RuPaul and knew she was going to be big at some point.
PS: DAMN. And speaking of that, give us a glimpse into NYC nightlife around that time. I know you were a fixture at all the amazing clubs like the Palladium. (It's now a Trader Joe's…ouch!)
LT: Well ironically I am putting together a festival stage based on that vibe since the sound is back big time these days via Honey Dijon and Black Madonna. NY PARTY HOUSE: The clubs and music at that time were a fierce mix of Latin fire, voguers, clubkids, breakdancers, and drag queens. New York clubs had its own vibe different from the house music in Chicago and in Europe at the time. it was influenced with politics, fashion, the beginning of the tech industry, And it was cheap enough then that you could experiment with your art, fashion and musical interests. That made for an explosion of creativity that still fuels NYC's expansion and the most popular dance tracks these days are undeniably looking back a bit at that time.
PS: Oh gosh I want to go! Sounds incredible. It's crazy because then you went on to literally invent Electroclash, or at least run the scene! What was that like for you? I remember there were rumours of rivalry between you and DJ Hell who was the electro king in Berlin- was that real?
LT: Well, I got clean from drugs and alcohol and I decided to follow music that inspired me again as I felt the house music scene there had gotten stale. I discovered artists like Peaches, Chicks on Speed, Fischerpooner and DJ Hell's Gigolo Records. It was like a stick in the eye to the boring old house scene that had gotten stuck in a K hole it seemed. So I threw the Electroclash Festival in 2001 two weeks after 9/11! I lost $75k but it was a sensation and my new career had taken off. DJ Hell didn't know who I was, so him and several of the European supporters of this new electro vibe said many unkind things. When it became a sensation partially because of my amazing PR skills, they all made millions and wisely 'shut the fuck up'. lolz.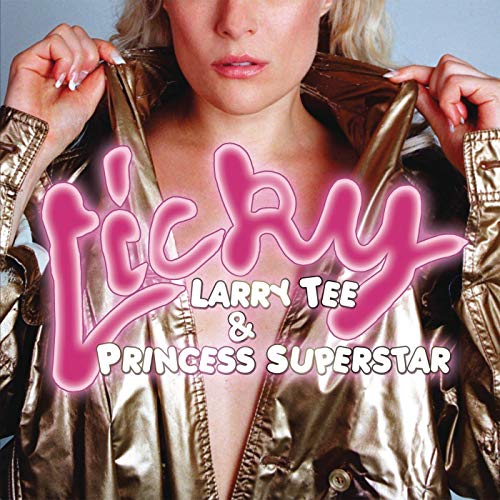 PS: LOLZ! Let's talk about "Licky". So you wrote this song, and do you remember you wanted me to sing it, and I was like this is amazing, but I need to write a rap on it too, because I am a rapper!? And you let me do that! And thank God because that's what Herve used to make the iconic Licky that everyone loves today, along with your genius chorus. That song was a smash…Justice used to put it in their DJ sets, and it was in Russell Brand's Get Him to the Greek, and Hall Pass etc. How was it recording with me?
LT: OMG, you were a total diva. Turning over tables and making scenes in the fancy recording studio!! Just kidding. I always loved you from the moment I laid eyes on you and knew we would get along amazingly, which we did. Ideas just flow effortlessly out of you and it was a pleasure to just let you use your god given talents rapping and carrying on. We laughed so hard making this track and then playing board games at your house with Moby later. You were much more difficult with the board games than the studio because when playing games you're so competitive. I just felt lucky that you gave me a chance to have a hit record when I was getting started again. You believed in me and I will never forget that. 
PS: Aw that's so beautiful. I was like honored to record with YOU!  And I definitely fondly look back on those Balderdash games we all played at my house where I kicked Moby's ASS ☺!! You're quite outspoken about not doing drugs or drinking, and have been instrumental in my own quitting for which I am eternally grateful! I just celebrated 15 years off the stuff. Tell us a little bit about your own journey…
LT: Well, after starting the club that became Party Monster the movie, I found myself stuck in a drug rut. I was totally unprepared for what NYC had thrown at me in the terms of drugs and alcohol. I went from being the BIG CHEESE of NYC nightlife to the big K Head staggering around sadly wondering what had gone wrong. Maybe my problem was the cigarettes or carbonation in the drinks. My friend got sober a year before me and I saw her transformation into a useful human being and followed suit a year later. Most of my friends and the stars from that era are now sober and have amazing careers! I am such a satisfied customer living the dream because of the 12 step programs. I have a clothing company TZUJI, a new music label TZUJI MUSIC #NYPARTYHOUSE, I live in Berlin after 6 years in London and get to fly all over then world DJing. I am now working on a reality TV show about my incredible life. Sober is so much funner than my old party life.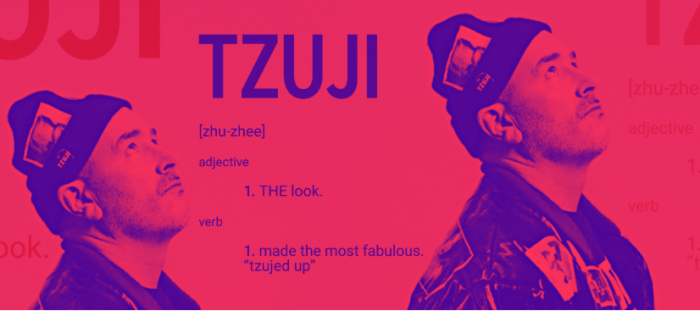 PS: Amen! Sober is SO much funner! You are making AMAZING clothes now! Love Tzuji. What is different about making clothes than making music? Do you miss making music?
LT: Well, I just started making music again and one of the pieces is being used in a beer commercial ironically. I think our song SEXY SEXY should be used in a commercial too. Maybe I should dust it off for my new label? Clothes are my real passion because I always loved that clothes and music went together. All my favorite acts throughout my life, like The B-52s, Deee-Lite, Madonna, Elton John, The Cramps and new artists like Arca, Rosalia, Sophie, Troy Syvan and Kim Petras all have a strong visual image. Making clothes is like imagining how great it feels to wear something amazing that everyone that is going to make everyone else sickly jealous. I never imagined I would dress Missy Elliott and a bunch of cool rappers and pop stars!
PS: Yes! I love Sexy Sexy- please dust it off! I am so excited that you are playing my "Princess Superstar's Retro-Electro Freakout" It's been about 10-15 years since our scene so figured it was time for a comeback and I am bringing this concept around the world. What artists are you excited about playing?
LT: I love your electro freakout idea. The time has come to revisit this popliticallly vibrant period of music. SO many women were allowed into electronic music, it didn't matter if you were gay or straight, and the politics and sexuality of the time were acted out in an electro parody. Peaches' gender fluidity anyone? I plan to play my hits "Do I Look Like A Slut?"; me and  Amanda Lepore's  "My Pussy"; my "Supermodel Incorporated" as sung by Sharon Needles and then all the hits. The World of Wonders'  "Money, Success Fame and Glamour!" Why not? and some RuPaul of course. Its a Queer party and everyone is invited! Everyone is queer these days! YAY!
Even you, perhaps? a little bit?
PS: Of course I am!!! I always say I'm like a gay man in a woman's body ☺
How has Pride changed over the years?  This one is a big one because of the 50th anniversary of Stonewall.
LT: Pride is so important. Often I had ignored Pride since it was so commercialized and with the drugs connected to the parties felt a but left out. But not anymore. I love that people have the freedom to get high and let loose, that people can marry the ones they love, and can have children and became policemen and servicemen. I feel its so important to champion trans rights and the ability to present oneself in any way that feels truly to themselves. Present themselves however their creator made them to be. GOD makes no mistakes right Gaga? Pride was more radical back in the day but these days we march for our brothers and sisters in other countries that don't have the freedom to live as they were intended to live. We party for create the change in the world that goes from one country to the next showing the world the value of queer people. Other countries can see what they are missing out on and join the free world in accepting the lgbtqi family. Gay people have so much to give the world. 
PS: YES. PREACH! What's next for Mr. Larry Tee?
LT: I am working on a new reality TV show that shows off the super hot Berlin and my amazing brand TZUJI and what the fashion industry is all about. My cool Berlin friends are so creative and inspiring and the city is on the cutting edge of the genre conversation and is a fertile breeding ground for fashion, music and art. My music label, TZUJI MUSIC is taking the #NYPARTYHOUSE idea, an update of the sounds and creativity of NYC in the 90s, and taking it around the world dot festivals and mega clubs. By taking TZUJI runway to the festivals with Voguing, new music, a few old hits, with the clubkid and breakdancers vibe, it is going to be so much fun! Since I was born in Seattle and have family just outside the city limits, coming to PRIDE will be a homecoming of sorts. Pride has brought me together with my families both of birth and my adopted ones. I hope my adopted friends in Seattle come grab me and give me a hug.
PS: Love this so much Larry and can't wait to see you!
---
You have two chances to be a part of Princess Superstar's Retro Electro Party Freakout over Seattle Pride Weekend!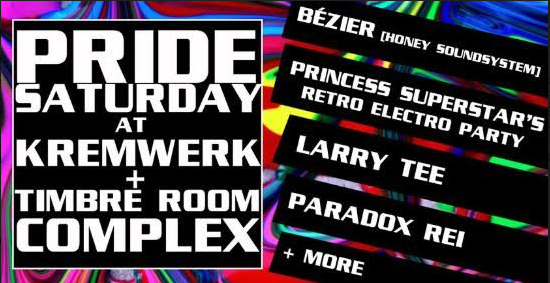 Saturday, June 29, 2019
Timbre Room at Kremwerk:  https://www.facebook.com/events/675239602934562/
Sunday, June 30, 2019
Fountain Stage at Seattle PrideFest: https://www.facebook.com/events/386290931942076/
(Visited 2 times, 1 visits today)