January 25, 2019

•
by
Michael Strangeways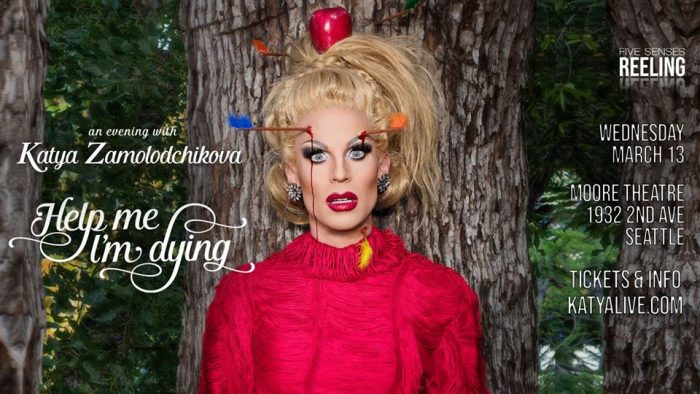 The long delayed HELP ME I'M DYING Tour starring popular RuPaul's Drag Race Season 7 star KATYA is making another change, this time in venue.
The blond  diva was supposed to bop into Seattle last year as part of her nationwide tour with the show but the star decided she needed a mental health break and retreated from performing for several months. All her shows were rescheduled, including Seattle for March of this year at the Egyptian Cinema on Capitol Hill but area promoter/producer Five Senses Reeling announced this week that the show is now scheduled for March 13th but will move to the far larger Moore Theatre in downtown Seattle. 
Apparently, all current ticket holders for the original show will have those tickets honored at the new venue. NEW ticket buyers should go HERE to snag them.
Five Senses Reeling is also presenting the Katya show at venues all over the Western US and Canada including shows set for Vancouver British Columbia, Boise, Portland, Salt Lake City, San Francisco and Phoenix.
More info:
Five Senses Reeling presents…

Help Me I'm Dying: An Evening of Comedy with Katya Zamolodchikova

RuPaul's Drag Race Miss Congeniality and All-Stars S2 finalist, Katya Zamolodchikova brings her hilarious new stand up show to Seattle for the first time next March! Known for her incredibly funny personas and characters, including everybody's favorite dumpster living hairdresser, Trish, Katya's show promises to be one hilarious night.

UPDATE 1/21/19
Now at The Moore Theatre:
Katya Zamolodchikova:
Help me I'm Dying Comedy Tour

Wednesday, March 13, 2019 at 8 pm
All ages, Doors 7 pm

Due to unprecedented demand, Katya's one-woman comedy show originally scheduled at The Egyptian is moving to The Moore Theatre, located at 1932 2nd Avenue in Seattle.

Show date and times remain the same. Additional tickets go on sale Friday at 10 am through Ticketmaster.

All tickets purchased for The Egyptian performance will be honored in their original form at The Moore Theatre.

We apologize for any inconveniences, but we are excited to offer this show to many more Seattleites. With added new tour dates and sold out VIP across the entire tour, the show is in fierce demand and we're excited for what's in store!

Direct any questions and concerns to info@fivesensesreeling.com! The venue and Ticketmaster will not be able to service existing ticketholders (through Brown Paper Tickets).

The show with be PG-13 in content but will be an ALL AGES show.
(Visited 1 times, 1 visits today)
As the Editorial Director/Co-Owner, Michael Strangeways writes, edits and does about a million other jobs for Seattle Gay Scene, Puget Sound's most visited LGBTQ news, arts and entertainment website now celebrating its 14th year as a media outlet. A semi-proud Midwesterner by birth, he's lived in Seattle since 2000. He's also a film producer who would like you to check out the Jinkx Monsoon documentary, "Drag Becomes Him" now available on Amazon.com. In his spare time, he gets slightly obsessive about his love for old movies, challenging theater, "otters", vodka, chocolate, "I,Claudius", Lizzie Borden, real books made out of paper, disaster films, show tunes, Weimar era Germany, flea markets, pop surrealistic art, the sex lives of Hollywood actors both living and dead, kitties, chicken fried steak, haute couture and David Bowie. But, not necessarily in that order.
Related Posts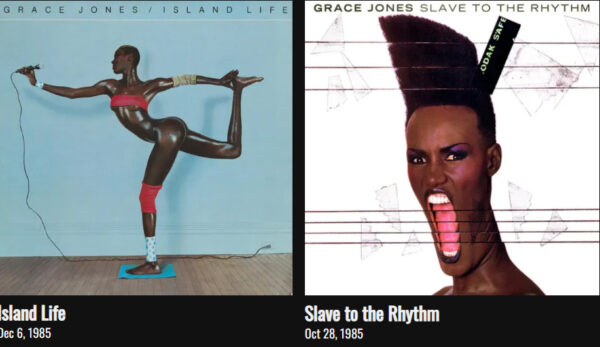 *Seattle Musicland • Arts & Entertainment • Concerts • Legends • Mark Your Calendars • Music • Music - 80s • Pop Stars
It's a rare opportunity to check out the legendary singer/actress/icon
...