EVERYONE and their furry little cousin is on point this year and announcing their Seattle Pride month events RAAAAAAAAAL early. We've never seen so many party planners so on the ball and ahead of the game! It's only the end of April and we just put a large number of events on the SGS Calendar for the month of June including many, many Pride events.
(Hint…it behooves you to do the same if you're involved with an event. Get that sucker announced with a Facebook invite and some art, asap! AND, then come snag an ad on Seattle Gay Scene 'cause some pieces of real estate have ALREADY BEEN SOLD! Get crackin', kids!)
One clever furry little cousin is DJ Nark of Nark Magazine (aka Kevin Kauer) who released his Seattle Alternative Pride Week plans last week…it includes the expected: (a Saturday Pride cruise on The Islander…Pride editions of his most popular events like Dickslap and Make Out Party) plus a return of a big shindig he did a couple years, PRIDE IS FOR EVERYONE in collaboration with Bottom Forty and to be held at "an undisclosed location" with multiple stages and much decadence. There's also a new Happy Hour event and a brunch in addition to the return of his Fierce Queen drag pageant to be held at Re-bar on Pride Week Thursday.
Missing: no big RuPaul Drag Race Queen starring events at Neumos or Neighbours…Mr. Kauer got wise and dumped that tired format.  RPDR queens are overpriced and ubiquitous…you can to to the market and see 3 or 4 of them buying corn at 3 am. No mystique!!!
Here's all the poo released so far on Nark Magazine AlternoPride events with a promise of more info to come. As usual, there are full event passes available, (grab them HERE!) which are a good deal if you want to spend your entire Pride budget in one Narky place. And, note that the Saturday afternoon cruise ALWAYS sells out so don't dawdle on snatching those tickets if you enjoy beer, boats and bearish men on the low seas of Lake Union. (We're guessing the Sunday night Make Out Party at the Eagle tickets which go for $10 will not sell out too quickly…mainly because everyone is broke and exhausted by Sunday night and all the big party sluts still go to the Cuff's Street Party but who knows…)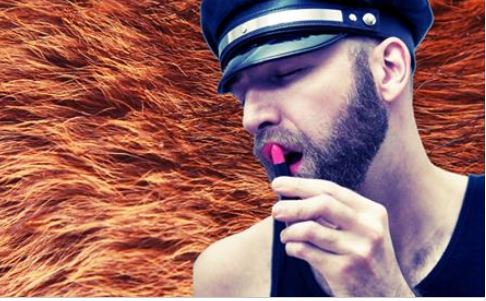 Dah poo:
Nark Magazine and Bottom Forty present Seattle's Alternative Pride Festival Weekend 2017, Pride is for Everyone! A weekend of fun, togetherness and debauchery celebrating the beautiful scenery, communities and vibrant cultures of Seattle across seven different events of varying degrees from free rooftop parties to boat cruises to warehouse ravin' to drag competitions to dark and dingy diving, all benefitting Gay City: Seattle's LGBTQ Center.

More information is still coming together for each individual event but you can secure your place at ALL of them now by snagging a WEEKEND PASS for $75 (no VIP or varying costs, just one pass to rule them alllll) and keep track of all the info here in one place.
Weekend Pass: https://www.universe.com/pride2017

The Alternative Pride Festival Weekend Events Includes the Following..

****THURSDAY 6/22****
FIERCE QUEEN at Re-bar Seattle 8pm
-A fierce competition for fresh queens with your drunk and totally rude judges Shitney Houston (pdx), Urethra Franklin, reigning Fierce Queen Mona Real and Nark.
-$500 cash prize to the Fierce Queen winner + a $500 matched donation to Gay City
-Sign up to compete! Information will be available on the Fierce Queen event page shortly
Tix: https://www.universe.com/fiercequeen

****FRIDAY 6/23****
ROOFTOP HAPPY HOUR at The Nest at Thompson Seattle, on top of the Thompson Hotel 6-9pm
-This is a new and FREE event at the beautiful Nest rooftop bar, come out and take in all the scenery of Seattle and the Puget Sound at sunset as we all get together for some classy cocktail vibes w/ special guest DJ R-Pal [TUF, technodad]
-The nest offers a Flamingo drink which serves multiple people and a portion of the Flamingo sales will go to Gay City

DICKSLAP PRIDE EDITION at The Seattle Eagle 8pm-3am
-our rowdy and wild Dickslap pride edition returns for another year, featuring floppy gifts from Tom of Finland Store, our whore d'oeuvres table, roughed up gogo menz, jello shot servers and special guest David Sylvester (Friends with Benefits, Portland), hosted by Dolce Vida and Official Tom of Finland Ambassador Terry Miller.
Tix: https://www.universe.com/dickslap

****SATURDAY 6/24****
ROOFTOP BRUNCH at Mbar 11am-2pm
-Another new and FREE and beautiful rooftop laden event is a special brunch gathering Saturday morning before our boat cruise, come down (and up) to the Mbar roof on South Lake Union to get fueled up for the pride cruise with drinks, appetizers, or a full brunch, with a special guest host and DJ while overlooking all of downtown and Lake Union. Special table reservations will be available for a charitable donation to Gay City, more information coming soon.

PRIDE CRUISE 2017 on The Islander Yacht 2pm-6pm
-Our most famous and looked forward to event returns! This boat ALWAYS SELLS OUT so get your weekend pass or individual ticekts ASAP! The boat will start boarding at 2pm, leave the dock at 3pm and return at 6pm
-Featuring special guest DJ's Riz Rollins and dj ShmeeJay, hosted by Nark
Tix: https://www.universe.com/pridecruise

PRIDE IS FOR EVERYONE at *undisclosed location* 10pm-4am
-This is the BIGGIE! Bottom Forty and Nark Magazine's collab party Pride is For Everyone RETURNS this year, our first and last one in 2015 was an event for the history books and we look to to out do ourselves of course, this special party is an indoor/outdoor 2-stage mosh of everyone in Seattle that makes this place so damn special, this party is for EVERYONE, EVERYBODY and EVERY BODY
-Featuring Shelrawka, Sean Majors, Wesley Holmes, Futurewife, Bottom Forty and many MORE TBA
-Food available by Destroyer DOGS cart
-Lighting, art, installations and interactive madness provided by varying local Seattle artists
-Specific information will be released closer to event time
Tix: https://www.universe.com/prideisforeveryone

****SUNDAY 6/25****
THE MAKE OUT PARTY Pride Edition at The Seattle Eagle 8pm-2:30am
-We can't let all these cute babe out of towners come in for OUR pride and NOT make out with all of them, now can we?? Join us for this special pride edition of the Make Out Party to close off the pride weekend all wet and lovin'
-Free jello shots in the Make Out photobooth when you make out with a new friend or stranger!
-Special guest DJ James Cerne (LA)
Tix: https://www.universe.com/makeoutparty

Photos all weekend by Roman Robinson.
Follow Nark Magazine to keep up with us as we roll out more info!

Support provided by our friends at Absolut, Rachel's Ginger Beer, Seattle EventPrinting and the GlamCocks!

INDIVIDUAL TICKETS:

Fierce Queen: https://www.universe.com/fiercequeen

Dickslap: https://www.universe.com/dickslap

Pride Cruise: https://www.universe.com/pridecruise

Pride is for Everyone: https://www.universe.com/prideisforeveryone

The Make Out Party: https://www.universe.com/makeoutparty
(Visited 1 times, 1 visits today)