Hello, Sweeties!  It's your bargain basement Lois Lane, Anna T Rexia!  I'm here with my long time friend, Jason Sharp!  Jason is an actor you will recognize from local theater and/or dancing onstage with some of us queens.  Jason is in the cast of the new theatrical production, Cherdonna's Doll's House at Washington Ensemble Theatre which opens Friday, April 28, 2017 at 12th Avenue Arts on Capitol Hill (tickets are HERE!)


---
Anna: Thank you, Jason, for agreeing to sit in my lap for this entire interview! Feel free to squirm around as much as you need.  Now, tell me about this new show in which you are co-starring!

Jason: Well, first off, thank you for inviting me onto your lap for this interview. Is that an eggplant in your pocket? How do you even tuck that thing? Where do I start with describing Cherdonna's Doll's House? It's a brand-spanking-new play produced by the cool theater kids at Washington Ensemble Theatre (aka WET) starring Cherdonna Shinatra herself, and it features a healthy amount of subversive behavior, magical cookies, lip-syncing and butt.

Anna: I Googled Cherdonna and it says that she is a performance artist, dancer, Stranger Genius Award Winner ™ ®, and, like me, a bio-queen! How fun is it working with her?

Jason: Cherdonna (aka Jody Kuehner) is a force of super-nature to be reckoned with! There's no use resisting her! She's like that song that goes "Whatever Lola wants, Lola gets," only substitute "Lola" with "Cherdonna." Get it? Mean either, what was the question again? Oh right. She's a fearless experimenter and totally crush-worthy. It's been especially fascinating to witness the collaborative relationship between Cherdonna and our Director/Co-adaptor Ali Mohamed el-Gasseir up close in high definition. They're like sibling savants who actually bring out the best in each other, but they both want to drive so they're building a car with two steering wheels and taking us all along for the ride!

Anna: Now, when I read the name of the show, I of course thought of Pee Wee's Playhouse! Then, I thought: oh, it's a live Joss Whedon show about hookers!  But, please tell our readers what the show is actually based on.

Jason: Cherdonna's Doll's House is based on Norwegian playwright Henrik Ibsen's seminal work A Doll's House about a young married woman who discovers through the course of unfortunate circumstances that she doesn't really love her sexist, overbearing husband, and ultimately she decides to abandon her marriage and her children in order to go find herself. I play the dick husband, Torvald.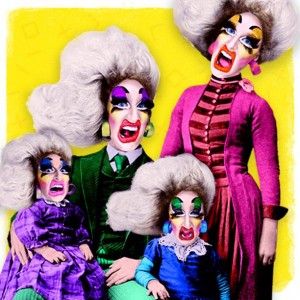 Anna: How did you get involved in this project?

Jason: I've been persistently stalking Washington Ensemble Theatre for a few years now and I've worked previously with Artistic Director Samie Spring Detzer but never on a WET show; so when they invited me to audition for this play, I auditioned my frickin' heart out! And I wore my best suit. Of course, Ali is a pretty sharp-dressed man, so it may have just been the suit that sealed the deal.

Anna: I was looking at the cast photos online and I blinked a few times to clear my vision but I'm pretty sure there's kid actors in the cast?!? How is working with them?  Also, are there any animals in the show?

Jason: You know the saying goes you should never perform with kids or animals because they invariably steal the show. The kids in Cherdonna's Doll's House however have a lot of competition when it comes to scene stealing from Cherdonna! Truth be told, these ankle-biters are delightful and precious and impressively professional. Hersh, the boy who plays my son, was off-book by the end of our first week of rehearsal putting the rest of our adulterated brains to shame! Thankfully, we don't have any animals to contend with, although you might hear some animal noises. I'll just leave it at that.

Anna: Jason, over the years, you have been in both a web series and a live theater series based on Capitol Hill (Capitol Hill and Capitol Hill High, respectively).  Please compare and contrast!
Jason: Girl, you have really done your homework! I've long been associated with a motley troupe of drag queens and freaks known as Bad Actor Productions, and, way back when the Capitol Hill Arts Center (now Velocity Dance Center) was a thing, BAPs produced a late night episodic comedy series at CHAC called Capitol Hill High wherein every character trope you'd expect to encounter in the Capitol Hill neighborhood were stuck in high school together. I played Red, a bi-curious hipster and wannabe rock star. I appear in episode 17 of Wes Hurley's web series Capitol Hill as Igor, the Russian slave-husband to Sarah Rudinoff's character. One might say I am predictably shirtless, but, in my defense, the scene took place in a steam room.


Anna: You were also on the TV show, Grimm! Do tell!

Jason: GRIMM was fantastic! I got to play a Hazmat Supervisor who arrives at the crime scene and informs David Giuntoli, Russell Hornsby and Reggie Lee that their characters have all been exposed to radiation and that they all have to take a Silkwood shower. We started rolling and I came storming in on the first take, rattling off my lines with bravado; but they all busted up laughing because no one could really hear me talking through the Hazmat mask! It was a humbling moment to be sure. I was definitely impressed by how friendly and courteous all the stars were, and David Giuntoli is even hunkier in person! Meow, meow!
Anna: You once directed (Bad Actor Productions' Women in Peril at Annex Theater).  I like a bossy man!  I mean, I'm still not going to do anything he says, but I love it! Do you think you'll direct again?

Jason: Definitely! As a matter of fact, I'll be directing an episodic pod-cast dark-comedy series currently in development, and I've got a number of other creative pokers in the fire.

Anna: I see that you are also a voice over actor for everything from T-Mobile to a Nancy Drew video game.  Will you narrate in a deep voice while I bend over and slowly wipe up all this blood? I kid, I kid!  But do tell me: have you ever had to say "In a world…"?

Jason: Never! Try as I might, I'll never sound as gravelly and masculine as Don LaFontaine! Most of my voice-work is for corporate training videos with a smattering of radio commercials and video games.


Anna: And finally, in a simple Twitter post, sell me on coming to your show!

Jason: "Washington Ensemble Theatre packs a gravity bong with Ibsen's A Doll's House and totally smokes it! Don't miss Cherdonna's Doll's House!"

Anna: Jason, I wanted to give you back your headshots but I kinda crumpled them against my substantial bosom.  I will need more of these, signed!

Jason: Well, thank you Anna. I'm honored that my head shots had the privilege of motor-boating your substantial bosoms. You can have all the autographed headshots you want.
---
Anna T Rexia is a bio queen because she is a female absorbed by her actor brother Craig Trolli (Jason directed him in Women in Peril) and then channeled into a living drag queen! Or something like that?  Basically, they need a Stranger Genius Award ™® like stat!
(Visited 1 times, 1 visits today)