Theater companies seem pretty happy, this month, as many launch comedies or comedic productions. There are also a couple of world premiere works. Have you started attending again? Hope so! Everyone is still masked and checked for vaccinations, so it feels pretty safe.
Compiled from theater press releases: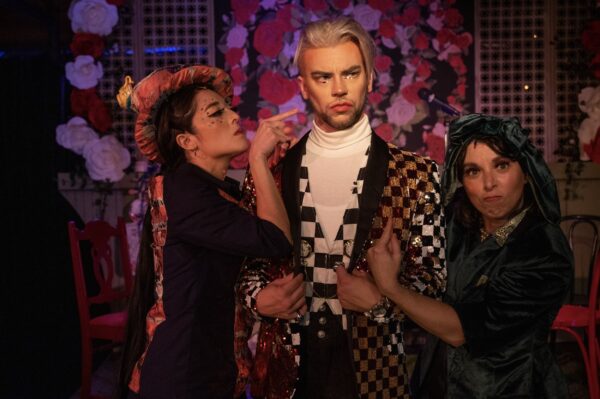 Down The Rabbit Hole, Café Nordo, 4/1/22-5/28/22
Part theatre and live music, part art installation, and part dinner with drinks – guests of Down The Rabbit Hole will find themselves at a Wonderland cabaret! Watch Alice stumble into a world full of mad characters with a modern twist – here audiences play judge and jury in the court of the Queen of Hearts. During this original and immersive art experience, audiences will be entertained, they will wander, and they will enjoy whimsical food and drink, perfectly themed with the evening of entertainment. This cabaret experience has a karaoke twist! On Friday and Saturday night, guests who wish to step up to the White Rabbit's microphone are encouraged to give their song requests to the furry footed MC – curtain call could feature YOUR rendition of a Rabbit Hole themed tune!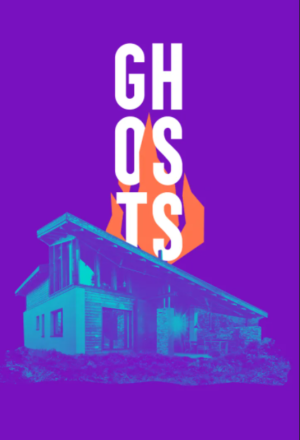 Ghosts, Seattle Rep, 4/1/22-5/1/22 (tour)
In a new translation of Henrik Ibsen's controversial drama, Mrs. Alving welcomes home her beloved son Oswald after many years away. Rebuilding her life after the death of her unfaithful husband, she struggles to keep her husband's debauchery hidden to protect his reputation for the sake of her son. But when Oswald begins a new romance, secrets of all kinds emerge, and Mrs. Alving must decide what course to take to truly be free. Starring Mary Elizabeth Mastrontonio and David Strathairn.
Dirty Rotten Scoundrels, Centerstage Theatre, 4/1-24/22
A bright, catchy score accompanies the story of two con men, Lawrence and Freddy, competing for the same territory. In an attempt to decide who gets the lucrative and coveted Monte Carlo scene, they make a bet involving Christine Colgate, the wide-eyed "American Soap Queen." The men decide to see who can be the first to get $50,000 from the naïve heiress – and the loser has to leave the country!
Romeo & Juliet, Dacha Theatre, (at Sankofa Theatre – INScape Building), 4/1-24/22
Dacha produces the next iteration of their "Dice" series — an original format in which a small ensemble of actors memorize the entire script of a classic play. At each performance, the audience rolls dice to determine who plays which part, and the show goes up! This time Shakespeare's "greatest love story of all time."
http://dachatheatre.com/rjdice
Don't Let the Pigeon Drive the Bus: The Musical, Seattle Children's Theatre, 4/5/22-5/22/22
The Pigeon really wants to drive the bus. He really, really, really wants to! When the bus driver has a small emergency, it looks as though our feathered friend's dreams may come true. Featuring a combination of puppets, songs and feathers, this comedic drive will be sure to get your toes tapping and wings flapping. Pigeon is an interactive romp with one of youth literature's most hilarious characters.
https://www.sct.org/onstage/productions/dont-let-the-pigeon-drive-bus-4/
Outside Mullingar, SecondStory Rep, 4/8-24/22
Anthony and Rosemary are two introverted misfits straddling 40. Anthony has spent his entire life on a cattle farm in rural Ireland, a state of affairs that—due to his painful shyness—suits him well. Rosemary lives right next door, determined to have him, watching the years slip away. With Anthony's father threatening to disinherit him and a land feud simmering between their families, Rosemary has every reason to fear romantic catastrophe. But then, in this very Irish story with a surprising depth of poetic passion, these yearning, eccentric souls fight their way towards solid ground and some kind of happiness.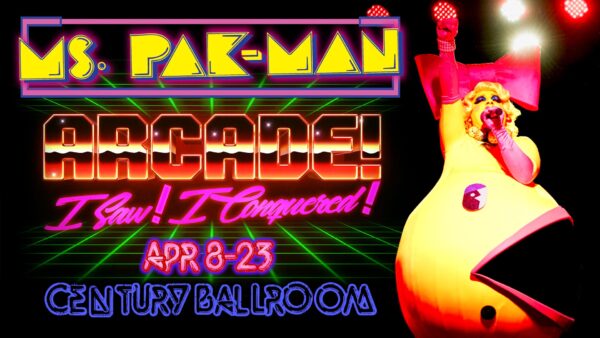 Ms. Pak-Man: Arcade! I Saw! I Conquered!, Shoes and Pants Productions, 4/8-23/22 (at West Hall, Oddfellows)
Ms. Pak-Man is back! It's not often that Ms. Pak-Man revisits her old material, so this is a rare opportunity to witness some of her tasteless and inappropriate high scores, along with some brand-new songs and stories that are destined to become greatest hits of the future. Ms. Pak-Man: Arcade! I Saw! I Conquered! is the 7th installment of Scott Shoemaker's hit Ms. Pak-Man series.
https://www.strangertickets.com/events/120749354/ms-pak-man-arcade-i-saw-i-conquered
9 to 5, Showtunes Theatre Company, 4/9-16 (at the Erickson Theatre)
Three female employees of a sexist, egotistical, lying, hypocritical bigot find a way to turn the tables on him. Judy Bernly, housewife, is forced to find a job. At her new job, she meets co-workers who warn her about their boss. They dream of getting rid of him. When Violet, the supervisor, accidentally puts rat poison in his coffee, he goes to the hospital and Violet and her friends believe she killed him. But when he returns to the office, they cook up a bizarre scheme to kidnap him and run the company instead of him. But can that last for very long?
Mama Won't Fly, The Phoenix Theatre, 4/9/22-5/2/22
A race against the clock begins when Savannah Sprunt Fairchild Honeycutt agrees to get her feisty mother all the way across the country for her brother's wedding. Savannah's problem: Mama won't get in an airplane. She has no choice but to drive her mother. This comedy has twists, turns, and goes up and down the wild road trip.
Arrivals, Seattle Jewish Theater, 4/10/22-ongoing (various venues) (world premiere)
Here is an entertaining, warm and funny Romeo and Juliet love story about a young Sephardic-Jewish man from Turkey and the Ashkenazi-Jewish girl from Russia he meets and falls in love with in early Seattle. Her family is shocked and dismayed. Why? "He's different!" is all they can say.

Tin Cat Shoes, Washington Ensemble Theatre, 4/15/22-5/7/22
A troop of shoe store employees are blessed with the "Can-Do" American spirit and embark on a journey of personal expansion. But when "work is your life" and systems break down, all that remains is you, a casino, and the truth. Told with blisteringly quick humor and a lot of heart, this play explores the capitalist society we inhabit and how to find enlightenment within it.
You're a Good Man, Charlie Brown, Village Theatre, 4/21/22-6/19/22
Issaquah 4/21/22-5/22/22 | Everett 5/27/22-6/19/22
Growing up is serious business! Explore a day in the life of Charlie Brown as he goes from wild optimism to utter despair. Linus, Lucy, Schroder, and the whole Peanuts gang will bring us along as they learn how a great big dose of sunlight and positivity can be the best medicine. This musical comedy reminds us all that the truth can hurt and sometimes it's even funny!
http://villagetheatre.org/shows/youre-a-good-man-charlie-brown/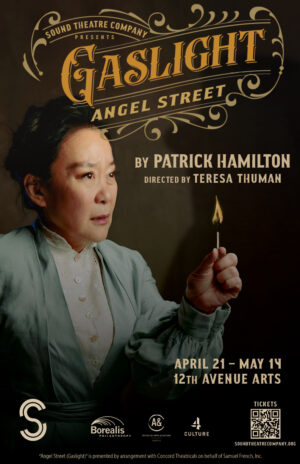 Gaslight, Sound Theatre Company, 4/21/22-5/14/22 (at 12th Avenue Arts)
Murder and mystery loom in the air in Patrick Hamilton's classic Victorian thriller, Angel Street. Mysterious things have been happening in the Manningham household: items go missing, their dog is injured, and Mrs. Manningham hears footsteps coming from the locked, uninhabited top floor. She fears that she is going mad–that is certainly what Mr. Manningham believes. But when Detective Rough arrives one night to visit Mrs. Manningham while she is alone, questions arise and secrets are revealed about her husband. Suddenly, insanity is no longer the biggest threat she faces as she discovers she has married a dangerous man.
Selling Kabul, Seattle Repertory Theatre, 4/22/22-5/22/22
Taroon once served as an interpreter for the U.S. military in Afghanistan. After the Americans withdrew, their promises of protection and safety were no longer there. Now he spends his days in hiding from growing presence of the Taliban as he anxiously awaits news from the hospital on the eve of his first child's birth. What are the consequences of taking sides during wartime?
Much Ado About Nothing, Seattle Shakespeare Company, 4/26/22-5/22/22
Shakespeare's comic combative couple, Beatrice and Benedick, join forces to restore a young girl's honor and don't know that falling in love may be part of the bargain.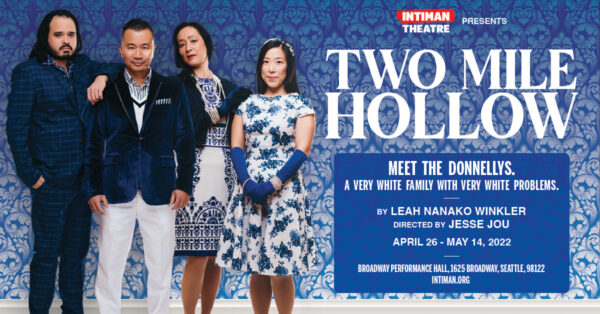 Two Mile Hollow, Intiman Theatre, 4/26/22-5/15/22 (at Broadway Performance Hall)
A wealthy white family gathers together to dish secrets and drink wine one last time in their Hamptons estate before the home is sold. A cast of Asian American Pacific Islanders turns the "rich white family with secrets" genre on its head and splits it open for laughs and stinging insight.
Sweat, ACT Theatre, 4/29/22-5/22/22
Old friends struggle to survive a fraying economy. For decades, they've shared secrets and laughs on the factory floor. Now layoffs pit them against one another as inequities of race and class fan the flames. This searing script is infused with a mix of compassion, humor, and suspense.
Afterwords, The 5th Avenue Theatre, 4/29/22-5/21/22 (world premiere)
Afterwords features a series of journals from dearly departed. Reeling from the loss of their mother, Kali and Simone are at odds as to whether to sell their costly childhood home. They compromise by renting out the attic, and into their lives walks Jo, a woman whose reasons for moving in are more complex than the sisters know. Haunted by the death of her beloved mentor, Jo is hellbent on untangling the mysteries contained in his journals…whose pages point straight to Kali and Simone. As entanglements deepen and past collides with present, Kali, Simone, and Jo relay three sides of the same story in song, spoken word, and visual art.
Cabaret, Reboot Theatre and Theatre Off Jackson, 4/29/22-5/14/22
The infamous Kit Kat Klub tries to maintain its culture and sex appeal in the waning days of Weimar Germany. Wannabe starlet Sally Bowles is caught between the roaring train of oncoming fascism and the desire to be known. What would you do?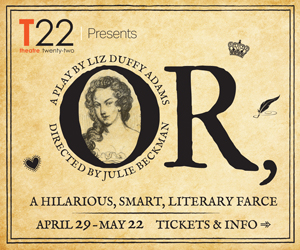 Or, Theatre22, 4/29/22-5/22/22 (at the Bathhouse Theater)
Or, focuses on the life of Aphra Behn, a poet, spy, lover, and the first professional female playwright. Aphra has a shot at a production at one of only two London companies, if she can only finish her play by morning despite interruptions from sudden new love, actress Nell Gwynne; complicated royal love, King Charles II; and very dodgy ex-love, double-agent William Scott—who may be in on a plot to murder the king in the morning. Can Aphra save Charles' life, win William a pardon, explore Nell's charms, and launch her career, all in one night?
(Visited 2 times, 1 visits today)