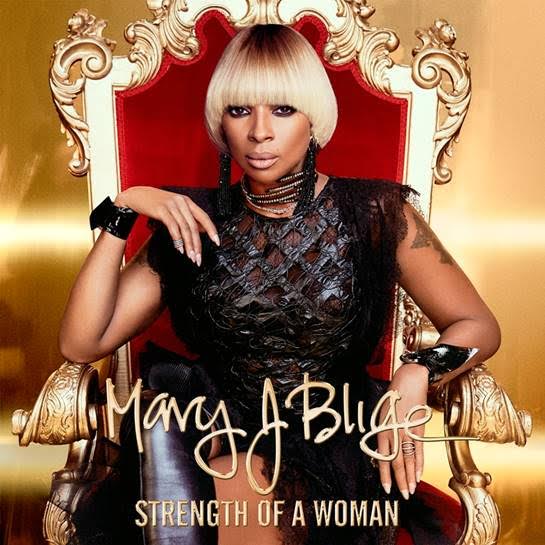 Mary J Blige.
I was 12 and "What's the 411" was the album in my tape deck! This woman won me over, dancin' like she was rappin the hardest, bouncin and sexy at the same time… I mean DAMN GINA! I would follow Mary through the years, my absolute favorite album being Share My World, releasing in 97 when I was 17 and feelin' oh so grown, and lest we not leave out how hard her collaboration with Method Man went, but today, we're here to talk about Strength of a Woman, the FOURTEENTH studio release by Mary J, and on this album, she's done with your bullshit! Not yours, per se, but "the bullshit" and such.
First, can we talk about how STILL BANGIN HER BODY IS?!?!! I mean damn, MJB! She came out the gate like MARY AIN'T NEVA NOT BEEN FINE AS HELL, BOO". Oooweeeeee, the promo photos for this album scream of "Black don't crack" and DAAAAAAAAAAAAAAAMB (to quote my love, Tilly)
I gotta say though, and I may catch a bit of flack for this, but 2 of the 3 selections released are a bit underwhelming. Perhaps I'm very much used to that Mary that is pleading with folks to get right, hitting the most emotional pieces of your soul as if asking a hella burning question.
On U + Me, I'm feeling like I've heard this song before on all my R&B playlists on Spotify- and not this song, but all kinds of songs that sound like this. Very "I have grown up" and "grown and sexy" and things like that. Not saying I dislike that because I can definitely ride to some of it, but this track in particular is not making me feel any feelings.
That brings me to Love Yourself featuring Kanye West. People love to hate Kanye, but he pretty much woke me up in this song like when the pastor at church is goin' in and the organ gets that "duuuuuuh duh" cuz we're all about to find the holy spirit. But again, Mary just drops me back off at my house like I couldn't even hang out for Sunday dinner afterward. The song is an anthem, yes, for individuals who actually need to FINALLY REALIZE IT FOR THEMSELVES that yes, you do need to love your damn self FIRST, but it's pretty preachy. There was even a moment when I wondered what Alicia Key's cover of this song could sound like.
Now again, I say, it IS an anthem, but I'm not jammin at the club to it. #sorrynotsorry
HOWEVER tho, Thick of It! Okay… I have torn opinions and I blame the video. The song itself is what I wanted to hear from my girl, Mary! She told you "hey boo, who you gonna love and trust, huh?" And then she hit me with the 2nd verse like she was in the studio and Cookie Lyon is outside the booth with the silkiest hair and them brows on a face that says "YASS MARY, TELL THESE FOOLS"… hallelujah!
The video is definitely from an episode of Empire, laced in gold and stilettos and fur coats, but is like something out of 1996 and I wished Puffy was in the distance somewhere, and I don't know how to feel about it. Like, it's classic Mary dancing hard and giving us the faces of LIFE, but in my spirit, I can't put my finger on what it is I'm not into, but I'm not completely sold. I mean, maybe it's the fact that as times change, artists also change up styles to stay current and relevant, but Mary is and will always be relevant, so maybe I felt like she was trying to hard in the set design of the visuals…
All I know is this: are you about to go and bump this new MJB? Of course you are cuz DUH, she speaks to your soul like a real and true homie would. How will you feel afterwards? That's up for debate, but the non-debatable FACT is that Mary is back, and you betta get your whole damn life- she ain't got time for the mess! 
---
Nine-time GRAMMY® Award-winner, Golden Globe® Award nominee and multiplatinum R&B legend Mary J. Blige today released  her 13th studio album STRENGTH OF A WOMAN via Capitol Records.  Available on all digital platforms from today, her new full-length features  "Strength Of A Woman",  "U + Me (Love Lesson)" , "Thick of it" and "Love Yourself."  Get STRENGTH OF A WOMAN  HERE.
STRENGTH OF A WOMAN features production by DJ Camper, Bam, Hit-Boy, KAYTRANADA,  Kanye West, Quavo (of Migos), DJ Khaled and Missy Elliot amongst others.
The album's latest single, "Love Yourself," features vocals from Kanye West as well as production by DJ Camper.  The single once again proves Blige to be at the top of her game, displaying the songstress' signature R&B sound while delivering yet another powerful and soulful vocal performance.  Preview to the track HERE.
"Love Yourself" follows the successful tracks "U + Me (Love Lesson)" and "Thick of it." The latter marks a career milestone for Blige.  Co-written by MJB along with Jazmine Sullivan, the song spent 16 weeks at #1 on the Urban AC Chart, marking her longest running #1 single on that chart. What's more, "Thick Of It" climbed to #1 faster than any other song since 1995, when Whitney Houston's "Exhale (Shoop Shoop)" reached No. 1 in its second week. Only three songs have ever reached No. 1 in 4 weeks or less (including "Exhale"). "U + ME (Love Lesson)" is currently #6 on the Urban AC Chart.
STRENGTH OF A WOMAN Tracklisting:
Set Me Free
It's Me
Glow Up feat. Quavo, DJ Khaled and Missy Elliott
Indestructible
Thank You
Survivor
Find The Love
Smile feat. Prince Charlez
Telling The Truth feat. KAYTRANADA
Hello Father
Mary J. Blige
Mary J. Blige is an iconic singer, songwriter, actress and philanthropist.  She has sold over 50 million albums and 25 million singles worldwide, garnered nine GRAMMY® Awards (plus a staggering 32 nominations), a Gold Globe nomination and five American Music Awards.  She holds the distinction of being the only artist to have won GRAMMYs® in the R&B, hip-hop, pop, and gospel categories. She is amongst a handful of entertainers to release eight or more multiplatinum albums, with Billboard naming her "the most successful female R&B artist of the past 25 years".
Mary J. Blige on the web:
https://www.facebook.com/MaryJBlige
https://www.twitter.com/MaryJBlige
(Visited 1 times, 1 visits today)