My…how time flies! Seems like it was just yesterday I was at the Grand Opening of Queer Bar (which should actually be styled as "queer/bar" but I always forget. Also, my Word Press caps everything in the headers!) It was a glamorous night with ALL the stars. Me. Some drag queens. The super model husband of that sex columnist. Several local sluts. A hot mess or 3. More drunks that you can shake a Dick's Hamburger at. That one drag queen who ran over someone in an Uber only they really didn't.
Glamorous!
Anyways, that was a lot of Covid infected water under a bridge ago and it's time to celebrate queer/bar's survival of…well, a lot of things like The Trump Infestation, CHOP/CHAC, Covid-19, Monkeypox, and the never ending problem of apple maggots. Somehow, in all those years, owners/husbands Joey Burgess and Murf Hall have booked pretty much every drag queen who ever drew breath while also plotting to buy EVERY single business on Capitol Hill.
And, all that, without resorting to a "Black List"!!!!
Glamorous AND Amazing!!!!
So, to celebrate 5 years of drunken fun with drag queens, they're bringing in MORE drag queens…BIG ONES! On Saturday, October 8th, RPDR stars Violet Chachki + Gottmik will headline TWO big shows at queer/bar so you have two opportunities to see these divas live on stage!
Tickets will sell out…go to https://www.thequeerbar.com/ to snatch them!
More from the press release below!
Dynamic duo and two of Rupaul's Drag Race top queens, Violet Chachki + Gottmik, appear for one night only on Saturday, October 8, 2022, in celebration of queer/bar's fifth anniversary.

Located in the heart of Seattle's historic gay neighborhood, queer/bar has welcomed some of the nation's biggest drag queens to its stage over the past half-decade.

The mega-inclusive Capitol Hill bar and performance space has served as a haven for the queer community since opening its doors.
WHEN
Saturday, October 8, 2022
Show Times*
Early Seating 7 pm
Late Seating 9:30 pm
*Tickets are for one show only at the designated show time.
WHERE
queer/bar
1518 11th Ave
Seattle, WA 98122
TO PURCHASE: https://www.thequeerbar.com/
*Please note your ticket does not grant you access to both shows, just your chosen show time.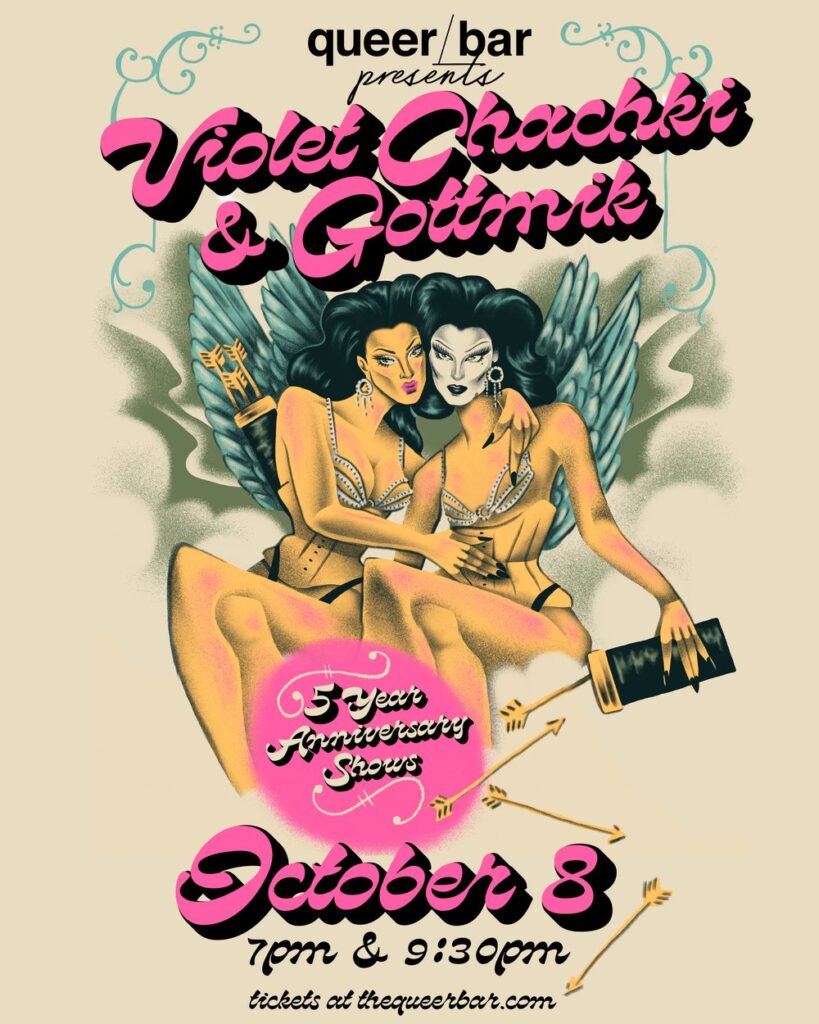 (Visited 22 times, 1 visits today)