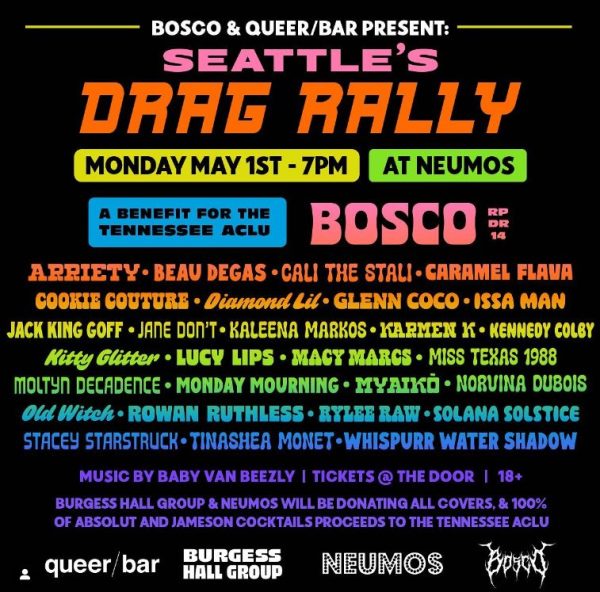 There's a HUGE event coming up on Monday, May 1st…it's SEATTLE DRAG RALLY and it's a mammoth sized benefit show to raise money for the Tennessee ACLU to fight all the idiotic and bigoted new laws being passed in the Tennessee Statehouse that target the trans community and drag performers. In recent weeks, Tennessee (and other moronic states) have been passing more and more unjust legislation targeting LGBTQ+ community members.
RuPaul Drag Race Season 14 finalist and Seattle hometown star BOSCO has teamed up with the Burgess/Hall Group (owners/co-owners of so many major Capitol Hill businesses including Queer/Bar, The Cuff Complex and Elliot Bay Book Company) to produce a show/fundraiser starring Bosco and a bevy of local drag performers. Originally this show was set to happen at The Cuff but the response has been so strong that the organizers are moving this event to NEUMOS which has larger capacity AND the ability to host 18+ folks to see the show!
It's all happening at 7pm (we're assuming it's doors at 7 and show at…..8?) with a suggested cover of $20 AT THE DOOR…no advanced tix for this show. And, ALL door charges to the Tennessee ACLU (to help them fight all those anti-queer laws) with all performers performing for free! PLUS, if you buy Absolut or Jameson cocktails, the money earned from those drinks will also go to the ACLU, courtesy of Neumos and Burgess/Hall!!!
Check out the poster for the huge line-up…if everyone performs once, this show could be longer than a Court of Seattle pageant show!!!
The info from the social media announcement:
We have received such inspiring traction for this show, we found a way to open it up to more of the community at @neumos_ so we can include our 18+ friends 🖤 May 1st join our hometown heroine Bosco for Seattle's Drag Rally; a benefit show for the Tennessee ACLU 💝 Starring @hereisbosco & nearly 30 of your favorite local entertainers! The artists are donating their performances and all proceeds to help fight the anti-Trans & anti-drag legislation threatening our Tennessee family ✨ 7 PM • $20 Suggested Donation • Tickets sold at the door.
(Visited 68 times, 1 visits today)