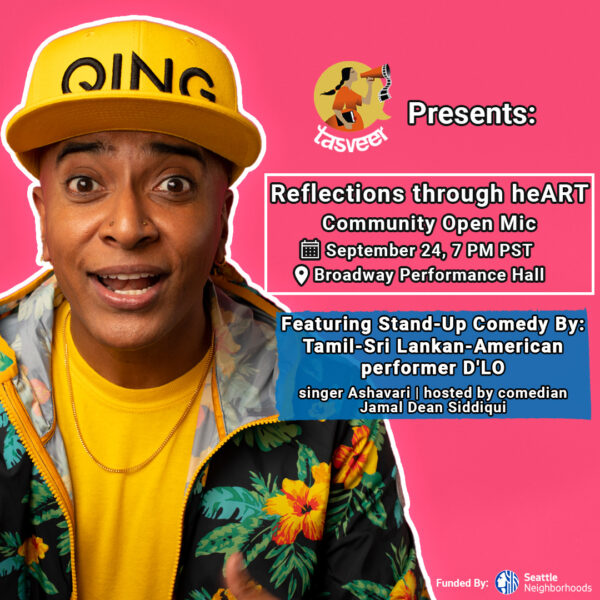 Tasveer, the Seattle area non-profit arts organization dedicated to telling South Asian stories through film, art and storytelling was born out of the horrors of 9/11 and the need for the South Asian community to express their lives through art while recasting harmful labels attached to Asian/Middle Eastern people. It's been over 20 years and Tasveer has grown into a local powerhouse representing the vibrant, diverse and rapidly growing South Asian community in Seattle.
And, Tasveer has always been reflective of queer South Asian storytelling as well, showcasing films and artists of the vast LGBTQ+ South Asian community. As part of that tradition, Tasveer will be hosting noted actor/writer/comedian D'Lo  for their upcoming event, Reflections Through HeART: A CommUNITY Open Mic  taking place on Saturday, September 24th at Broadway Performance Hall. It's the first live event in this open mic series; Tasveer has been doing similar open mic events online for several months. It's a free event but you should reserve a ticket at https://www.eventbrite.com/e/reflections-through-heart-a-community-open-mic-tickets-375416369467
For this September open mic, the special guests will be D'Lo  and Ashavari, a singer-songwriter from Toronto, Canada.
More infomation below but also make sure to mark your calendar for Tasveer's upcoming film festival happening November 3rd through the 20th. https://tasveer.org/tsaff/
Tasveer is all set to launch it's first ever in-person Open Mic event!

Reflections Through HeART: A CommUNITY Open Mic will nurture budding South Asian artists and storytellers in the Seattle area.

We invite you to join us for an evening of South Asian stories and talents that will entertain, enlighten, and inspire audiences.

Don't miss this opportunity to watch our featured artists, D'Lo and Ashavari
D'Lo is a queer/transgender Tamil-Sri Lankan-American actor/writer/comic whose work ranges from stand-up comedy, solo theater, plays, films, short stories and poetry. His solo shows Ramble-Ations, D'FunQT, D'FaQTo Life and To T, or not To T have toured theaters and festivals nationally, and he is a regular performer/speaker on the college/university circuit as well.As a writer he has been published in various anthologies and academic journals, and he is the creator of the "Coming Out, Coming Home" writing workshop series which have taken place with South Asian and/or Immigrant LGBTQ Organizations nationally, which provide a transformative space for workshop participants to write through their personal narratives and share their truths through a public reading.
Ashavari is a singer-songwriter and model from Toronto, Canada. Born a performer and living on stage since she could walk, Ashavari started her musical training at a young age after immigrating from Mumbai, India. She developed a unique, soulful sound that is sweet, sassy and unapologetically herself. Being a versatile singer with a wide range who formerly fronted prog metal bands, Ashavari now finds her smooth, sultry vocals right at home in the r&b pop, and neosoul genre.Ashavari has graced the stage of many iconic venues in Canada like The Opera House, The Velvet Underground, The Rivoli and Petit Campus Montreal both as a singer and model-dancer. She's walked the runway for Fashion Art Toronto, a prestigious alternative fashion show, and backup danced for Dorian Electra in 2018, where Rina Sawayama was headlining. She has also opened for legendary metal bands like Sonata Arctica & The Agonist with her previous band.
Limited seats left. Hurry up and grab your FREE tickets now!
Event Date: Saturday, Sep 24th, 2022
Time: 7:00 pm PST
Venue: Broadway Performance Hall
(Visited 10 times, 1 visits today)