The 13th annual TASVEER SOUTH ASIAN FILM FESTIVAL will kick off Friday September 28th with the gala premiere at Seattle Art Museum. The Pakistani film Cake will be the feature film presented with that film's writer/director Asim Abbasi and the star of the movie Sanam Saeed scheduled to attend.
This year's festival features 63 films including 19 from this year's festival focus country Pakistan.
The films were all thoughtfully chosen by Programming Director Laila Kazmi and Festival Director Rita Meher in collaboration with a selection committee. "We are bringing you some of the best, most unique films to come out of South Asia in the last year, particularly from Pakistan," said Laila Kazmi. "And you won't see them anywhere else in Seattle except at the Tasveer festival."
The festival lasts from September 28 to October 7th at venues all over the metro area, including screenings in Bellevue, Bothell and Redmond as well at Northwest Film Forum on Capitol Hill and at SIFF Film Center at Seattle Center.
There are also LGBTQ short film programs…one on September 30th at SIFF Film Center and the other on October 6th at Northwest Film Forum.
More info on the queer film packages/screenings:
SEPT 30: LGBTQ SHORT FILMS
JLT'S AMAR, PREM  |   IF YOU DARE DESIRE…  |  MEHNDI  |  PEHCHAAN
12:00 pm – 2:00 pm PDT SIFF Film Center, 305 Harrison St
If You Dare Desire…
Debalina Majumder, 52 min, India, 2017
In February 2011, two girls Swapna and Sucheta commit suicide in West Bengal, India. Their bodies remained unclaimed by family and society. If You Dare Desire/ Abar Jadi Icchha Karo … builds on this protest of love and death.
Mehndi
Sudeshna Sen, 4 min, USA, 2018
On the threshold of womanhood, amidst the bright colorful flurry of an Indian bridal shower, two young girls pass a secret designed to alter their lives forever.
JTL's Amar, Prem
Mujeer Pasha, 11 min, United Kingdom, 2018
Amar and Prem call their relationship quits and choose to be friends. But soon, loneliness rekindles longing. Can they go back?
Pehchaan
Chirag Khatri, 15 min, India, 2017
Suraj tackles with his feelings towards Chandu and tries to come face to face with this sexuality, but can't save his friendship.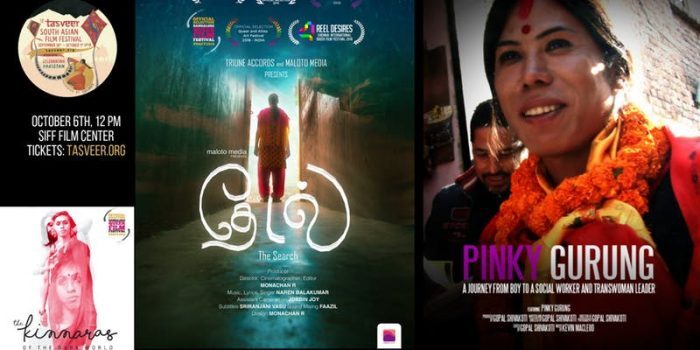 October 6:  LGBTQ SHORTS
THE SEARCH | PINKY GURUNG | CHUDALA | THE KINNARAS OF THE DARK WORLD | PHYSICALITY
12:00 pm – 1:30 pm PDT Northwest Film Forum 1515 12th Ave
TICKETS HERE
A collection of short films that explore the transgender experience in various South Asian contexts.
The Search | 18 mins | Tamil | India | 2017
Pinky Gurung | 13 mins | Nepali | Nepal | 2018
Chudala | 14 mins | Hindi, Urdu | India | 2016
The Kinnaras of the Dark World  | 5 mins | Kannada | India | 2018
Physicality | 17 mins | Tamil | India | 2017
Tags: LGBTQ Pakistan, LGBTQ South Asia, Queer South Asia, Queer South Asian Films, Tasveer South Asian Film Festival