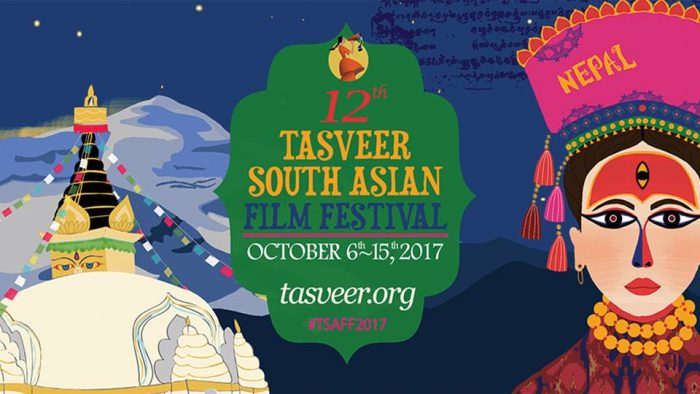 One of the 32,582 film festivals held in Seattle during the fall, TASVEER is one of the most anticipated. Seattle is a film crazy town so it's not surprising that TASVEER is the largest South Asian Film Festival in the United States. The 10 day festival kicks off next Friday, October 6th at the Seattle Art Museum with their Opening Night Gala film Bijuli Machine. The festival then continues with 18 feature films and 38 short films, including a special night of LGBTQ themed shorts on Monday, October 9th at Northwest Film Forum.
Here's more info on the festival in general plus specific info on the LGBTQ films:
With great excitement, the United States largest of its kind, Tasveer South Asian Film Festival (TSAFF) proudly announces its programming lineup for the 12th annual Festival being held at venues throughout greater Seattle. The Festival will take place October 6-15, 2017 and includes 18 feature films and 38 shorts from 11 countries, plus a filmmaking workshop and a symposium examining the homogenization of film and art as well as sexual politics in South Asia. For the first time ever, TSAFF will also offer a Virtual Reality Experience Booth at every programmed event, featuring "Blood Speaks: A Ritual Of Exile," a photography exhibit from Indian artist, Poulomi Basu, among others.

The Opening Night Gala celebration will be held at Seattle Art Museum and kicks off the ten-day Festival on Friday, October 6, featuring the Nepali feature film Bijuli Machine, the story of two scientists on a quest for an alternative energy source, set to be honored after the screening with a reception at SAM. The film's director Navin Awal is expected to attend. Nepal is in the spotlight at TSAFF 2017 with a diverse array of truly remarkable films. The films selected from Nepal highlight how diverse and intricate Nepali culture and stories truly are. In addition to its country of focus each year, TSAFF also selects a theme that weaves through its entire Festival of programming. This year's theme is #WeBelong. "We were moved to select #WeBelong as the theme of not only the Film Festival this year, but of all Tasveer events because of the recent upswing in incidents of hate and violence against immigrants," Rita Meher, Tasveer Executive Director explained. "TSAFF will provide a much needed platform for both artistic expression and community discourse on the subject of belonging in this nation of immigrants."

Over the past decade, TSAFF has grown to become the largest, longest, and most diverse South Asian film festival in the United States. It is the only one of its size with an emphasis on human rights and social justice, instigating vital and groundbreaking conversations about minority oppression, immigration, women's issues, and globalization engaged through the art of film from across the South Asian sub-continent.

A full schedule of screenings and special events is available online at tsaff.tasveer.org/2017/. Single tickets are $10-$12 general admission; various discounts available. Special event ticket prices vary. Passes cost $100-$150 with full-fest, first weekend, and second weekend passes available. All proceeds support Tasveer.
For LGBTQ audiences, TASVEER will feature three LGBTQ-focused short films on October 9th at Northwest Film Forum. Note these are longer short films; one film is 45 minutes long and the other two are between 20 and 30 minutes long. Get tickets

HERE

and here's more info:
I Am Bonnie – Bonnie has been on the run from his family and sports fraternity since failing ' sex test' right before the Bangkok Asian Games in 1998. A born Intersex, raised by poor, illiterate and confused parents as a girl child named 'Bandana ', s/he went on to become one of the finest strikers in Indian women' s football in her/his short career.
Poshida: Hidden LGBT Pakistan – Holding a mirror up to the Pakistani media, this rare and authoritative investigation spotlights a serial killer who preyed on gay men and the hunting of transgender women for TV entertainment. With unprecedented access, the film uncovers the hidden experiences of transgender men and lesbian women whilst dissecting the legacy of British colonialism and the impacts of US government's gay rights advocacy in Pakistan.
Escaping Agra – After being held against their will in India when their gender and sexual orientation is discovered, Naveen Bhat battles their parents in court and pieces their life back together.

OCTOBER 9 || 7 PM || NORTHWEST FILM FORUM

$12 Regular | $10 Student/Senior (with ID)
$10 Early Bird (through 9/30)
I am Bonnie
45 mins || Bengali || India || 2015 || Directed by Sourabh Kanti Dutta, Farha Khatun, Satarupa Santra


A born intersex and raised by poor, illiterate, and confused parents as a female child, Bandana went on to become one of the finest strikers in Indian woman' s football in her/his short career. After failing a sex test, however, the media accused her/him of cheating. Officials forgot her/him soon. Friends disappeared. Her/his career was over.

Bandana decided to undergo Sex Re-assignment Surgery (SRS) and became a male, Bonnie. After his family disowned him and he left home, he moved to a small town, and eventually fell in love and got married. Social backlash and professional conflicts repeatedly forced Bonnie and his wife to relocate and eventually to go into hiding. It was there, in Darjeeling, that the filmmakers were able to find him and learn his side of the story.
Poshida
29 mins || Language || Pakistan || 2016 || Directed by Faizan Fiaz


Travelling across the country, Poshida delves into the history and modern culture of LGBT Pakistan, providing a deep insight into this hidden world. The film examines sexuality and gender identities in south Asia and discusses colonialism, religion, class, and the influence of US foreign policy. It also spotlights the role of the Pakistani media in the case of the Lahori serial killer of 2014 and human rights abuses of transgender men and women for entertainment.
Escaping Agra
23 mins || English || India, USA  || 2016 || Directed by Pallavi Somusetty


After being held against their will in India when their gender and sexual orientation is discovered, Naveen Bhat battles their parents in court and pieces their life back together. (Naveen's pronouns are they/them).
Tags: Escaping Agra, I am Bonnie, LGBTQ South Asia, Poshida, Queer South Asian Film, South Asian Film, Tasveer