Ash Bhoopathy is passionate about South Asian art and he wants to make sure you know it. In an age where South Asian (also known as Desi) families around the world want their children to succeed in a very difficult world economy, they end up encouraging their children to over-prioritize academics during childhood, so they can get a secured chance to study at a university-level, on their way to join one of the three highly-valued professions in traditional South Asian culture: doctor, engineer, businessperson.
This is also a world that stereotypes South Asian employees as people who are dutiful, quiet and willing to work long hours for low pay. It makes sense for parents to encourage their children (of all genders) to reach for higher-paying jobs to break cycles of poverty and underemployment, which many South Asians are familiar with, especially those who end up immigrating to the United States.
However, Ash Bhoopathy wants to promote the artistic ambitions of South Asian people. It almost feels like there are two opposing forces to work against: the force in the American arts scene that minimizes, disenfranchises and silences Asian voices, plus the force in South Asian culture that believes that spending one's time in artistic expressions is not time that is well spent.
This is all quite ironic to think about in context, because art from the subcontinent (India, Pakistan, Bangladesh, Sri Lanka, Nepal and environs) has had such a strong historically-influential impact, both for South Asians and around the world. These strong artistic heritages continue into the modern day. Bollywood films play in cinemas in Seattle and Bellevue regularly while art from South Asian theatre artists is now starting to grace Seattle stages such as ACT Theatre (The Invisible Hand, 2014, Chitrangada: The Warrior Princess, 2017, Guards at the Taj, 2017), ArtsWest (The Who and the What, 2017) and Seattle Repertory Theatre (Disgraced, 2015, and A Thousand Splendid Suns, 2018).
Ash Bhoopathy wants to keep this artistic tradition alive in Seattle and wants to have it transition into a new chapter. We're here at a coffee shop in Belltown on a rainy Wednesday afternoon. Two South Asian people, passionate about the arts, discussing how modern careers for South Asian people around the world can be so restrictive, which could stifle the creation of art by a community that has so much artistic potential.
"It is incredibly important to have South Asians interested in the arts", says Ash. "Some people have a creative side, waiting to be unleashed. They need a venue for it. Existing venues in Seattle really didn't come to mind, so I thought we could start something on our own."
Ash spent time in Chicago before moving to Seattle for his tech career. It was in New York where he discovered "Subcontinental Drift", a collective of South Asian artists who put up a continuing series of salons, variety shows and arts nights in New York City, Washington DC and Chicago. The idea is to have an open-mic format, where South Asian people (and their friends!) can get on stage and present artistic material. It could be a piece of music, a stand-up comedy routine, a sketch-comedy piece, a spoken-word poetry performance, a short play or a full-on dance performance with a dance crew. Anything that can start and finish in five minutes.
Ash ended up asking the other Subcontiental Drift groups if he could start the Seattle chapter about two years ago. Now, after putting up four shows in Seattle in a year-and-a-half, Ash has started a vibrant local scene with a very avid following.
"Subdrift felt like it has an open-source framework. Anyone can take initiative and make this happen in a city", says Ash. "It's hard to get this going in a new city but once you get started, it gets easier." He tells me that someone asked about running a Subcontinental Drift in Columbus, Ohio. This surprises me. "There's Desi artists in Columbus, Ohio?" I respond incredulously. "Yes!" he says. "Of course there are! We're everywhere! And we want to get involved in the arts!"
Ash expresses gratitude to his earlier Subcontinental Drift Seattle collaborators, Ambreen Ali and Karthik Raman, who helped him get the Seattle chapter started. Since then, Ambreen had to step down because she moved to NYC while Karthik moved on to focus on work and family. Ash is still going full steam ahead though. "I want to have four Subdrift events a year in Seattle. One every quarter. We're working up to that. We also want to expand the sizes of our venues to cater to larger audiences. We also want to diversify the performers on stage as well, to showcase more forms of performance art while also creating the opportunity for visual art to be presented either on stage or elsewhere at the event."
For this growth to happen, he is currently seeking out opportunities for sponsorships, where a company or brand can sponsor an event to help reach these goals. He is also trying to encourage people from non-South-Asian backgrounds to perform on his stage.
His plans for growth grow beyond South Asian art though: "We are all a big family. We have had African-American and Southeast-Asian performers on our stages, performing comedy, music and incredible spoken-word-poetry. We want to keep that going and keep extending invitations to our brothers and sisters from other cultures, to share their art with us. The event is called 'Subcontinental Drift' for a reason. We're drifting into each other and sharing our experiences with each other." His passion for representation and diversity is quite clear.
He also feels that the event should stay in Seattle and stay urban in character. "There are lots of South Asian arts events on the Eastside that cater to families and older generations. I'm trying to cater to young people, students, other artists and folks who work in the city who don't want to go home immediately after work. We'd like the atmosphere to be social, with refreshments flowing and everyone having a good time, meeting each other and enjoying being part of city life."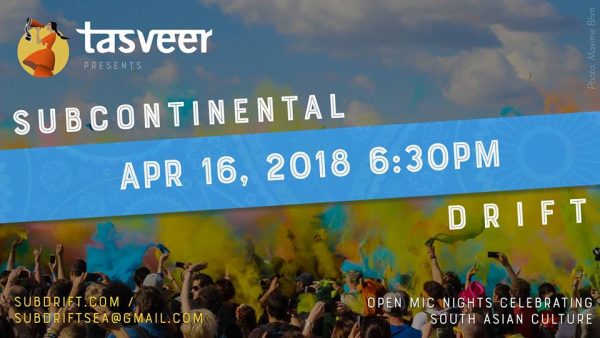 We get to talking about the next Subcontinental Drift event in Seattle. It's called "Subcontinetal Drift: Transitions" and will be at April 16th at the Northwest Film Forum, with collaboration from Tasveer, a South-Asian film-festival team. "Things are changing. There's a lot of work that needs to be done in the background to get all this happening. It's only me running things now and for this iteration, the fine people at Tasveer have stepped forward to work with me on this event in collaboration."
The show format will be a setlist featuring about 15 acts, each about 5 minutes long. The roster includes spoken-word poets, storytellers, musicians, rappers, comedians and dance performance teams.
"The dance performance teams particularly blow you away. People practice choreography for weeks and create their own costumes. Those get a lot of cheers," says Ash proudly. I agree with him because I attended the last event in September 2017 and I was indeed blown away by what I saw.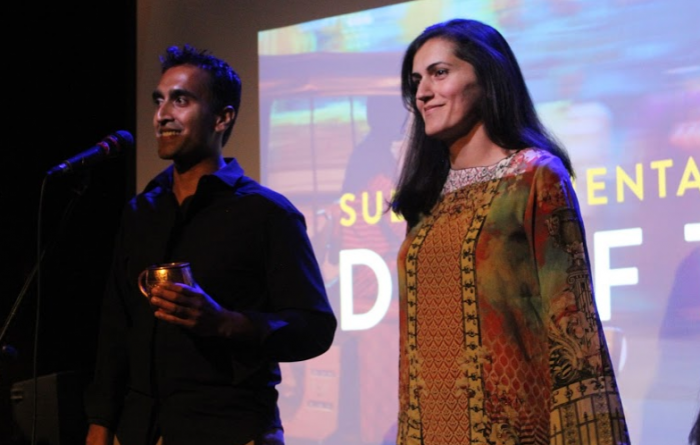 When I ask him what the best thing about this project is, he says it's all about inspiring new artists: "People will come up after the show and say they always wanted to try stand-up comedy or spoken-word poetry. We get to talking and the next thing you know, they're performing in the next event on stage, for the first time in their lives. It's incredible. They wouldn't have been performing if they hadn't been in the audience, seeing someone like them on the stage."
He tells me that art has "diplomatic immunity". I ask him what this means and he eloquently explains:
"You can be Pakistani, Indian, Bangladeshi, Sri Lankan, Hindu, Muslim, Christian, Buddhist, Sikh, Atheist, born in India, born in the USA, living a western-oriented life or living an eastern-oriented life. You can be any of these things and you can still appreciate the effort, creativity and time involved to build a piece of art. That appreciation can bring people together constructively, giving them something to experience together and talk about later."
When asked about which performances for the upcoming show he is most excited about, he shares with me that he really gravitates towards art that is rooted in humor. "Comedy is really important for race relations. The earliest honest discussions about race in America were done by people-of-color through the medium of stand-up comedy, in a way that people were able to digest easily. Politicians don't get to do this because they have to be proper. They have to watch what they are saying. POC comedians are able to mess with the situation. They're able to get people to let down their guard. There is a certain societal inhibition that gets sublimated, leaving the comedian to express themselves naturally in a safe setting, even if what they have to say is controversial. I like that. It puts people at ease and it is the best way to speak to a crowd that is already invested in hearing something exciting and different."
We go on to discuss how diverse South Asian culture is in the first place. A sort of diversity-within-diversity if you will. "Some South Asian folks in Seattle were born in India, Pakistan, Bangladesh, Sri Lanka or Nepal. Some folks are born here in the USA or in Canada. Some came to America earlier in life, some came later in life. But I sometimes see ourselves putting each other into buckets. People are using pejoratives for each other like "FOB" (Fresh Off The Boat) or "ABCD" (American Born Confused Desi). This kind of bucketing shouldn't happen. It keeps our community small, divided and makes people not want to meet up with each other. I don't think I'm a confused Desi. I don't think any of us are really confused. The confusion is projected onto us by people who don't understand us. I'm not here creating a clique, I'm here creating an artistic movement, which focuses on art as a vector and medium for understanding and appreciation. If you're open-minded and want to expose yourself to art, come hang out with us. We will accept you. We will cherish you."
This resonates with me. There are enough things out there dividing our South Asian community. We need more reasons to come together, otherwise we run the risk of tearing ourselves apart in a Trump era that is already hostile to immigrants. An incredible event like Subcontinental Drift is one way to come together, in a sense of camaraderie, while also inviting our friends from other cultures. We can celebrate together what it is like to be immigrants in this country, in ways that can inspire each other. Maybe this is what needs to be done to educate the ignorant among us. Maybe this is what we need to heal each other in these difficult times.
---
Subcontinental Drift is happening this coming Monday, April 16th from 6:30 pm to 9:30 pm at Northwest Film Forum, 1515 12th Avenue (between Pike and Pine) on Capitol Hill. The "Drift" showcases South Asian artists but the public is encouraged to attend. Snag tickets HERE.
Via the FB invite:
It's Springtime in Seattle!!! So it is time for our next Subcontinental Drift. Come join us at our new home (NWFF) on Capitol Hill for the 4th edition of the Subdrift. Our performers come to a safe-space to share comedy sketches, prose they've written, spoken-word they're inspired by, music they want to perform, and of course, dance. The theme for this month is "Transitions." We encourage our performers to come up with art that explores this topic in detail.

Sign up here: https://subdriftsea.typeform.com/to/SWQt4V
(Visited 3 times, 1 visits today)