I have so many reviews to write and I can't let my lower back pain or family traumas (my brother got hit by a car this week but is "ok") or the lovely fall weather from distracting me. 
These are both gonna be short…one will be sweet-ish.
One will not.
We'll start with…not so sweet. 
Review:

SKYLIGHT

by David Hare. Produced by ACT. Directed by John Langs. Scenic Design by Julia Hayes Welch. Costume Design by Heidi Zamora. Lighting Design by Connie Yun. Sound Design by Robertson Witmer. Music Composed by Daniel Kluger. With Daniel Gerroll, Elinor Gunn, Michael Monicatti. Now through September 30, 2019 at ACT.
Gonna be blunt: I didn't like ACT's just opened production of David Hare's 1995 British drama, SKYLIGHT. It's a three hander about the after effects of a disastrous adulterous relationship between a successful middle aged businessman and the young woman who had become a part of his family's life and business prior to the affair. When the wife discovers the relationship, the young woman flees and starts a new life as a school teacher in a poverty stricken part of East London. The wife develops cancer and eventually dies and a year after her death, both her teenage son and her husband pay a call on the young woman in her grotty East London flat. The young man visits briefly, but the former lovers have a long night of reminiscences, some pleasant and others, not so much. Of course they sleep with each other (because…why not?) and she cooks a terribly bland pasta dinner while onstage but like her spaghetti, this play seems under spiced and cold to the touch.
Skylight is well acted by all three actors and its handsomely designed but its chilly and very British script left me cold. Hare has written some beautiful long speeches for the young woman (Kyra portrayed by Elinor Gunn) and the older man (Tom, played by  actor Daniel Gerroll) but the bulk of the play is her giving a long impassioned speech about the choices she has made with her life while he listens impatiently followed by him rebutting with an equally long speech while she pretends to listen and waiting for her next speech to give. The speeches are well written but the didactic back and forth with each proclaiming for their standpoints (he's a capitalist Tory swine, selfish and self-centered; she's a bleeding heart liberal who enjoys suffering for her sins) became tiresome after the 19th go around. The characters are both unlikable twits and both seem too much like characters in a talky play and neither ever feel very alive or organic.
The only character that did feel a bit alive was the 18 year old son who pops up briefly in the beginning and at the end of the play; he's the only signs of life on display (and nicely acted by Michael Monicatti). 
The audience on opening night seemingly adored this production; they gave it the obligatory Seattle Opening Night Standing Ovation (even though as my eyes wandered in boredom over the course of the evening I caught OTHER eyes, also looking restless and fussy at all this chilly British soap opera posturing…)
If you enjoy cold hearted Brits having rows over cold plates of bland pasta, it's the perfect show for you!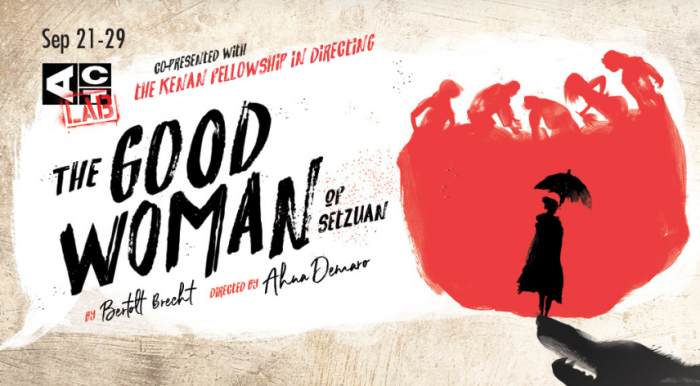 Review:

THE GOOD WOMAN OF SETZUAN

by Bertolt Brecht. Produced by ACTLab as part of the Kenan Directing Fellowship. Directed by Ahna Demaro. Scenic Design by Alexander Winterle. Costume Design by Kat Laveaux. Lighting Design by Amber Parker. Music composed by André Nelson. With Minna Lee, Hazel Rose Gibson, Michael Raimondi, Alaji Marie, Eloisa Cardona. Now through September 29, 2018 at ACT.
Downstairs at ACT, they're doing a small show in their studio theater, the Eulalie Scandiuzzi Space  and it's directed by their current Kenan Fellowship in Directing fellow, Ahna Demaro. It's Bertolt Brecht's THE GOOD WOMAN OF SETZUAN and I covered this production extensively in a preview piece and interview with Ms Demaro (check it out HERE). 
As for the production itself, Ms Demaro has done a solid job of creating a "chamber piece" version of "The Good Woman" with a five person cast and very simple but effective design. Performed in the round within the small black box space of the venue, she and scenic designer Alexander Winterle and lighting designer Amber Parker effectively create the world of "long ago Setzuan" with the use of simple props and wooden set pieces, crates and bits of debris to establish we're in a working class part of town and all artfully lighted to create individual playing areas. The ragged costumes were cleverly executed by Kat Laveaux and the use of live music (composer: André  Nelson) as a live sound design added much to the creation of a unified whole.
The ensemble is strong, led by Minna Lee in dual roles as Shen Te, the "good woman" and as Shui Ta, the fake male cousin she creates and impersonates to be a stronger more forceful person. The other four actors play ALL the other roles: Hazel Rose Gibson, Michael Raimondi, Alaji Marie and Eloisa Cardona and they do manage to create individual portrayals but to be honest I think they got overstretched at times, with too many different roles to handle. It did get confusing as they had to quickly switch back and forth between multiple portrayals, especially in the final trial scene of the play. Sometimes hard to remember who was who as they whiplashed back and forth with very minimal changes in appearance and voice.
Still…This low budget/DIY production of The Good Woman of Setzuan was a lovely chamber version of the play and a good introduction to Brecht and his work. Ms Demaro's staging is creative and compelling and she has the makings of a fine theater director with a potential for a bright future.
For Brecht fans or those curious by his work, it's worth checking out during this very limited run. 
(Visited 1 times, 1 visits today)