It is apparently "world premiere" month on Seattle-area stages – including an introduction to Iranian theater artists hosted by Macha Theatre Works, though I didn't get that memo. But exciting new work is ready for you to experience! Get out yer calendars!
There's also continuing runs from shows opening in late January including Seattle Rep's Metamorphosis and ACT's History of Theatre: About, By, For and Near.
Check out all the theater options down below!
Compiled from press releases by Miryam Gordon.
Productions Continuing From January
Gloria: A Life, Strawberry Theatre Workshop, 1/19/23-2/18/23 (at 12th Ave Arts)
Five decades after Gloria Steinem began raising her voice for equality and championing the voices of others, she remains a leader of the American feminist movement. Emily Mann's play traces the progress of Steinem's extraordinary life, from her undercover Playboy bunny exposé in the 1960s, through her founding of Ms. Magazine in the 1970s, to her activism in today's women's movement.
A Woman of No Importance, Taproot Theatre, 1/25/23-2/25/23
Gerald's prospects are bright as he celebrates his new position with the notorious Lord Illingworth. But amidst the glittering banter at Lady Hunstanton's party, a long-buried scandal is revealed. Will the unveiling of Gerald's lineage change the trajectory of his future? And what of the lovely American who's captured his heart? This comedic classic from Oscar Wilde (the fourth one done at Taproot) will charm you with its cleverness and wit.
An Endless Shift, ArtsWest, 1/26/23-2/19/23
ArtsWest is calling this a "documentary theater project" and it's devised by local writers Gloria Alcalá and Alma Davenport. Created from verbatim accounts of the early days of the COVID-19 pandemic by the Seattle nurses who were there, An Endless Shift is a tribute to the everyday heroes who were confronted with what would become the longest shift of their lives. Gloria Alcalá, in a solo performance, embodies and voices the multitude of perspectives on the harrowing journey Seattle nurses faced in an ever-shifting landscape. It is a journey of challenge, hope, and deep recognition of our common humanity.
Metamorphoses, Seattle Rep, 1/27/23-2/26/23 
A daring and intimate new production inspired by Ovid's epic poems of transformation. This modern interpretation performed by a quartet of actors weaves together a collection of both well-known and rarely told myths that excavate the extremes of human experience through the purest forms of theatrical storytelling.
This Bitter Earth, Seattle Public Theater, 1/27/23-2/19/23
Jesse, an introspective black playwright, finds his choices called into question when his boyfriend, Neil, a white Black Lives Matter activist, calls him out for his political apathy. As passions and priorities collide, this couple is forced to reckon with issues of race, class and the bravery it takes to love out loud.
The Hatmaker's Wife, Centerstage Theatre, 1/27/23-2/19/23
Hetchman the retired hatmaker loves his hat – and his wife. When both go missing, he vows to find them. But first he needs to muster the strength to leave the comforts of his beloved armchair. It's a surreal time-bending fable set in a home where walls talk, words magically appear, and a sweet unexplainable love triangle develops between a man, his wife, and his hat. (If you follow Lauren Yee plays, here is one to see.)
History of Theatre: About, By, For and Near, ACT Theatre and The Hansberry Project, 1/28/23-2/12/23 (world premiere)
Reginald André Jackson, well-regarded local actor, writes this unique dive into the rich legacy of his artistic ancestors, from the early days of enslavement through the ensuing 200 years. Full of music, dance, and profound insights, the show traces the brilliance, perseverance, and artistry of our theatrical fore-bearers restoring and highlighting forgotten and unsung artists to their rightful place in history.
An Incomplete List of All the Things I'm Going to Miss When the World is No Longer, Dacha Theatre, 1/27/23-2/11/23 (at Theatre Off-Jackson)
A bold new electro-synth musical about the end of the world, AILOATTIGTMWTWINL tells of a global announcement of the exact time Earth, as we know it, will cease to exist. A community of young queer friends and lovers decide the only reasonable thing would be to gather together for one last rager. This musical invites you to the last party on Earth to celebrate and mourn the delights and deceptions of the human experience.
New Productions Opening In February
Sense and Sensibility, Village Theatre, Issaquah – 2/1/23-3/12/23 / Everett – 3/17/23-4/9/23 (world premiere)
This playful new adaptation of Jane Austen's beloved novel follows the fortunes (and misfortunes) of the Dashwood sisters—sensible Elinor and sensitive Marianne—after their father's sudden death leaves them financially destitute and socially vulnerable. This classic-modern mashup layers the story with smart comedy and zany antics—underscored by a contemporary mix of your favorite pop songs.
The People Downstairs, Key City Public Theatre, 2/1-26/23
Miles, an aging funeral home custodian with a taste for whiskey, laughter, and hoarding, is moved to action when a court-appointed guardian threatens to take away the home he shares with his daughter Mabel, a middle-aged agoraphobic who spends her days writing letters to prison inmates, their rights, and their stolen poodle. Miles sets out to find a 'good guy' for Mabel. He finds Todd, an inept mortician who lives with his mother and pet hamster Stanley Kowalski. It is a father's fierce determination not to accept his daughter's fate that ignites an endearing human comedy about love, loss, loneliness, and the healing power of laughter.
I & You, Valley Center Stage, 2/3-19/23
A young teen struggles with a long-term illness mostly alone, until a classmate shows up to keep her company. Their work on a class project about a book of poetry leads them to some vulnerable conversation and a surprising ending.
Chemical Imbalance: A Jekyll and Hyde Play, The Phoenix Theatre, 2/3-26/23
Dr. Jekyll's research finds him – as usual – investigating the split between good and evil in the human psyche. Of course, things get out of hand when he decides being evil might be more fun and recreational. This spoof of the classic story by Robert Louis Stevenson will keep you in stitches as this fast-paced comedy takes the stage.
Get The Party Started, Seattle Women's Chorus, 2/4/23 2PM, 4PM, Livestream (at Town Hall Seattle)
Can you believe it? SWC is 20 Years Old! Come out and Get the Party Started with songs from Lesley Gore and Pink, and inspiring music from Nina Simone and Lizzo! Our anniversary show includes tunes from female-identified composers that celebrate where we've been and where we're going.
https://seattlechoruses.my.salesforce-sites.com/ticket/?acode=00c594dbdf549c5f4b33e82469dce3c5&#/events/a0S1S000008QQCBUA4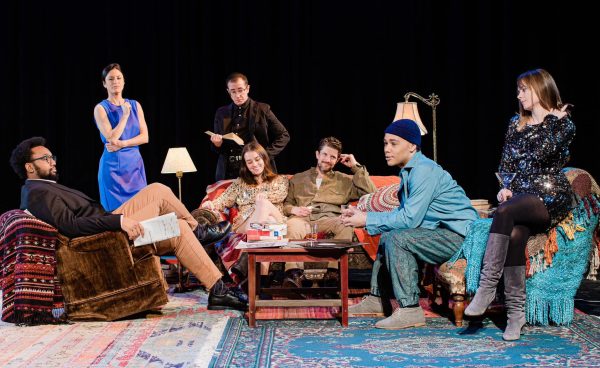 The Sign in Sidney Brustein's Window, co-production of Intiman Theatre and The Williams Project, 2/7-25/23 (at Erickson Theatre)
In Greenwich Village, 1964, Sidney Brustein's living room is the place to be. Neighborhood bohemians gather to drink, listen to records, and argue about politics, art, and sex. Soon, Sidney stumbles into owning a local newspaper and the arguments become more heated. With a marriage on the rocks, no money, and friends advocating for different causes, this aging idealist is forced to decide what he truly believes. This is the first professional production of Lorraine Hansberry's play in Seattle.
The Murder Of Roger Ackroyd, Book-It Repertory Theatre, 2/8/23-3/5/23 (world premiere)
One of Christie's most innovative, clever, and mind-bending mysteries, this story has been lauded as the best crime novel of all time by the Crime Writers' Association. Gossip, blackmail, deception and betrayal unsettle the peaceful English village of King's Abbot. After a pair of mysterious deaths — including one from inside a locked room – Agatha Cristie's infamous detective, Hercule Poirot, is pulled out of retirement to solve the case. Despite his desire to relax and grow vegetable marrows, the ingenious sleuth is compelled to snoop around this quaint hamlet and its surrounding countryside. Will this sleepy 1930s village ever feel quite so cozy again? Will Poirot be able to unravel the knots of this mystery? It's a mystery! Book-It and local playwright Danielle Mohlman (author of Nexus and a renowned theatrical adaptation of Frankenstein) adapts for a world-premiere production.
Into The Woods, 5th Avenue Theatre, 2/10/23-3/5/23
Little Red, a Witch, Cinderella, the Baker and his wife, are trying to live "happily ever after." But as they invade one another's stories and find themselves tangled in a web of unexpected consequences, they find this web too big to untangle on their own. They must work together to set everything right in the kingdom. A Tony Award-winning Broadway hit and feature film sensation, Into the Woods continues to enthrall theater lovers more than three decades after its creation. It's part of a celebration and exploration of the theatrical genius of Stephen Sondheim.
Carmela Full Of Wishes, Seattle Children's Theater, 2/14/23-3/12/23
When young Carmela wakes up on her birthday, her wish has already come true–she's finally old enough to join her big brother as he does the family errands! Traveling through their neighborhood, Carmela finds a lone dandelion growing in the pavement. Before she can blow its white fluff away, her brother tells her to make one wish. This sweet, simple, tale is a moving ode to family, dreamers, and finding hope where you least expect.
60 minutes/Recommended for ages 5+
The Forgotten History of Mastaneh, Macha Theatre Works and Seda Theatre, 2/10-12/23, at Taproot Theatre (world premiere)
The Forgotten History of Mastaneh takes place in an all-girls high school in 1987 Iran, eight years after the revolution that permanently altered the course of the country's history. Three young women's lives change as they are impacted by the rules forced upon them, the revelation of the many secrets held by their families, and the Iran-Iraq war. Their secrets lead to an entanglement with the school Principal, a woman who is also keeping many secrets of her own. This play tells the story of the reality of so many young women in Iran, women who are striving for normalcy and are finding their inner truth and freedom. Written and directed by Iranian playwright, Dr. Naghmeh Samini, one of the most influential voices in contemporary theatre and cinema in Iran. This is her first play to be produced in Seattle, Washington.
www.sedatheatre.com and https://machamonkey.secure.force.com/ticket/#/events/a0S3Z000007vObQUAU
The Revolutionists, SecondStory Repertory, 2/16/23-3/5/23
Four beautiful, badass women lose their heads in this irreverent, girl-powered comedy set during the French Revolution's Reign of Terror. Lauren Gunderson writes about real life playwright Olympe de Gouges, assassin Charlotte Corday, former queen (and fan of ribbons) Marie Antoinette, and Haitian rebel Marianne Angelle. They hang out, murder the Marquis de Sade, and try to beat back the extremist insanity in 1793 Paris. This grand and dream-tweaked comedy is about violence and legacy, art and activism, feminism and terrorism, compatriots and chosen sisters, and how we actually go about changing the world.
For more articles, please go to https://MiryamsTheaterMusings.blogspot.com and subscribe to get them in your in-box!
(Visited 66 times, 1 visits today)