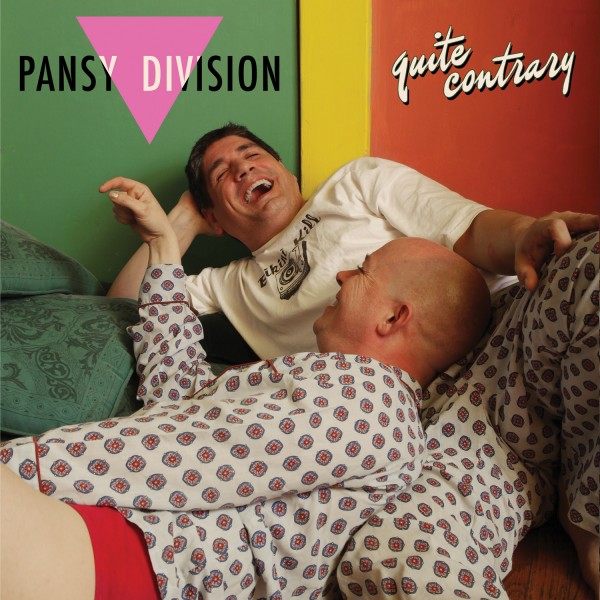 Genre-bending queercore music pioneers, PANSY DIVISION, turn 25 years old this year (YIKES!) and they have a new studio album (their 9th) plus a single, PLUS a Rolling Stone interview, PLUS/PLUS a big fall tour that includes a stop at The Funhouse (at El Corazon) on November 9th presented by local queer arts festival, MoWave.
More poo on "Quite Contrary" their new album out on September 9, 2016 and the fall tour.
You are HIGHLY encouraged to snag tickets and check them out…Pansy Division are part of Queer Music History. That, and they're an amazing live band.

Legendary queercore punk band Pansy Division have returned after seven years to celebrate their 25 year anniversary with their 9th studio album Quite Contrary, out September 9 on Alternative Tentacles. Revered for challenging gay rights issues, "Blame The Bible" is strapped with a catchy melody and politically pungent lyrics pointed at the current Presidential election. A follow up to the the driving alt-punk guitar fuzz of lead single "He's Trouble", the band reveals "Blame The Bible" alongside a Rolling Stone feature out now.

Pansy Division was founded in San Francisco in 1991 by guitarist/singer Jon Ginoli who is joined by bassist/singer Chris Freeman, guitarist/singer Joel Reader and drummer Luis Illades. The first group to be so open with their sexuality, not only did their music and stance defy stereotypic norms of rock musicians being openly gay, they also broke gay cultural stereotypes that rock wouldn't interest gay people. Raised on a diet of 60s pop and 70s punk, their sound was suitably crunchy and catchy as hell. The fourteen tracks on Quite Contrary feature the group's signature tongue-in-cheek lyrics and infectious melodies woven with profound and topical discussions.

Beginning in 1993, they put out an album a year for six years on Lookout Records. Their music caught the attention of former Lookout labelmates Green Day, who took Pansy Division out on tour in 1994 at the height of the mania surrounding their breakthrough album Dookie. 2009 saw the release of the band's last album That's So Gay, which was raucous and raunchy as ever, a documentary film about the band, Pansy Division: Life In A Gay Rock Band, which played numerous film festivals worldwide, and Jon's memoir Deflowered: My Life In Pansy Division, of his stories and experiences in the band.

Catch Pansy Division on tour this fall! Full list of dates below or click HERE.

9/20: Somerville, MA @ ONCE Ballroom
9/21: Philadelphia, PA @ Kung Fu Necktie
9/22: Washington, DC @ Hill Country Live DC
9/23: Baltimore, MD @ Metro Gallery
9/24: Brooklyn, NY @ Sunnyvale
11/4: San Diego, CA @ Soda Bar
11/5: Long Beach, CA @ Alex's Bar
11/6: Palm Springs, CA @ Pride Festival
11/9: Seattle, WA @ Funhouse
11/10: Portland, OR @ Dante's
11/11: San Francisco, CA @ Bottom of the Hill
11/12: Los Angeles, CA @ Viper Room
Here's more on their Wednesday, November 9th show at The Funhouse @ El Corazon:

MO-WAVE PRESENTS:
PANSY DIVISION
With Special Guests
SASHAY
PINK PARTS
DJ MISTER SISTER

DOORS: 8:00 PM / SHOW: 9:00 PM
FUNHOUSE @ EL CORAZON, 109 Eastlake Ave E
THIS EVENT IS 21 AND OVER
TICKETS $10.00 – $15.00
Tags: 'Mo Wave, pansy division, Queercore, Quite Contrary, The Funhouse