We love to encourage non traditional spaces to hold very gay/queer events.
Two local venues are offering up LGBQT fun tonight, Thursday, August 23rd. Both venues have LGBTQ roots; the brand new Clock Out Lounge on Beacon Hill has queer ownership and has already hosted gay friendly events but is also a neighborhood bar that programs to many different audiences. And, Capitol Hill's longtime venue, The Baltic Room on Pine Street, is under new ownership but like the previous regime at the club, they're open to hosting LGBTQ events.
Sweet!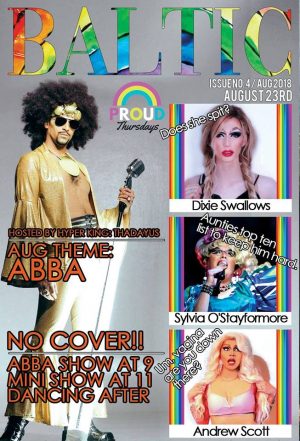 PROUD is their new weekly Thursday party at The Baltic Room (1207 Pine Street) and showcases local talent.
From their p.r.:
Hey you! YEA. YOU! PROUD THURSDAYS is a party dedicated to celebrating the queer community, but everyone is welcome. Every month has a new theme and this month is ABBA. The first Thursday will showcase drag but also queer musicians. Drinks, dancing, drag, musicians, prizes all Thursday night and NO cover?! Whaa?! Bring that beautiful behind on down and lets lift each other up.
Tonight's opening guests include Sylvia O'Stayformore, Dixie Swallows and Andrew Scott with resident hosts Thadayus & the Electrofunks. ABBA show is at 9pm; mini show at 11pm with dancing after.
NO COVER!
It's nice to see The Baltic Room returning to LGBTQ programming on Thursdays…reminds us of the good ole days at ElektroPop!
Sniff….Sniff….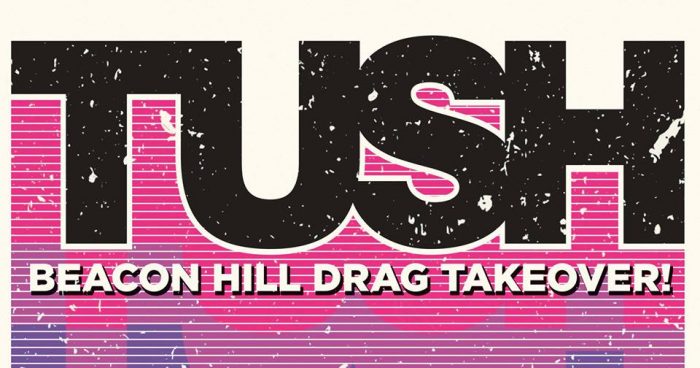 There's also the TUSH Takeover up at The Clock Out Lounge on Beacon Hill, 4864 Beacon Ave S,  to check out:
Beacon Hill's newest drag takeover hit the scene last month and the competition was vicious! 5 queens fought to be a part of this new drag adventure and one of them earned a spot on our cast! 
**Congratulations Beau Degas!**

This month we are back with the full cast! 
Angel Baby Kill Kill Kill 
Miss Texas 1988
Beau Degas

Hosted by Betty Wetter

And special guests all the way from Minneapolis!!
Utica
Jeb Shrub

21+/$10/Doors 8:30/Show 9
TIPPING IS MANDATORY
Breezy Town Pizza bringing the yumz all night!
And, of course there's always fun with TWERK Thursday at Queer Bar from 9:30pm to close:
Join us at Queer/Bar every Thursday after as we dance the night away with DJ Ricki Leigh and performances by La Saveona Hunt, Visage LaRue, and the rest the MX Cast!
(Visited 3 times, 1 visits today)