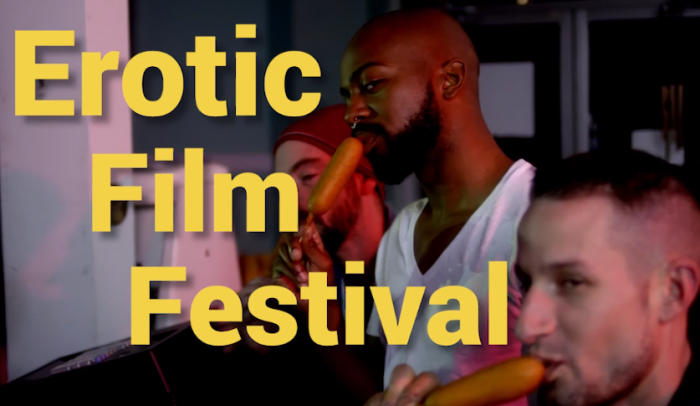 In Seattle's film loving community there's room for EVERYTHING…
Including naughty movies.
The Seattle Erotic Cinema Society screens films throughout the year, mostly at the Grand Illusion Cinema in the U-District but they also produce SECSFest their annual weekend of screening feature length films as well as shorts packages. As they self describe: "SECS FEST is a sex-positive international film festival celebrating the artistry of erotic cinema while inspiring diverse communities to engage in adult conversations about sex."
Most of the films tend to be oriented more towards the "straight" side of the sexual spectrum but queer material is also covered including about a dozen short films of interest to LGBTQ audiences.
Go here for tickets and more info.
Here's more details about some of the queerer films screening:
The Fix (d. Edward Jack, 10 min, USA)
A surreal queer farce about a young man struggling with a cock-sucking addiction. It doesn't help that he works at a corn dog restaurant.
Sat, 9/8 at 4:30 pm
Explore the feminine side of erotic film with a collection of fantastical tales and thrilling fantasies.
Included films:
Aridai (d. Igor Luna, 8 min, Spain)
"I wouldn't have expected that you were tailor-made for my bathtub."
"Oh Baby" (d. Clit Boner & Trilly Crenshaw, 7 min, USA)
Intimate pampering between two women that will make you goo-goo ga-ga.
Queen Kong (d. Monica Stambrini, 20 min, Italy)
The party is dwindling inside but their passion is catching in the garden. His cell phone's persistent ringing distracts his erection. Disappointed, she disappears into the woods. He stumbles after her but finds Queen Kong instead.
Monochrome (d. Rococo Royalle, 11 min, USA, 2017 )
Curves, stretch marks, curly hair. Dressed in their nudity and colorless bars of paint, they merge and embrace. They fuck in their blissful mess, haphazard limits diminished to silky grey smears.
Library Hours (d. Jim Vendiola, 11 min, USA, 2017)
Camille, a recent widow, falls into a strange, long-distance courtship with Delphine, a librarian – who also happens to be Camille's deceased husband's first wife.
The Wheel of Fortune (d. Bambi K., 8 min, USA, 2018)
Five strangers are trapped in orifice bondage and only their sexual release can set them free.
HEAVEN (d. Urvashi, 20 min, USA, 2018)
Five friends turn a ladies' night hang into the ultimate adult slumber party.
"We are the F*cking World" the short (33 minute) screening Sat, 9/8 at 7pm with SECS Feature: I am Valentina Nappi
We are the Fucking World (d. Olympe de G., 33 min, Spain, 2017)
A manifest for pornography based on consent, WE ARE THE FUCKING WORLD (documents nine queer porn stars shooting an orgy in a way that shows them going beyond the question of gender or sexual orientation – showcasing the beauty of every body and every desire. This film raised funds to support the fight against homo/bi/transphobia. (33 min)
Sun, 9/9 at 4:30pm
These shorts explore how sometimes even the most sex-positive and informed still have fear and anxiety about sex.
LGBTQ films include:
BIRTHDAY (d. Shine Louise Houston, 7 min, USA, 2018)
A night out, an old friend, and a special treat coalesce in this poetic narrative about a queer relationship.
THE 36-YEAR-OLD VIRGIN(d. Skyler Braeden Fox, 30 min, Canada, 2017)
From celibate teenage bible thumper to post-teen lesbian, Skyler, now trans masculine and nearing middle age, feels he missed out on something during his youth. Sex. Not the queer kind he's been having. But something a bit more… standard. A sweet coming-of-middle-age sex documentary about fulfilling a long-standing fantasy and losing your virginity.
(Visited 7 times, 1 visits today)