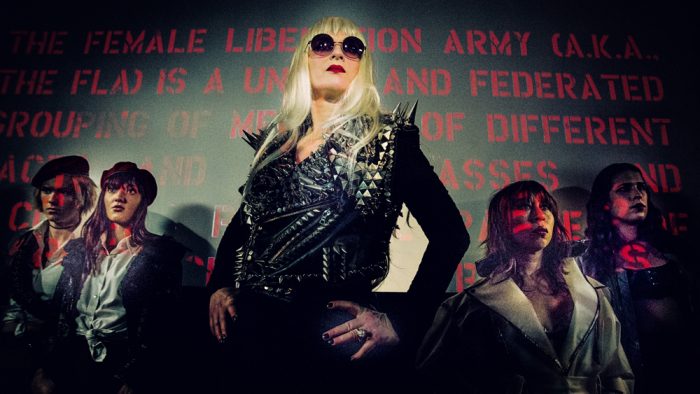 It's a bit different.
Notorious queer filmmaker Bruce LaBruce's latest film THE MISANDRISTS  is centered more on females than on horny gay males but it's still button pushing and sly. The Canadian filmmaker who works frequently in Germany is known for films that are sometimes labeled porny art films and/or arty porn films but usually with an arty/lefty agenda. His previous films have touched on sexy good times with hustlers, anarchists, the elderly and the living dead (TWICE!) but usually centered on gay men.
The Misandrists is femme based and its plot seems to ever so slightly echo Clint Eastwood's 1971 film The Beguiled which was recently remade by Sofia Coppola in 2017, which centered on a wounded Civil War soldier causing havoc in an all-female establishment harboring him.
From Grand Illusion's FB invite:
When an injured male leftist on the run discovers the remote stronghold of the Female Liberation Army — a radical feminist terrorist group whose mission is to usher in a female world order — one of the members takes pity on him and hides him in the basement. However, the man in the basement is just one of many secrets threatening to disrupt the FLA's mission from within. Balancing sharp social commentary and salacious popcorn entertainment, iconic filmmaker Bruce LaBruce has created an experience that's a blast to watch and just as much fun to dissect afterwards.

"With "The Misandrists," Mr. LaBruce announces, here is queer cinema: confrontational, pansexual, gender-fluid, racially inclusive, angry and surprisingly romantic." New York Times
Personally, I wish Mr. LaBruce had just gone pornier and remade The Beguiled with an all male cast…
The Misandrists is screening at the Grand Illusion in the U-District at 9pm today and tomorrow (July 2nd and 3rd), then takes a break on the 4th of July and wraps up on Thursday and Friday (July 5th and 6th). 
If you enjoy Mr. LaBruce's "naughtier" work then I suggest doing a search for "Flea Pit", his most recent gay porn effort produced with CockyBoys. Obviously, it's NSFW which automatically makes it more interesting and intriguing.
Anything "not safe" for the average workplace is automatically worth investigating…IMO.
(Visited 2 times, 1 visits today)