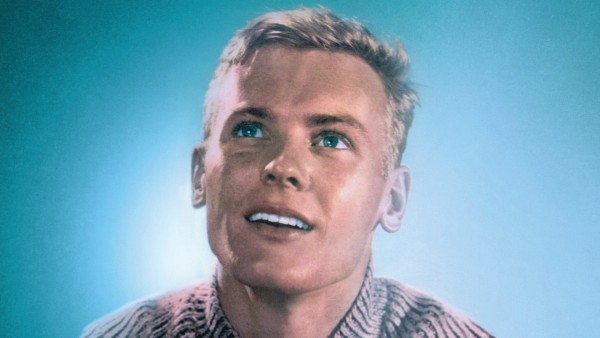 We royally decree it's TAB HUNTER DAY!!!!
It's not his birthday or anything but you CAN check out two great films starring/about the dreamy blonde male pin-up from the Silver Age of Hollywood who gloriously came out of the closet a few years ago to delight us with his tales from that era.
The Grand Illusion Cinema in the U-District (1403 NE 50th on the corner of University Ave) is offering up two different films this weekend/week that feature the icon. One, is arguably his best feature film, the delightful John Waters' comedy POLYESTER starring the late and great Divine. If you remember/are smart enough to learn things about the past before you were born, POLYESTER was filmed in "Odorama", the campy gimmick of providing "Scratch'n'Sniff" cards to cinema goers who could scratch appropriately marked spots on the card to trigger certain smell sensations over the course of the movie.
It's not recommended for folks with issues with scent!
Then again, how many people actually enjoy Fart smell?
(I don't wanna know…Perverts)
More on POLYESTER:
PRESENTED IN ODORAMA (while supplies last)! Director John Waters broke new boundaries of bad taste & style with this hilariously trashy send-up of a Douglas Sirk melodrama. Divine plays Francine Fishpaw, a dissatisfied suburban housefrau who longs for a little romance in her life because her husband and children drive her crazy. Salvation arrives in the form of Tod Tomorrow (Tab Hunter), an art-house drive-in owner who sweeps Francine off her feet. But he's not all he's cracked up to be.

John Waters / 1981, USA
86min / 35mm
It screens November 6 & 7 at 9pm and on November 12 at 7pm. The Grand Illusion doesn't really do advance tickets, so just show up!
In addition, you can also enjoy the terrific documentary on Tab, made by the also terrific documentary filmmaker, Jeffrey Schwarz. TAB HUNTER: CONFIDENTIAL already played at SIFF and SLGFF this year, but for those who missed it (or loved it) here's a chance to check it out!
In the 1950s, Tab Hunter is number one at the box office and number one on the music charts. He is Hollywood's most sought-after star and America's boy next door. Natalie Wood, Debbie Reynolds and Sophia Loren are just a few of the actresses he is romantically linked to. Nothing, it seems, can damage his skyrocketing career. Nothing, that is, except for the fact that Tab Hunter is secretly gay. Now, Tab Hunter's secret is out. In TAB HUNTER CONFIDENTIAL we will meet, for the first time, the real Tab Hunter as he shares with us the whole story of a happy, healthy survivor of Hollywood's roller coaster. Featuring interview with John Waters, Clint Eastwood, George Takei, Debbie Reynolds and more.

"…slick, savvy, rollicking, and eye-popping…" Vanity Fair

"A colorful, likable and unpretentious look at the 1950s Hollywood dreamboat who was living a closeted gay life even as he was marketed as every bobbysoxer's ideal boyfriend." Variety

Jeffrey Schwarz / 2015, USA
90min / Blu-ray

Showtimes:
Fri: 7pm
Sat & Sun: 5pm & 7pm
Mon-Wed: 8pm
Thurs: 9pm
(Visited 3 times, 1 visits today)