TCM to Remember Legendary Actor Tab Hunter on July 20 
Programming Tribute to Include The Life and Times of Judge Roy Bean (1972) & The Burning Hills (1956)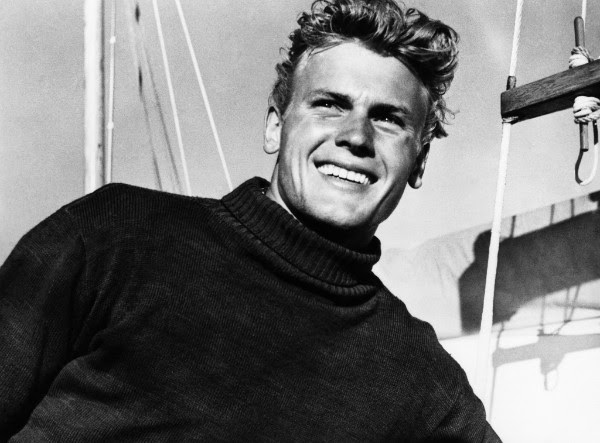 Sadly, Turner Classic Movies won't be showing Tab Hunter's queerest films when they honor the actor with a film tribute next Friday, July 20th. The 86 year old heartthrob passed away on July 8th after a fascinating lifetime involving making films, ice skating, horse back riding and…being a closeted gay star until he came out officially in 2005 with the publication of his memoir, Tab Hunter Confidential which was turned into a documentary film in 2015 of the same name, a film Hunter promoted at the Seattle International Film Festival. Though Hunter had been the subject of rumors since the start of his career in 1950 and his turns in two very queer films with gay drag star Divine in the 1980s being winking unofficial acknowledgements that he was gay, the actor's frank account of life in 2005 was his public declaration that he had always been a gay man. The juicier details of the book and film included Hunter's account of a long relationship with fellow film star Anthony Perkins included the two men frequently double dating with women in order to spend time together in public situations.
This famous photo from that time is simply FRAUGHT with tension and drama…the women seem bored while Tab seems to have something to say while Tony Perkins is quite aware they're being watched and photographed.
GAY DRAMA!
This photo is another example….
Eventually Tab settled down with Allan Glaser in 1983 not long after he made his first camp classic, POLYESTER with director John Waters. Tab then re-teamed with that film's leading 'lady', DIVINE for a second film, the spoofy Western LUST IN THE DUST directed by Paul Bartel.
You'll have to settle for Tab's "straighter" (and duller) mainstream films in TCM's tribute next week…it's mostly westerns and adventure films. Yawn. They apparently don't have the rights to Tab's OTHER fun films like the musical DAMN YANKEES or his small role in GREASE 2.
Regardless, a TOAST to Mr. Tab Hunter!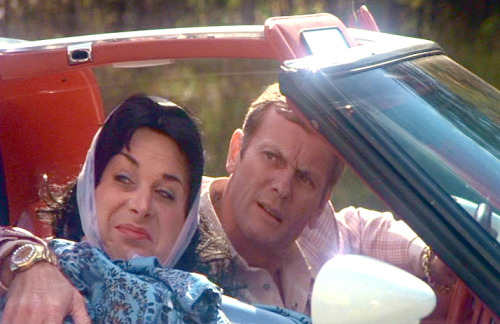 Turner Classic Movies will celebrate the life and career of acclaimed actor, pop singer, author and gay icon Tab Hunter with an eight-film tribute on Friday, July 20. Hunter, who passed away on July 8 at the age of 86, was a Hollywood heartthrob who starred in more than 40 films dating back to the 1950s and who also had a hit single "Young Love" at the top of the Billboard Hot 100 for six weeks in 1957.

The following is the complete schedule for TCM's tribute to Tab Hunter:

TCM Remembers Tab Hunter – Friday, July 20

6:00 a.m. The Steel Lady (1953) – Four U.S. soldiers trapped in the Sahara find refuge in an abandoned Nazi tank.
7:30 a.m. Return to Treasure Island (1954) – A student vies with crooks for buried treasure.
9:00 a.m. Lafayette Escadrille (1958) – A hotshot young flyer falls for a French prostitute during World War I.
10:45 a.m. Operation Bikini (1963) – An underwater demolition team goes behind Japanese lines during World War II to re-take a strategic island.
12:15 p.m. The Golden Arrow (1964) – An Arabian bandit discovers he's the long-lost son of a Sultan.
2:00 p.m. The Girl He Left Behind (1956) – The misadventures of a new army recruit.
4:00 p.m. The Burning Hills (1956) – A young cowboy and a Mexican girl run from a ruthless criminal.
5:45 p.m. Life and Times of Judge Roy Bean (1972) – A self-appointed judge cleans up a corrupt western town twice.

For more information, please visit: http://myt.cm/TabHunter

(All times Eastern)
(Visited 20 times, 1 visits today)