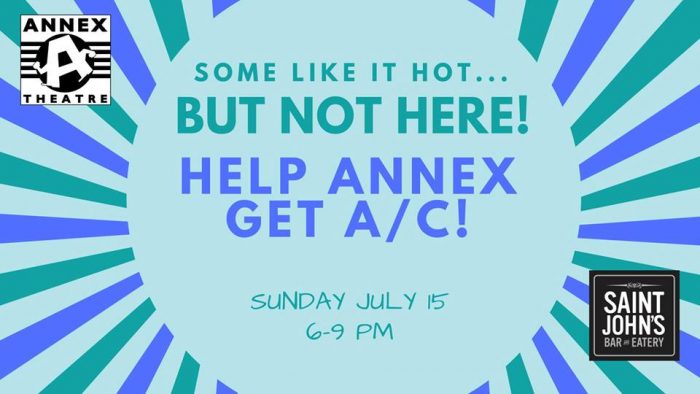 Oh My, (Fill in the Deity of Your Choice)!!!!!
We support this SO very much.
We really j'adore the hell out of Annex Theatre, Seattle's oldest and most cherished fringe theater company dedicated to producing new works by local artists. Many, many theater makers in Seattle and around the globe got their start there (uh, Paul Giamatti for one) and Annex has been an important training ground for so many artists. 
That, and they do fun, crazy shows involving zombies, mutants, robots, psychotic nuns, more alien beings and vampires than you can shake a vintage copy of Fangoria at, and every other weird thing under the hot, hot sun. Oh, and lots and lots of queer theater, to boot! (Many of those zombies, robots and psychotic nuns are some combo of L, G, B, T, Q…..)
Which leads us to….they're now raising funds for something they REALLY need….AIR CONDITIONING! Anyone who has attended an Annex show from May through September knows it can get stuffy in there, and oven like in July and August. Quirky, queer nerd theater is awesome but less so when you're sitting there sweating like a Trump writing a check!
Saint John's Bar & Eatery is a down the street neighbor of the Annex on Pike, and they're donating a portion of proceeds from 6pm to 9pm on Sunday, July 15th to help Annex reach their goal…it's a good way to get a great meal AND help out a great theater company. You should do it, if possible, or just donate to Annex's A/C campaign.
More poo and info on how you can help!
"Theatre is a dish best served cold."
— Annex Theatre A/C Fund
Some Like It Hot… But Not Here!
Join us at Saint John's Bar & Eatery on Sunday, July 15 from 6 to 9 pm to help Annex get A/C!
Annex Theatre produces the hottest shows in town. Audiences and artists alike suffer when they're crammed into our 99-seat theatre with nothing but otter pops and fans to keep them cool. Our volunteers do everything we can to mitigate the effects, but with extreme weather on the rise, our internal temperature blasts through our south-facing brick wall in the summertime, and not in a good way. We've got a jump start thanks to a generous equipment grant from 4Culture. But we still need your help!

Donate $5, $10, or $500 to help out your favorite second-floor walkup fringe theatre in the heart of Capitol Hill today. Your gift will not only help create pleasant experiences and increase accessibility for our summer shows The Great Inconvenience and Rovers! plus our August editions of Weird & Awesome with Emmett Montgomery and Spin the Bottle, but it will also directly contribute to our new legacy of reasonably-cool theatre experiences for the ever-increasing number of unseasonably warm months.

Want to help Annex stay cool? There are two ways to help. On Sunday, July 15, Capitol Hill's beloved Saint John's Bar & Eatery will donate 15% of proceeds from 6 to 9 pm to the cause.  Join us at St. John's to grab a bite and learn more about the shows.

If you can't join us at St John's on Sunday, you can donate online at bit.ly/DonateToAnnex and @ us on social media with selfies or descriptions about how you stay bold, cool, and comfortable.
(Visited 1 times, 1 visits today)