Here's a neat idea…create a live theater piece to stream online that is interactive and allows you to "choose your own theatrical adventure" and takes place in two part over two consecutive days!
Oh, and it's a nerdtastic, fantasy, horror, role playing thrill ride through a very queer lens!
SQUEEEEEEEEEEEEEEEEEEEEEEEEEEEEEEEEEE!
It's happening NOW via Annex Theatre on Capitol Hill and it's called VAMPIRES OF THE NEVERWOOD and it's a creation from drag theater impresario Butch Alice and Anya Knees. Like any good role play adventure, it has a backstory! Check it out!
When Jonelle Dinklebreeze is forced to return to her hometown of Pipistrellus on a mission to retrieve the mythical Solstone, she stumbles upon a side quest that turns her whole world upside-down: half the town has gone missing! Kidnapped by those fiendish vampires, no doubt! Now, under the guidance of the unpredictable Quest Master, she must team up with her estranged sister, gather three party members, save the townspeople, and maybe -just maybe- find the Solstone before it's too late! But surprises lurk at every turn in the Neverwood…

This decide-thine-personal-disaster style comedy is action-packed with pole dance fighting, dungeon crawling, over 20 different puzzles, sitcom-esque setups bound to trigger your social anxiety, several odd subplots involving Chicken Marsala and a Lacrosse team, and so much sexual degeneracy, it'll have you wondering, "How has YouTube not taken this down yet?" Whether you choose to follow the path of Realism, Pessimism, or Optimism, you'll discover a unique and unforgettable adventure each time you hit Play.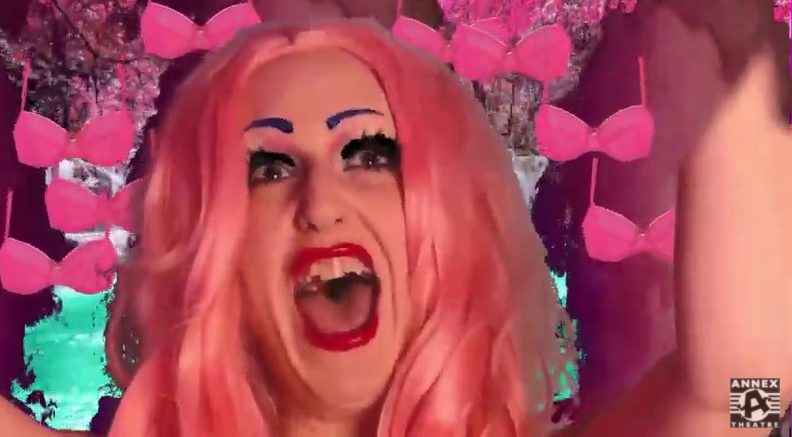 Vampires of the Neverwood is a TWO part story and it needs to be enjoyed on back to back consecutive performance nights! You have the options of enjoying performances on Tues/Wednesdays and Friday/Saturdays through March 5/6th! Go HERE for Pay What You Can Tickets!
(Visited 1 times, 1 visits today)