Annex, Seattle's beloved fringe theater which has been showcasing new work for decades, has two shows opening in the next week.
Silhouette: Annex's new musical by Scotto Moore opens this Friday, holding a mirror to modern humans by transporting us to a future far away.  
Crewmates: Annex's off-night show, by Sameer Arshad, is a piece to challenge tradition and make you think.
Both use fantastical imagery to look at microcosms of humanity and human tendencies.
Other than that, the pieces couldn't be more different.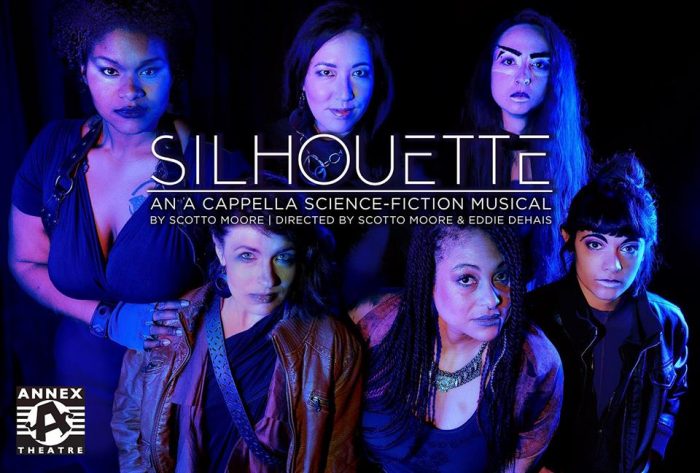 Up first is Silhouette, by Scotto Moore, co-directed by Eddie De Hais and Moore.  It opens this Friday (4/27) and runs through May 19th.
The piece is billed as "an a cappella science fiction musical."  Headed into a rehearsal last week, I had no idea what to expect. Folk songs?  With … robots?
Happily, wrong on both fronts.  The a capella is … actual a capella.  Like the competitive mouth-music-making of Pitch Perfect, in which the songs have beats and layers and music, but it's humans creating them, not the usual non-human instruments.  And the music telling Silhouette's tale is actually really good.  Also, it's not about robots.  It's about people who seem much like ourselves, but face conflict only the future could hold, in form and fantasy.
In the town of Silhouette, magic is real

And everyone uses it

But some things even magic can't fix.
The core problem of Silhouette (the place, not the show) is that it is a town "protected by an illusion," a massive curtain that prevents it from being seen (and, presumably, decimated) by the enemies of Fleet, who patrol the skies.  The conflicts teed up from the start are both the threat of outside invaders and the suffocation — and resulting interpersonal drama — of living in a town of 400 people, all equally scared of life beyond the curtain.
Against all odds of what the set tends to indicate — the stage is dark, and strewn only with a bunch of white triangles, which morph into landscape, spaceships, and other things — the piece does a beautiful job of setting up a small-town, human feel.  Everyone knows each other, and too much about all of them. The younger ones are eager to get out: "Silhouette is safe, but it's also very small." The slightly older, ambitious ones are likewise.
So of course the security must fall, and it does so in the form of a lone "space girl" (a Fleet member), who finds them.  She is held captive by Silhouette's ranking military brass, who debate her fate while trying to get all the information about the outside world they can from her.  When that doesn't prove as productive as planned, the townsfolk must reassess their priorities, community loyalty, and state of security in isolation.
The piece moves along nicely, and the dark sci-fi elements and catchy music performed by a big, talented, diverse cast give Silhouette a kind of a cult classic potential.  It calls to mind a bit of Rocky Horror, and a bit more of The Transfused (a locally written and produced musical skewering capitalism that had one run in Olympia in 2000 and still has a solid following for occasional screenings of footage — see a rough video clip here).
Though a much smaller stage and production than all those, Silhouette seizes on its power to transport — just as you'd hope from a sci-fi musical, whatever else that calls to mind.  Recommended.
Crewmates opens Tuesday, 5/1, and runs on off nights (Tuesdays and Wednesdays) through May 16th.  The piece is written by Sameer Arshad, (a contributor to Seattle Gay Scene) and directed by Shahbaz Khan. In it, the two main surface plots are a budding (and awkward) young opposite-sex relationship, and a formerly-human angel trying to avoid hell, who bickers with the longer-established (read: traditionalist, conservative, stodgy, whichever your preference) angels.
The most compelling arc to follow, however, may be that comprised of the play's statements on religious conviction and the ways people judge one another when using religious "rules" as their authority.  
To virtually everyone who comes to the table armed with such rules, the authority is crystal-clear, and it demands whatever result they're advocating or position they're deploying.  The secular corollary would be something like (the late) Justice Scalia vs. Justice Sotomayor, both educated at the highest echelons, respected jurists, rising to the terminal position of their profession, reading the exact same text and reaching polar opposite conclusions.  And from there, occasionally, things get nasty.
That is what it is like watching the angels argue with each other in Crewmates — they are driven by impassioned views on big questions of morality, but those high-level questions have meaningful impacts on individual lives as well.  It is through those small moments in two lives that the play examines the big questions.
There's not only the overtly nasty judger though, and Crewmates recognizes as much.  Add to that the condescending judger, just as insidious (in that they will never acknowledge your right to be right), but they sound so nice when they're telling you so, and are very interested in your point of view.  They probably don't care about you, but do care that you still like them and respect their open mind.  They're not exclusively, but are probably white.
Crewmates, in contrast, features a cast of 11 actors who are all people of color, across several races and ethnic backgrounds.  Like the huge cast in Silhouette, the actors in Crewmates are also mostly female, genderqueer, and/or non-binary-identified.  The director, Shahbaz Khan, is of South Asian descent and a practicing Muslim.  The playwright is likewise South Asian and has Muslim heritage. Several white theatre artists serve the production in supporting roles.
Crewmates is a piece that invites you to examine systems of belief and the control of the dead hand.  Should words from hundreds or thousands of years ago control our moral rights and wrongs? Should they control our legal ones?  
Crewmates is recommended, both for the production and as a piece to make you think, not just insularly but about macro ideas far beyond the world of the play.  A post-show discussion will follow each evening's performance.
---
Silhouette runs 4/27-5/19 at Annex Theatre, on Capitol Hill.  Tickets $20. Tickets and more information available here.
Crewmates runs 5/1-5/16 at Annex Theatre, on Capitol Hill.  Tickets $10. Tickets and more information available here.
(Visited 3 times, 1 visits today)