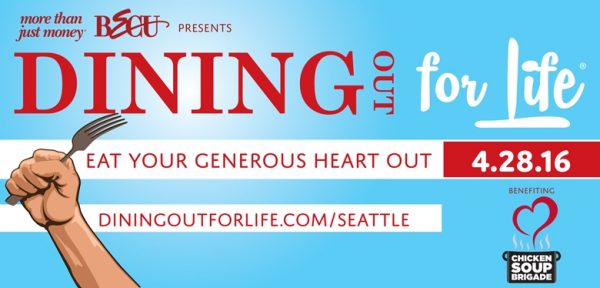 It's that time of year again…time to go out to eat and stuff your face with food and drink while also giving to a great cause.
Yes, it's DINING OUT FOR LIFE the national annual fundraiser to raise money for HIV/AIDS organizations in your area.  The date can vary slightly from community to community but Seattle and the South Sound cities of Tacoma/Olympia are all participating this Thursday, April 26th at dozens of area restaurants, bars and businesses.
For Seattle, go here for the list of participating businesses (which includes some weed dispensaries to satisfy different kinds of cravings). And, some info from Lifelong, the Seattle area beneficiary:
Join Lifelong for Dining Out For Life presented by BECU on April 26!

On Thursday, April 26, raise your fork for Dining Out For Life! Join Lifelong at one of 90 restaurants in the Greater Seattle Area who are set to donate 30-50% of their proceeds to our vital programs that support people facing serious illness and poverty in our community.

We appreciate the support of our wonderful diners, amazing restaurant partners and our Presenting Sponsor BECU in making Dining Out For Life one of Lifelong's biggest and tastiest events of the year. In 2017 we were able to feed over 1,900 individuals by providing 36,500 bags of groceries and 170,000 nutritious meals to those in need. Dining Out for Life has been going strong in Seattle for over 20 years, and ensures that our food program, Chicken Soup Brigade, can continue to provide our clients with healthy food catered to their specific medical conditions. Dining Out For Life also ensures that our other life-saving programs can continue to support the clients who need them the most.
Go here for list of Tacoma/Olympia/Sound Sound participants where it benefits Pierce County AIDS Foundation. 
(Visited 1 times, 1 visits today)