Opening tonight at the Annex Theatre on Capitol Hill is a powerful new theater piece QUEER, MAMA. CROSSROADS which combines movement, spoken word and non-traditional theater narratives to tell stories about queer women of color.
More:
Where do black women go when their souls are taken too soon?
At the crossroads.
April 5 marks the beginning of an incredible journey as Annex Theatre presents choreo-poem-performance piece Queer, Mama. Crossroads written and co-directed by Seattle Civic Poet Anastacia-Reneé, co-directed by Aviona Rodriguez Brown.
Performing for 5 weekends, the ensemble—Ebo Barton, Simone Dawson(Crewmates), Kamari Bright, Jalayna Carter, and Naa Akua—play invisible black mothers targeted by systemic racism and sexism and the spiritual guides who carry those mothers to the other side. Featuring designs by Janelle Kimbrough(costumes), Zane Suarez (lights), Elizabeth Barrett (scenic), Dayana Capulong(sound), and Raven Blue (choreography), Queer, Mama. Crossroads will inspire you to question the actions we do and do not take for social justice.
Explore racism, sexism, homophobia, systemic silence, and spirit in this choreo-poem-performance piece. Dismantle the American cover of denial and secrecy regarding injustices committed against queer women of color who are mothers.

Writer and Co-Director Anastacia-Reneé is a writer, performance artist, and workshop facilitator who has been described as a queer super-shero of color. She was the 2015-2016 Poet-in-Residence at Hugo House, received the 2017 Artist of the Year award and has been named the 2018-2019 Seattle Civic Poet. The Civic Poet program celebrates Seattle's rich literary community while investing in the future of literary arts through community engagement.

Co-Director Aviona Rodriguez Brown is a afrolatinx curvaceous person who bends time and space itself to be involved in the theater. Aviona is a seattle based teaching artist, stage manager, model, actor, director, producer and student. As a social justice leader, she hopes to begin a detention replacement program that teaches at risk children and adults art therapy.
Queer, Mama. Crossroads by Anastacia-Reneé
Co-Directed by Anastacia-Reneé & Aviona Rodriguez BrownApril 5 through May 4
Thursdays, Fridays, and Saturdays at 7:30pm
PWYC Preview on Thursday, April 4
PWYC Mondays on April 15 & 22
No Performance on Friday, April 19$10-$20 Sliding Scale Tickets at bit.ly/QMCAnnex

Annex Theatre is located at the corner of 11th & Pike in Capitol Hill.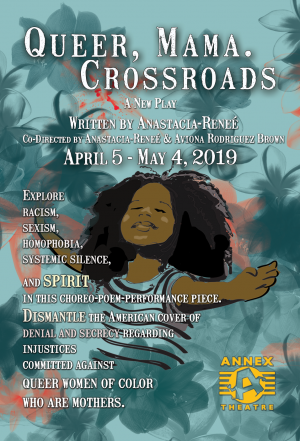 (Visited 2 times, 1 visits today)