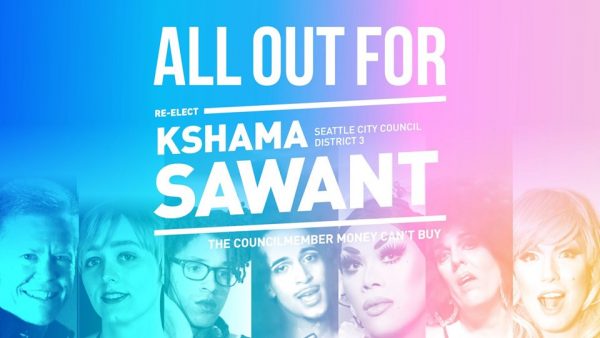 The race for the District 3 Seattle City Council seat is highly contested in this year's city elections with incumbent Kshama Sawant facing a number of challengers for her seat which represents a wide variety of Seattle neighborhoods including most of the very diverse Central District but also the very rich environs of Madrona and Madison Park. It also includes Seattle's traditional LGBTQ neighborhood, Capitol Hill and this year's race for the seat includes three LGBTQ residents including Capitol Hill Chamber of Commerce head Egan Orion and Zachary DeWolf, currently on the Seattle School Board.
But, Sawant is choosing to fight for LGBTQ voters in the district. Included in her platform:
Fully Fund LGBTQ Services: Fund an LGBTQ Center. Expand mental health services, and fund social alternatives to over policing. Make corporate landlords pay for homeless services with a tax on vacant luxury units. Fight for an improved Medicare-for-All that includes gender-affirming surgeries, hormones, and LGBTQ healthcare.

End Harassment and Fight Hate Crimes: Establish an independent elected office to investigate workplace sexual and gender harassment, with full powers to hold corporations accountable. Fund a 24-hour hate crime hotline. Fully fund education and anti-bullying material in schools and workplaces. Fight Trump! Regardless of federal policy, Seattle should reject companies that have discriminatory practices and policies.
But, the Sawant campaign isn't just stopping there…they're reaching out to LGBTQ voters and supporters with a fundraiser event tonight at Chop Suey starting at 7:30pm. ALL OUT FOR KSHAMA SAWANT: DRAG SHOW & CONCERT has a line-up of performers including:
Thadayus & The Electrofunks * Atasha Manila * DonnaTella Howe * Mizz Honey Bucket * DJ Reverend Dollars *
Tickets are $10 in advance, $15 at the doors – go here to snag tix.
And, here's more from the Sawant Campaign:
What's at stake this year is who runs Seattle – Amazon and big business or working people. Since Kshama was first elected in 2013, our movements have won powerful victories, like the $15/hour minimum wage and landmark renters rights. At the same time, rents have skyrocketed, and our city has increasingly become a playground for big developers and the wealthy. Working people, especially LGBTQ and communities of color, have been economically evicted from Capitol Hill, the Central District, and from Seattle.

Our movements for affordable housing have just begun. Big business is determined to use this election year to try and defeat us. They will use big corporate cash to try and get Kshama out of City Hall. We can't let them buy this election! We need more, not fewer, working-class representatives like Kshama who don't take a penny from corporate interests, and fight unambiguously for working and oppressed people. Join us May 23rd to go all out and fight for the city we need:

Tax Amazon and Big Business to Fund a Massive Expansion of Social Housing: Build tens of thousands of high-quality, publicly-owned, permanently-affordable homes, as an alternative to the failed for-profit market. The affordable housing and homelessness crisis disproportionately affects LGBTQ community members and people of color. We need rent control and a tenants bill of rights.
(Visited 1 times, 1 visits today)