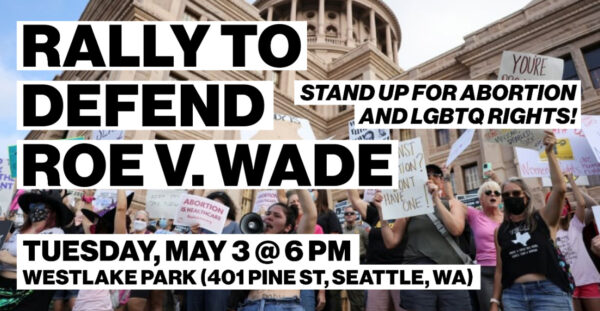 Seattle City Councilperson Kshama Sawant wasted no time in organizing a rally in support of Abortion rights after word leaked yesterday the U.S. Supreme Court is rumored to issue a decision to overturn Roe v Wade the 50 year ruling that allowed abortions to be legal in the United States. And, hints from the conservative side of the Court have hinted that they want to overturn other major court decisions from the last few decades such as Lawrence v Texas which ended discriminatory sodomy laws that targeted gay people and Obergefell v. Hodges which gave same sex couples the right to marry.
If you want to support all these vital human rights, then stand up for them at the rally scheduled for 6pm on Tuesday, May 3rd at Westlake Park (4th and Pine Street in downtown Seattle).
More info:
Rally to Defend Roe V. Wade! Stand up for Abortion & LGBTQ Rights!
THIS TUESDAY, MAY 3
Time: 6:00 PM

Location: Westlake Park (401 Pine St, Seattle, WA)

In a leaked draft decision, the right wing dominated Supreme Court is poised to completely overturn Roe v Wade. This means that abortion will be banned in 22 states, essentially overnight. The anti-abortion extremists want to roll back the clock on reproductive rights and deny bodily autonomy to literally millions living in states with existing abortion bans. Biden and the Democrats have completely failed to protect abortion rights. Every women's organization, socialist organization, and leftwing organization needs to immediately mobilize to stop the right wing's agenda of attacking reproductive rights.But the right won't stop at banning abortion in Republican-dominated states. If the leaked decision stands, it will provide the legal justification for overturning Obergerfell, the Supreme Court decision that legalized gay marriage. Ultimately, the right is organizing for a nationwide ban on abortion and broadening the onslaught of attacks on LGBTQ people.It took a mass movement to win Roe, and it'll take a mass movement to defend it!
We need emergency coordinated protests THIS WEEK in every major city and town to kick off a sustained nationwide movement. Beyond protests, we will need mass meetings to plan next steps for the movement including direct action and even strikes. Fight back to defend abortion — join us this Tuesday, May 3 @ 6 PM at Westlake Park in downtown Seattle!
Tags: Abortion Rights Seattle, kshama sawant, LGBTQ Rights, Rally to Support Roe v Wade, Reproduction Rights, Roe v Wade, Supreme Court Overturns Roe v Wade, West Lake Plaza