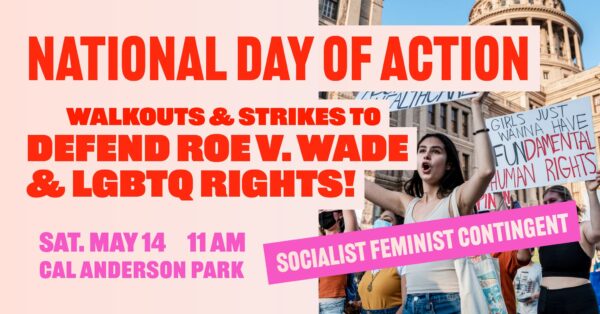 It's a National Call for Action to protect Abortion Rights and other important protections for U.S. citizens this Saturday, May 14th at 11am at Cal Anderson Park on Capitol Hill. Planned Parenthood alliance advocates and other groups including leadership from Seattle City Councilperson Kshama Sawant are organizing a planned protest/rally/march to happen to protest the apparent upcoming U.S. Supreme Court decision to overturn Roe v. Wade the intial court decision that allowed abortion rights in this country.
Via the Planned Parenthood Alliance Advocates sign up site:
On Monday, May 2nd, Politico published a leaked draft Supreme Court majority opinion in Dobbs v. Jackson Women's Health Organization that explicitly overturns Roe v. Wade. This is an unprecedented leak from the court that, if true, would reverse nearly 50 years of precedent and explicitly end federal constitutional protections for abortion. 26 states could move quickly to ban abortion, meaning millions of people might live without local access to abortion. The people in your community and across the country deserve the power and freedom to make their own personal reproductive health care decisions.

Planned Parenthood Alliance Advocates invites you to join these efforts during this moment of crisis. It is necessary to act now, all across the country, not only to demonstrate that people support abortion access, but to show that we won't back down.
The call to action from Sawant also emphasizes the threat to LGBTQ+ rights:
We need a mass movement to defend abortion rights and LGBTQ rights. Join the tens of thousands of working people across the country who will be taking to the streets for coordinated mass protests on Saturday, May 14! Stand with courageous students walking out of schools and workers taking strike action. Roe v. Wade and LGBTQ rights were won in the first place through militant action by workers, union members, and young people. Let's rebuild fighting movements to defeat the right wing!
(Visited 11 times, 1 visits today)