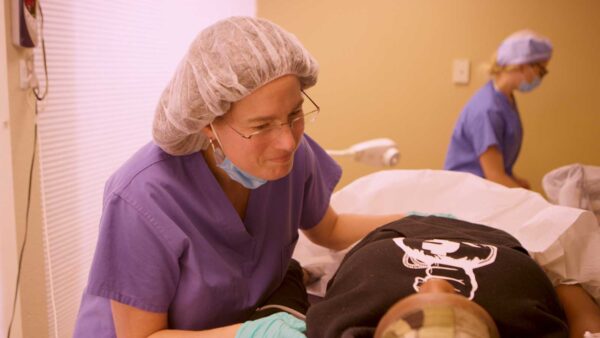 A powerful pro-choice documentary will screen this Sunday, August 14th at SIFF Cinema Uptown. The award winning film, OUR BODIES, OUR DOCTORS centers on abortion providers at clinics in the Seattle metro area and elsewhere showcasing the risks these providers make to continue providing safe reproductive health care options for all women who need them.
The film will screen at 3pm on Sunday and a panel discussion will followe with Filmmakers Jan Haaken (director), Samantha Praus (assistant director) and Drs Deborah Oyer and Sarah Prager.
Get tickets at https://www.siff.net/siff-cinema/in-theaters/our-bodies-our-doctors
More info:
The film follows abortion providers at feminist clinics in the Puget Sound region and across the nation as they show their commitment to abortion as a part of a continuum of reproductive health care. "There are a lot of documentaries about women seeking abortions, but the people who get up every day and make a commitment to providing this care, their story had not been told as fully as it should," says director Jan Haaken.

After decades of legal restrictions, Roe v Wade suffered a lethal blow on June 24, 2022. By a 6-3 majority, the US Supreme Court overturned the 49-year-old law that established the constitutional right to abortion. "While Washington brought this right into the State constitution through a ballot measure in 1991, the impacts are being felt across the country," says Haaken.

"Our Bodies Our Doctors is bold and brave, not only for how the featured providers care for women but in the willingness of these professionals and many of their patients to bring the truth of abortion procedures onto the screen." said Congresswoman Pramila Jayapal, Washington State 7th District, "Everyone should see this unique and inspiring film." 
 
Tickets for the screening and panel discussion are on-sale now at siff.net. Learn more about Our Bodies, Our Doctors and check out SIFF's Women's Rights Letterboxd List for more films to learn and grow from in the wake of the recent Supreme Court ruling.

Screening Details
When: Sunday, August 14th, 2022 3:00 p.m.
Where: SIFF Cinema Uptown, 511 Queen Anne Ave N, Seattle

Director Jan Haaken is a professor emeritus of psychology at Portland State University, a clinical psychologist, and documentary filmmaker.  From refugee camps, war zones, abortion clinics and mental hospitals to drag bars, dairy farms and hip-hop clubs, her documentary films focus on jobs carried out on the social margins and liminal spaces and work that becomes the focus of public anxiety and controversy. 

Assistant director Samantha Praus is a queer Latinx filmmaker and health researcher from Portland, Oregon. She has worked with Haaken on other documentary projects including the recent two-part Necessity film series, focused on legal strategies, civil disobedience and Indigenous leadership in the climate justice movement. 

Sarah Prager is a Professor of Obstetrics and Gynecology and the Director of Family Planning at the University of Washington. She does clinical care, research and education in abortion and contraception, and runs the Fellowship in Complex Family Planning at UW.  

Deborah Oyer is a board-certified family medicine physician.  She has just recently retired from her positions as Medical Director of Cedar River Clinics and Clinical Associate Professor at University of Washington in the Departments of Family Medicine and Obstetrics and Gynecology.
(Visited 9 times, 1 visits today)