I know all you Barbie lovers are getting very excited about the upcoming opening of BARBIE, the new movie which opens nationally on July 20th. It's the candy colored treat y'all have been waiting for…well, that and Ryan Gosling as Ken and those poppin' abs of his.
SIFF Cinema is going all out for the Barbie premiere with a special party event on Thursday, July 20th at 7pm at SIFF Cinema's beloved Egyptian Cinema on Capitol Hill…there will be photo opps on the PINK Carpet and cupcakes and…well, all the Barbie glamour you live for!
It's also the last day before Capitol Hill Block Party madness descends on the Hill so take this moment to enjoy CH before the suburban masses make their assault!
Some more poo:
C'mon Barbie, let's go… to the Egyptian!
Dress in your Barbie best and join us for SIFF Cinema Barbie World–our Barbie opening night event featuring:

photo ops on the pink carpet

free Barbie-esque cupcakes courtesy of Trophy Cupcakes

Barbie-themed trivia and giveaways

and more Barbiecore surprises in store
Thursday, July 20 · 7:00pm · SIFF Cinema Egyptian
Tickets: $14 ($9 SIFF members)
Go to https://www.siff.net/cinema/in-theaters/barbie to snag tickets to the opening party or any other screening at the Egyptian. I think it VERY likely that the party event will sell out, so don't dawdle in snagging a ticket if you want your Barbie fix and a pink cupcake.
AND, and also don't forget about Oppenheimer, the other big movie opening that weekend…a lot of folks of made a big deal about these two very disparate films opening against each other. Even the filmmakers have played along; there was a photo the other day of Barbie star Margot Robbie and director Greta Gerwig posing with their tickets to Oppenheimer in front of the film's poster.
SIFF is even offering up a fun "BARBIEHEIMER" t-shirt you can buy. (And, the film is playing at their Uptown Cinema) Check that out: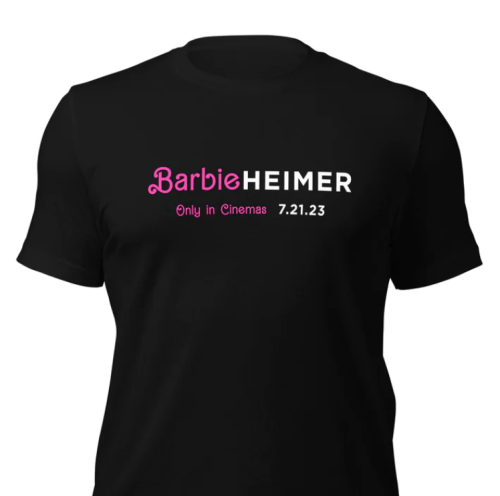 COMMEMORATE YOUR SIFF BARBIEHEIMER EXPERIENCE
As you know, Christopher Nolan's Oppenheimer opens the same day and we're presenting it on 35mm at the Uptown. Ready to Barbieheimer with us? Commemorate your Barbie and Oppenheimer viewings with our limited edition Barbieheimer t-shirts, exclusively at siffshop.net for July only.
(Visited 216 times, 1 visits today)