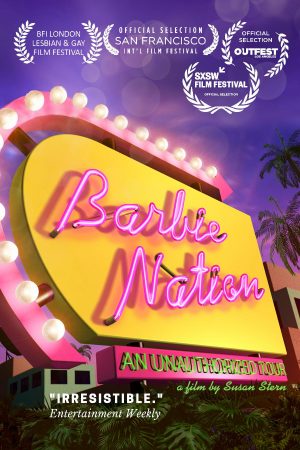 Just in time for the release of the widely anticipated Barbie movie starring Margot Robbie as our favorite 60 year old fashion doll, comes the re-release of the Barbie documentary. It's also the 25th anniversary of BARBIE NATION, the non-fiction film made by Susan Stern who told the history of Barbie, up to that point, featuring interviews with Barbie's creator Ruth Handler.
RuPaul also managed to sneak into this doc…too bad it was made long before the stardom of Trixie Mattel, the superstar drag queen who WORSHIPS Barbie (and is a major collector).
Didjaknow that Barbie was based on a German novelty doll (not meant for kids) named "Lilli" who was actually a representation of a call girl (sex worker)? The first Barbie looked JUST like Lilli with that minx like sex kitten look before Barbie mutated over the years into a perky California blond.
I miss whorey Barbie!!! She was great! My Aunt Billie had one of the first Barbies and little Strangeways LOVED dressing her up! (While some of my older relatives undoubtedly rolled their eyes and murmured, "oh, dear….")
Barbie Nation will be available on demand starting Tuesday, June 27th…Barbie the movie opens in theaters nationally on July 21st.
More poo:
Before there was Greta Gerwig's Barbie, there was BARBIE NATION, an iconic cult classic set to make its highly-anticipated online debut on Tuesday, June 27 in an enhanced Director's Cut version.

Barbie Nation fearlessly delves into the depths of Barbie's dreamhouse, intimately exploring the peculiar ways in which people have embraced Barbie throughout history – and the doll's own saucy rise from a German sex toy to the savior of Mattel.

For the very first time, this captivating hidden gem will be readily accessible, offering an all-new scene featuring the cherished 'Black Barbie'. Immerse yourself in the enchanting world of Barbie Nation, bear witness to the extraordinary evolution of a cultural phenomenon, and discover the secrets behind the enduring allure of Barbie.
AND, of course Mattel has releasesd a new line of Barbie dolls based on the new film…so, if you've dreamed of owning Barbie dolls that look exactly like Margot Robbie and sorta/kinda/not really like Ryan Gosling as Ken, then you're in luck!
Snatch the new Barbie line at: https://creations.mattel.com/pages/barbie-the-movie
(Visited 93 times, 1 visits today)