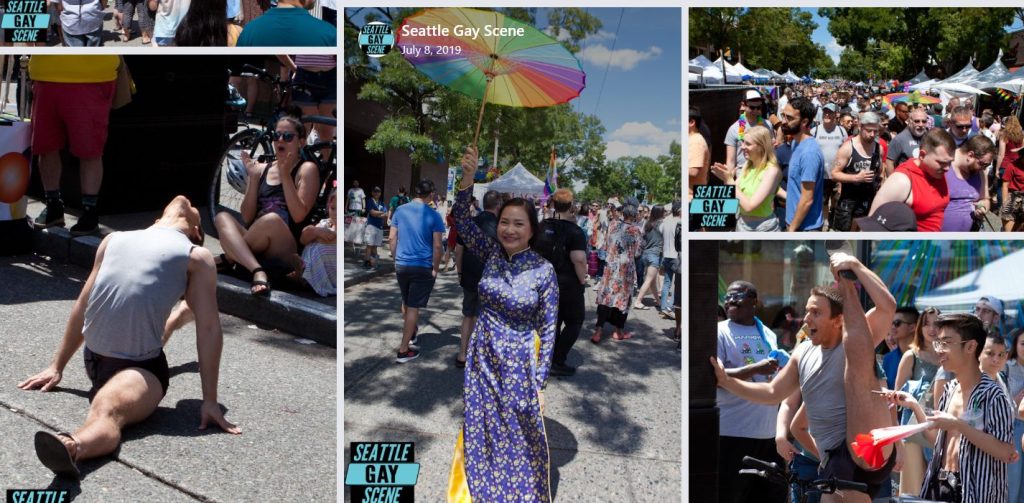 People LOVE walking down the middle of what is normally a busy traffic filled street. There's just something about being in that 'forbidden zone' that satisfies a part of our urban soul. That and browsing at booths for non-profits offering useful information on a myriad of subjects and/or shopping for t-shirts/dreamcatchers/candles and other assorted bric a brac from local shoppes.
So, naturally, the Pride Saturday event on Capitol Hill, our traditional LGBTQ+ neighborhood that most of us have been priced out of actually living in, is one of the most popular Seattle Pridey events every year. It's actually not super old, only dating from the mid 2000s….after official Seattle Pride events decamped downtown/Seattle Center, the annoyed merchants of Capitol Hill banded together to form a new opportunity for folks to come to the Hill on Pride Weekend and help all those local businesses earn some dough. Those early Capitol Hill pride events were started by the then functioning Seattle Lesbian and Gay Community Center in partnership with Seattle Gay News and Capitol Hill business associations and while it was pretty DIY, people still very much liked walking down the middle of Broadway and saying hello to folks they hadn't seen for a year.
As is usually the case, the official Seattle PrideFest folks eventually took over the event (though the ghost of the earliest version of the event still survives as the Capitol Hill Pride event which takes place at Seattle Central College's plaza at Pine and Broadway). It's a bit bigger and more professionally organized but it's still your basic street festival with performance stages full of local drag queens, djs, and dogs in drag. There's plenty of booths and every restaurant and bar on Broadway has an outdoor eating/drinking area.
Oddly, not everyone seems to partner up to share the wealth of the festival. Popular cabaret bistro Julia's on Broadway, home of the very long running drag show LeFaux has had a stage on the street for years but it's not listed on any official maps of the Capitol Hill PrideFest event. There's also talent to be found at many of the businesses on Broadway including Lifelong's Thrift Store at ​312 Broadway East who have some really terrific local performers on hand including Connie & the Precious Moments, drag star Mona Real and drag band Camp Napalm. Frankly, the talent at the "indie" stages can be a lot more interesting and creative than the programming at the "official" stages but that's usually the case. Indie is always more interesting than mainstream…but, to be fair, they have to program for middle of the road sensibilities.
Meanwhile, over on the Pike/Pine corridor side of Capitol Hill on the other side of Cal Anderson Park, that area's LGBTQ+ bars all have big street festivals happening all three days of Pride Weekend with Queer Bar's starry festival (CHARO!!!!! PEACHES!!!!! BETTY WHO!!!!! TRIXIE MATTEL!!!!!) being the fanciest/priciest but also Cuff Complex's down and dirty (and, let's be frank, mostly programmed for horny gay men) Pride party who enjoy gay porn stars dancing on a milk crate. There's also The Wildrose's beloved annual 'Bush Gardens' festival for the Ls in our alphabet soup. Unicorn has a funky little street party now with two stages and lots of local talent…. and for those with a tiny budget (or, are very cheap) who don't need none of that fancy live entertainment nonsense there's the frugal joys of Union's Pride Festival which has no cover…just booze and a dj.
Here's some useful maps and schedules for the mainstream PrideFest stages…there's three of them: Main, Rainbow, and Family.
Wear comfy shoes! Hydrate! Wear sunscreen!
(Visited 91 times, 1 visits today)