Still not sure what to do for Pridey fun in Seattle for Friday, June 23rd? We can help you out! Our bigass Seattle Gay Scene Calendar is crammed FULL of events for Friday! And, Saturday! And, Sunday! And, everyday of the week all year long! It's the best, most comprehensive LGBTQ+ events calendar in town! Check out our great calendar 365 days a year at https://seattlegayscene.com/calendar-2/
There's so many different kinds of events today…lots of drag shows of course but also dance parties and arty farty things and more street parties than you can throw a stick of butter at! There's events programmed for all kinds of folks: lesbians, indigenous people, trans folk, bears, horn dogs, etc.
Click on links for each event for more info. Obviously, some of these things will be sold out. Check social media for individual venues/events for most up to date info!
Events for June 23, 2023
3:00 PM
June 23 @ 3:00 pm – 10:00 pm
Harry's Fine Foods, 601 Bellevue Ave East
Seattle, WA 98102 United States + Google Map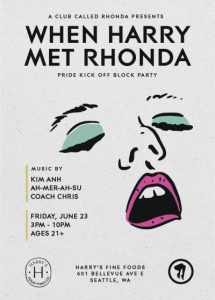 A Seattle Pride kick-off block party introducing A Club CalledFind out more »
3:30 PM
June 23 @ 3:30 pm – 7:00 pm
Hula Hula, 1501 E. Olive Way
Seattle, WA 98122 United States + Google Map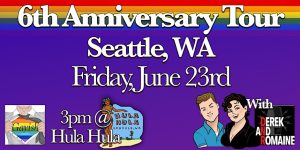 Live podcast taping and meetup! Collab with Derek & Romaine.Find out more »
4:00 PM
June 23 @ 4:00 pm – 8:00 pm
Waterfront Park/Pier 62, 1951 Alaskan Way
Seattle, WA United States + Google Map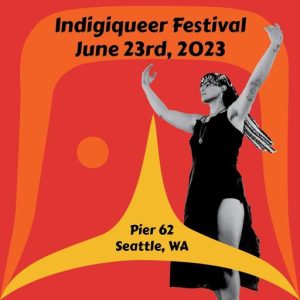 Fri Jun 23rd 4:00pm – 8:00pm Pier 62, 1951 Alaskan Wy,Find out more »
June 23 @ 4:00 pm – 2:00 am
|Recurring Event (See all)
Union Seattle, 1009 East Union Street
Seattle, WA 98122 United States + Google Map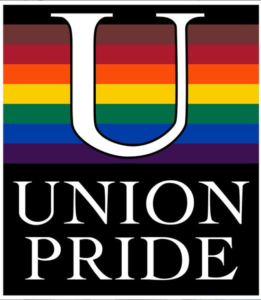 Every year join your friends and neighbors for a block partyFind out more »
5:00 PM
June 23 @ 5:00 pm – 6:30 pm
|Recurring Event (See all)
Ghost Alley Espresso, 1499 Post Alley
Seattle, WA 98101 United States + Google Map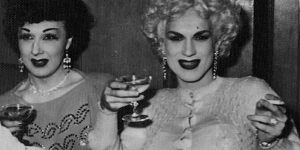 A 90 minute walking tour, starting @ Pike Place MarketFind out more »
June 23 @ 5:00 pm – 1:30 am
The Crescent Lounge, 1413 E Olive Way
Seattle, 98122 United States + Google Map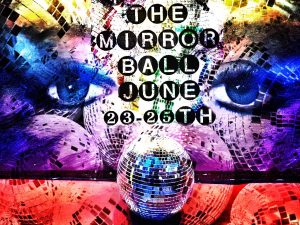 !Mirror Ball weekend! Friday June 23ed -friGAY karaoke showcase! TheFind out more »
June 23 @ 5:00 pm – 9:00 pm
Kremwerk, 1809 Minor Ave
Seattle, WA 98101 United States + Google Map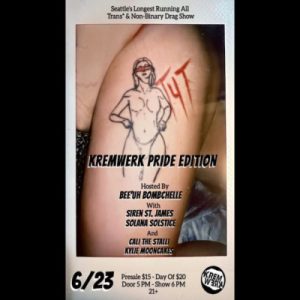 Euphoria – Drag – T4T T4T is the longest runningFind out more »
June 23 @ 5:00 pm – 10:00 pm
Timbre Room, 1809 Minor Ave.
Seattle, 98101 United States + Google Map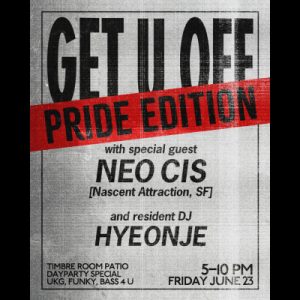 Join us Friday, June 23rd, for for the a veryFind out more »
6:00 PM
June 23 @ 6:00 pm – 11:00 pm
|Recurring Event (See all)
The Wildrose, 1021 E Pike St
Seattle, WA 98122 United States + Google Map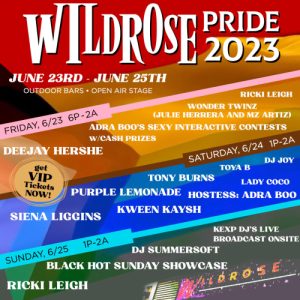 WILDROSE PRIDE 2023 June 23, 24, 25 1021 E. PikeFind out more »
June 23 @ 6:00 pm
Block 41 Event Venue, 115 Bell St
Seattle, WA 98121 United States + Google Map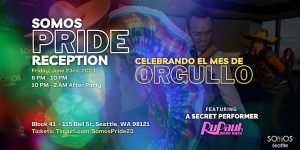 Kick off your Pride weekend with the ultimate Queer LatinxFind out more »
June 23 @ 6:00 pm – 12:00 am
Queer Bar, 1518 11th Ave
Seattle, 98122 United States + Google Map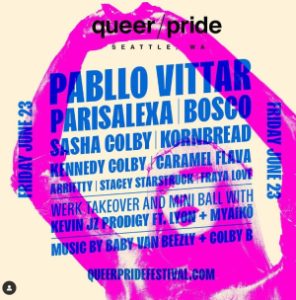 Pride Friday we're kicking off the ultimate weekend with headliner @pabllovittar ,Find out more »
June 23 @ 6:00 pm – 12:00 am
|Recurring Event (See all)
The Unicorn, 1118 E Pike St
Seattle, WA 98122 United States + Google Map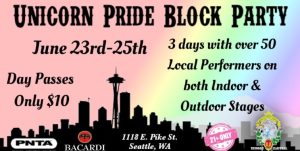 We are gearing up for the Unicorn Pride Block Party!Find out more »
June 23 @ 6:00 pm – 9:30 pm
Volunteer Park, 1247 15th Ave E
Seattle, WA 98112 United States + Google Map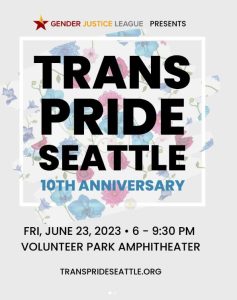 FRI, JUNE 23, 2023 • 6 – 9:30 PM VOLUNTEERFind out more »
June 23 @ 6:00 pm – 9:30 pm
Kremwerk, 1809 Minor Ave
Seattle, WA 98101 United States + Google Map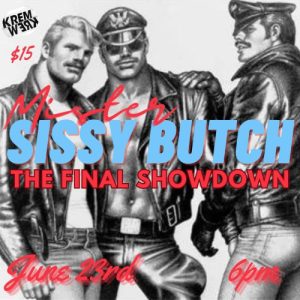 Sissy Butch: A Transmasculine Showcase Presents The Mister Sissy ButchFind out more »
6:30 PM
June 23 @ 6:30 pm – 9:30 pm
The Wildrose, 1021 E Pike St
Seattle, WA 98122 United States + Google Map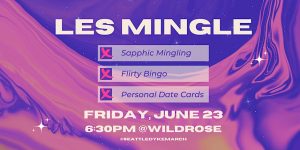 Meet, mingle and flirt at LES MINGLE with the SeattleFind out more »
June 23 @ 6:30 pm – 10:30 pm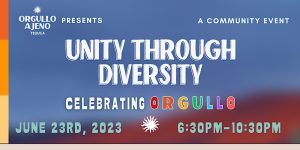 Unity Through Diversity – A pride celebration with Orgullo AjenoFind out more »
7:00 PM
June 23 @ 7:00 pm – 8:30 pm
|Recurring Event (See all)
Julia's on Broadway, 300 Broadway E
Seattle, WA 98102 United States + Google Map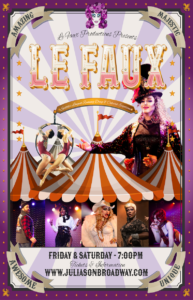 LE FAUX SHOW A celebrity impersonation/burlesque show featuring a fullFind out more »
June 23 @ 7:00 pm – 12:00 am
The Cuff Complex, 1533 13th Ave
Seattle, WA 98122 United States + Google Map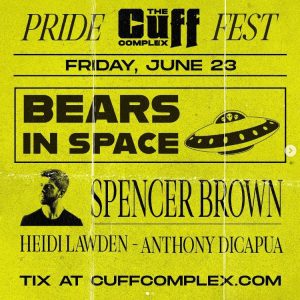 Pride Friday we're blasting off with @bearsinspaceuniverse   Featuring @spencerbrownofficial @heidilawden & @anthonydicapFind out more »
8:00 PM
June 23 @ 8:00 pm – 10:00 pm
|Recurring Event (See all)
Club Comedy Seattle, 340 15th Ave E #201
Seattle, WA 98122 United States + Google Map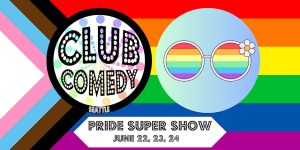 It's our Pride Super Show Featuring a Cabaret of Comedy.Find out more »
June 23 @ 8:00 pm – 10:00 pm
|Recurring Event (See all)
Northwest Film Forum, 1515 12th Ave
Seattle, WA 98122 United States + Google Map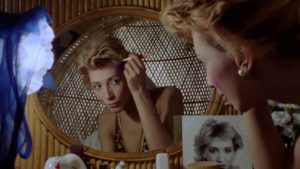 June 21–25 & 29 | Dressed in Blue (Vestida de azul) AFind out more »
June 23 @ 8:00 pm – 9:30 pm
|Recurring Event (See all)
The Unicorn, 1118 E Pike St
Seattle, WA 98122 United States + Google Map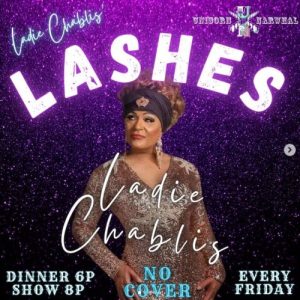 Unicorn is so excited to be the new home ofFind out more »
June 23 @ 8:00 pm – 12:00 am
The Teal Building, 619 East Pine Street
Seattle, WA United States + Google Map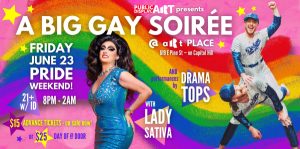 PublicDisplay.ART invites you to the biggest and most fabulous partyFind out more »
June 23 @ 8:00 pm – 2:00 am
Cc Attle's, 1701 E Olive Way
Seattle, 98102 United States + Google Map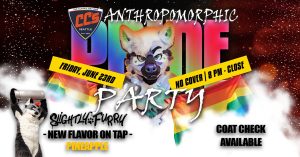 Come out in your Fursuit/Mursuit/Kigu, show off a Fursona, orFind out more »
June 23 @ 8:00 pm – 9:30 pm
|Recurring Event (See all)
eXit Space/NOD Theatre, 1621 12th Ave
Seattle, WA 98122 United States + Google Map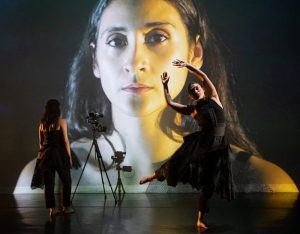 How can we find the time to pause, memorialize, andFind out more »
8:30 PM
June 23 @ 8:30 pm – 11:30 pm
Comedy/Bar, 210 Broadway East
Seattle, WA United States + Google Map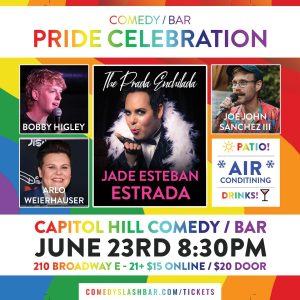 Las Vegas headliner (Sapphire Comedy Hour) Jade Esteban Estrada akaFind out more »
9:00 PM
June 23 @ 9:00 pm – 12:00 am
Clock-Out Lounge, 4864 Beacon Ave S
Seattle, 98108 United States + Google Map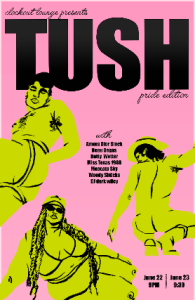 Fri Jun 23 2023 9:30 PM (Doors 9:00 PM) Clock-OutFind out more »
June 23 @ 9:00 pm – 3:30 am
The Seattle Eagle, 314 E Pike St.
Seattle, 98122 United States + Google Map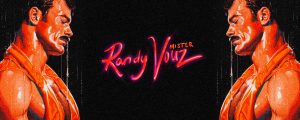 Hello Mr. Vouz, Ready for to turn out the lightsFind out more »
June 23 @ 9:00 pm – June 24 @ 4:00 am
|Recurring Event (See all)
Neighbors Nightclub, 1509 Broadway
Seattle, WA 98122 United States + Google Map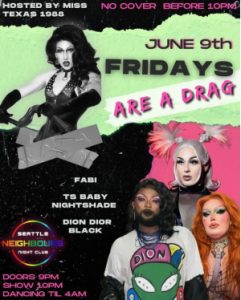 Don't miss FRIDAYS ARE A DRAG – 9pm doors 10pmFind out more »
June 23 @ 9:00 pm – 12:00 am
Neumos, 925 E Pike St
Seattle, WA 98122 United States + Google Map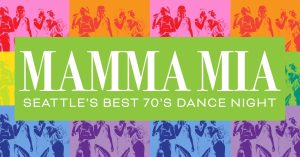 Neumos Presents MAMMA MIA DJ Disco Dinny + Live PerformanceFind out more »
June 23 @ 9:00 pm – 1:30 am
Vermillion Art Gallery and Bar, 1508 11th Ave
Seattle, 98122 United States + Google Map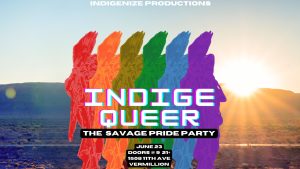 INDIGEQUEER PRIDE: STAY SAVAGE Get ready for a night ofFind out more »
June 23 @ 9:00 pm – 2:00 am
Kremwerk, 1809 Minor Ave
Seattle, WA 98101 United States + Google Map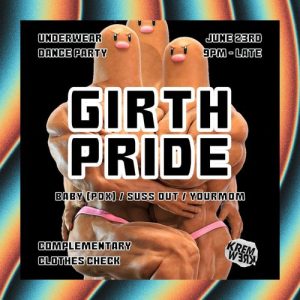 Kremwerk Pride Present: GIRTH PRIDE Strut, flaunt, and flex theFind out more »
June 23 @ 9:00 pm – 2:00 am
Cherry @ Kremwerk Complex, 1809 Minor Avenue
Seattle, WA 98101 United States + Google Map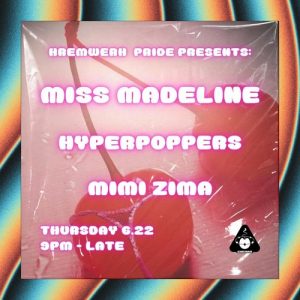 Miss Madeline is a sexy, fierce individual who embodies theFind out more »
June 23 @ 9:00 pm – June 24 @ 4:00 am
Supernova Seattle, 110 South Horton Street
Seattle, WA 98134 United States + Google Map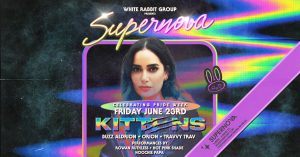 White Rabbit Group Presents: KITTENS June 23rd, 9:00pm – 4:00amFind out more »
June 23 @ 9:00 pm – 2:00 am
|Recurring Event (See all)
Dragster, 456 North 36th Street
Seattle, WA 98103 United States + Google Map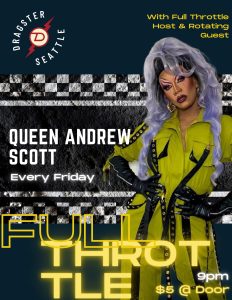 FULL THROTTLE FRIDAY 9:00 PM 2:00 AM Dragster Seattle (map) GoogleFind out more »
June 23 @ 9:00 pm – 2:00 am
Pony, 1221 E Madison St
Seattle, WA 98122 United States + Google Map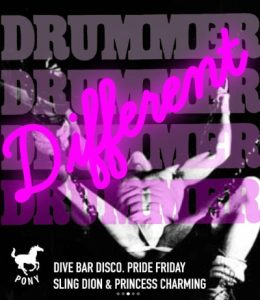 PRIDE 2023 ANNOUNCEMENT. We've got a huge weekend planned forFind out more »
June 23 @ 9:00 pm – 2:00 am
The Lumber Yard Bar, 9630 16th Ave SW
Seattle, WA 98106 United States + Google Map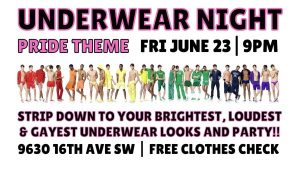 It's Pride Month so that means an extra special editionFind out more »
10:00 PM
June 23 @ 10:00 pm – 12:00 am
Jewelbox Theater at The Rendezvous, 2322 2nd Ave
Seattle, WA 98121 United States + Google Map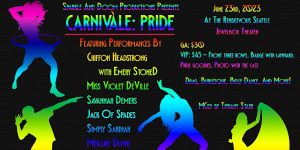 Come join us for a night of unapologetically gay andFind out more »
June 23 @ 10:00 pm – 2:00 am
Julia's On Broadway, 300 Broadway E
Seattle, WA United States + Google Map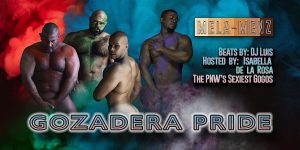 Join the Hottest Latin Dance Party during Pride! Immerse yourselfFind out more »
June 23 @ 10:00 pm – 2:00 am
Timbre Room, 1809 Minor Ave.
Seattle, 98101 United States + Google Map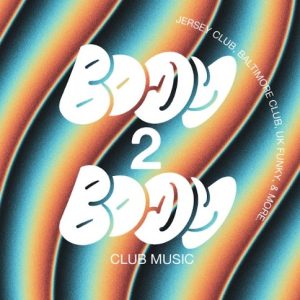 Kremwerk Pride Presents Body 2 Body Friday | June 23ndFind out more »
June 23 @ 10:00 pm – 2:00 am
No Bad Days Gallery, 701 East Pike Street
Seattle, WA United States + Google Map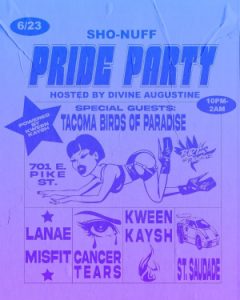 SHO-NUFF: Seattle's Newest & Hottest LGBTQIA+ party, centering Black, Brown,Find out more »
(Visited 147 times, 1 visits today)