MISS MADELINE W/ HYPERPOPPERS & MIMI ZIMA @ Cherry Seattle/Kremwerk
June 23 @ 9:00 pm

-

2:00 am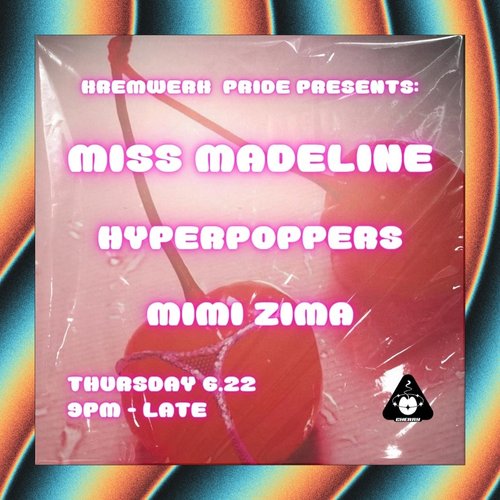 Miss Madeline is a sexy, fierce individual who embodies the life of the party. With her captivating persona, she inspires admiration and aspiration. Aspiring to achieve pop stardom, she has always been drawn to the world of pop music and pop stars. Growing up as a dancer, she idolized them and believes that pop music offers an escapism, allowing people to indulge in their secret fantasies and enter the fun and flirty world of pop. She wants listeners to feel confident, like the center of attention, and embrace both the reckless and vulnerable aspects of the pop fantasy dream world.
HYPERPOPPERS
HYPERPOPPERS kick-started his career opening for a virtual Brazilian Hyperpop Festival with Allie X and Ru Paul's Drag Race season 10 winner, Aquaria. Now, he's emerged from the cyber world to help create an IRL queer party called HYPER at Cherry. Some say his sound has brought together pop kids and rave kids alike—nostalgic futurism that continues to raise the BPM and our expectations. HYPERPOPPERS is inspired by the pioneers of hyperpop, SOPHIE and A.G. Cook, as well as the queen of future pop herself, Charli XCX, who helped make the sound more mainstream. You can catch him dancing to his own music, and hyping the crowd wherever he goes. HYPERPOPPERS is a guaranteed good time.
Mimi Zima
Best known for her original music and deranged drag performances, Seattle DIY/queer nightlife staple and NECK resident Mimi Zima took an interest in DJing after the unexpected viral success of her underground rave hit "Back of the Truck." Eschewing overt seriousness with her refreshing, bubbly perspective and her wide range of flavors, she blends techno, house, and electro cuts with bangers from her favorite pop divas and left-field curveballs, offering dancers a taste of pleasure with no guilt.
(Visited 1 times, 1 visits today)
Related Events