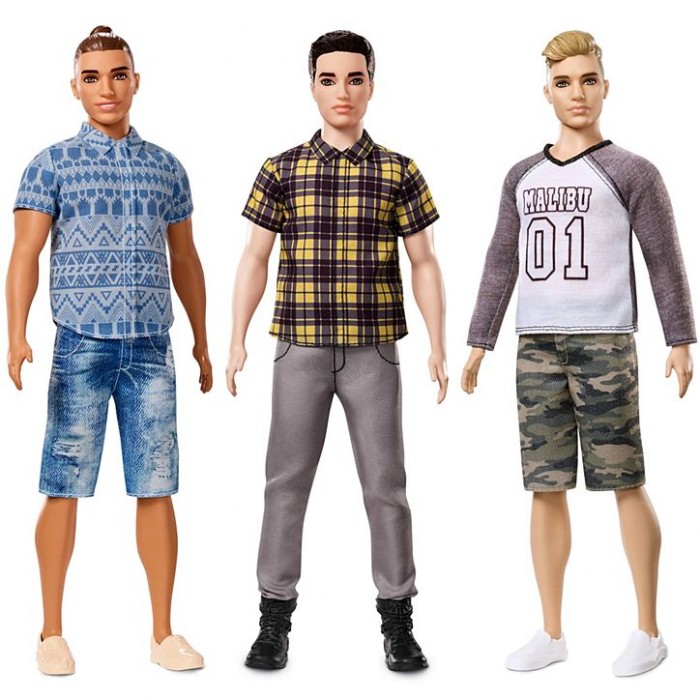 Finally….a Ken Doll who looks like ME!!!
Well, no. They didn't create "Chubby Middle Aged Bitter Old Bear Ken" but if you're into hairless, lookalike twink types who pretty much all have the same vapid facial expression but in THREE different skin tones, then YES there is some representation going on here thanks to Mattel updating Barbie's main man, Ken after their previous makeover of Barbie herself.
They just released the Press Release on Tuesday…Mattel's Fashionistas line has updated Ken with three body type options: skinny, original and vaguely but not really beefy, as well as seven skin tones, eight hair colors, nine hairstyles and all sorts of  awful Urban Outfitter type outfits.
Frankly, they could have just named this line "Pass Around Twink Party Bottom Ken" and be done with it…
We keed, we keed…it is great that Mattel is giving ALL kids the option to play with dolls that represent a larger diversity than ever before. Sure, you can argue that they're not really reppin' people that are actually very "plus sized" but let's be real. How many people are actually gonna buy an obviously "chubby" doll? Even if their kid is chubby… As a lifelong chubbette, let me tell you that I would totally have NOT picked out "Type 2 Diabetes Ken" over "Muscle Daddy Ken" if I had those options in 1970, er, whatever…
They also released some more Fashionista Barbie Dolls and we're LIVING for Big Afro Barbie…she is FIERCE!!
EL SEGUNDO, Calif., June 20, 2017 /PRNewswire/ — Today Barbie® announced the expansion of its Fashionistas® line with 15 new and diverse Ken® dolls, featuring three body types – slim, broad and original – and a variety of skin tones, eye colors, hairstyles and modern fashion looks. The new Ken dolls join an expanded Barbie® Fashionistas® line, making it the most diverse fashion doll line in the marketplace.

In 2016, Barbie introduced three new Barbie body types – tall, curvy and petite – along with new skin tones, eye colors, hairstyles and countless on-trend fashions and accessories.  The Barbie brand has always reflected the times, so modernizing Ken is the next step in the brand's evolution to offer more diverse products.

"By continuing to expand our product line, we are redefining what a Barbie or Ken doll looks like to this generation," said Lisa McKnight, Senior Vice President and General Manager, Barbie. "Evolving Ken was a natural evolution for the brand and allows girls to further personalize the role they want him to play in Barbie's world."

The line includes 15 new Ken dolls with three body types, seven skin tones, eight hair colors, nine hairstyles and modernized fashions, ranging from casual business attire to athletic wear. The brand is also introducing 25 additional diverse Barbie dolls. These dolls join the 100+ diverse looks launched in the Barbie Fashionistas line in the last three years.

The Barbie Fashionistas segment continues to exceed expectations, as sales of the line see high double-digit growth globally and was named "Doll of the Year" at the Toy Industry Association's Annual T.O.T.Y. Awards. Diversity continues to roll out across brand content, marketing and product, including the Fantasy, Entertainment and Careers segments.

The new Fashionistas launch at retailers nationwide and "The New Crew" can be seen on www.Barbie.com.  For more information and images, please visit BarbieMedia.com.
Tags: Barbie.com, Diversity in Toys, Fashionistas, Ken Doll, Mattel