Seattle Pride is making back up plans in case this Sunday's Seattle Pride Parade faces anti-corporate protesters.
The Board of Directors for Seattle Pride, the non-profit community organization formerly known as Seattle Out and Proud who produce the annual Pride parade and other events, sent out an email today to all their business partners and sponsors addressing the issue of organized protests disrupting the parade to be held Sunday morning, June 25, 2017 along 4th Avenue in downtown Seattle. The popular annual event which routinely draws over a 100,000 people is being targeted by the Seattle chapter of the "No Justice, No Pride" group.
"No Justice, No Pride" received national attention earlier this month when they successfully protested at Washington D.C./Capital Pride on June 1oth. Protesters barricaded themselves along the parade route resulting in the re-routing of the parade. The group released a list of demands that included demands that Capital Pride be more inclusive towards the Trans community, Queer People of Color, Indigenous people and oppressed communities as well as restrictions on participation in the parade by Police or any Military organizations. And, a main target in their demands was a call to restrict Corporate entities from participating in Capital Pride.
Capital Pride will bar corporate entities that inflict harm on historically marginalized LGBTQ2S people from participation in Pride events. This will happen by:

Barring all industries that profit from war, detention and incarceration, environmental destruction, evictions, community displacement and Israel's oppression of Palestinians from participation in Capital Pride events.
Restricting all corporate branding and signage in future Capital Pride events.
Creating transparent and robust standards for screening corporations that wish to support Capital Pride.
Immediately cutting ties with Wells Fargo, Lockheed Martin, BAE Systems, Leidos, Northrop Grumman, and any other defense contractors. Transfer Capital Pride funds to an account with a local credit union.
Immediately cut ties with Wells Fargo and defense contractors and donate any and all funds from them to local community based organizations that support queer, trans, two-spirit and Muslim communities.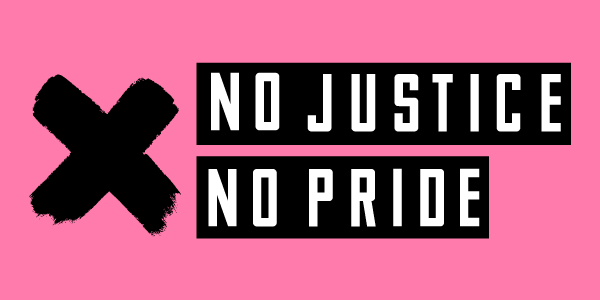 Now, per the email sent out by Seattle Pride, a group claiming to be a Seattle branch of the original D.C. based protesters is threatening to disrupt the Seattle parade. Seattle Pride informs their sponsors that they do have plans in place for alternate routing if such a disruption occurs.
From the Seattle Pride email:
Should an interruption of this year's Pride Parade occur, the parade security and volunteers will re-route us according to our alternate-route planning procedures. Please plan to follow the instructions of your designated volunteers and marshals.

However, we hope the attached public statement may prevent a Parade interruption here in Seattle. In the statement, Seattle Pride reaffirms that all of our business partners make possible our annual Seattle Pride Parade celebration and events, and they do so for the right reasons: to engage with local LGBTQ communities, support the advancement of our rights movement, and celebrate our shared victories including their own progress in LGBTQ diversity and inclusion. We reference the recent gay marriage decision and the fight for trans equality for public restrooms in Indiana and North Carolina as ready examples of business-LGBTQ partnerships that advanced our movement for equality.

We also reiterate the other opportunities to engage in this important discussion this year, including the recent Rally and March for Unity and Equity on June 11, and our upcoming townhall forum on this topic, open to the public on the Thursday before Pride, June 22, at the Frye Museum, 5:30-8 pm (https://www.facebook.com/events/1816459608681308).

Following Pride this year, we have also proposed an open-format public meeting on this topic between members of our local LGBTQ communities and representatives of our long-time business partners. We hope you will consider joining us – more information to come.

Seattle Pride will continue to partner with local and national business who support us and the diverse LGBTQ communities we serve. The mission of Seattle Pride is to bring our communities together under the broad inclusive tent represented by the rainbow flag. Our parade theme this year is #Indivisible. Thus, we will not exclude any business partner or LGBTQ employees of those partners from participating in the parade, and we seek to avoid any disruption of the Seattle Pride Parade celebration on June 25 by fostering other opportunities for dialogue.

Thank you all again for your support and we hope you will join us in this ongoing discussion,

The Board of Directors for Seattle Pride
It's interesting to note that Seattle Pride vows to hold "an open-format public meeting on this topic between members of our local LGBTQ communities and representatives of our long-time business partners…" Following last year's scandal  that involved then Seattle Pride President Eric Bennett angering the community over denying employees of Alaska Airlines from marching in the 2016 parade due to Delta Airlines becoming the official Seattle Pride airline sponsor, community leaders demanded a public meeting with Seattle Pride. At that June 1, 2016 meeting, Seattle Pride board members said they were responsive to community demands for better communication including calls for semi regular community meetings but to date, have failed to reach out to community media outlets to actually hold such events. Which raises questions, yet again, if Seattle Pride is at all interested in serving the needs of Seattle's LGBTQ community….other than its corporate sponsors.
Tags: No Justice No Pride, seattle pride, Seattle Pride Anti-Corporate Protest, Washington DC Pride, Wells Fargo