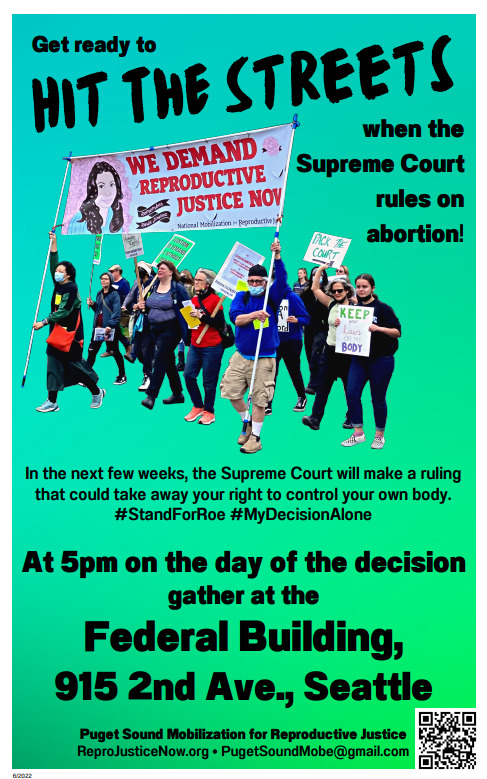 It's a sad day in the U.S. as women's reproductive rights take a big hit from the U.S. Supreme Court who in a stunning 6 to 3 decision, overturned the Court's own Roe v. Wade ruling from 1973 which gave women in this country the right to have an abortion.
The news wasn't entirely unexpected as news had leaked from the Court weeks before today's announcement. But, the anger and shock is still being felt as millions of Americans take to social media to vent their anger at the decision. It follows announcements earlier this week that the right wing conservative packed Court was making its power felt with other decisions that hobble efforts at gun control and give church backed schools access to government funding.
Among many groups, the Human Rights Campaign issued a statement about today's news:
Today, the Human Rights Campaign (HRC), the nation's largest lesbian, gay, bisexual, transgender and queer (LGBTQ+) civil rights organization, blasted the Supreme Court's dangerous and extreme decision in Dobbs v. Jackson Women's Health, a case that challenged a Mississippi law that bans abortion after 15 weeks of pregnancy. The state directly asked the Court to overrule Roe v. Wade and Planned Parenthood v. Casey, the two cases that set the legal precedent to abortion rights in 1973 and 1992 respectively.

In a 6-3 decision, the Court ruled in favor of Mississippi, upholding the 15-week abortion ban and also eviscerated Roe v. Wade erasing the constitutional right to safe, legal abortion access. This decision will have a devastating impact on reproductive freedom for women, non-binary individuals and transgender men.

Interim President of The Human Rights Campaign, Joni Madison, issued the following statement:
Earlier this month, HRC released a fact sheet that highlights the importance of the protections enshrined in Roe v. Wade to members of the LGBTQ+ community. The data shows that LGBTQ+ women who have been pregnant are more likely to have had unwanted or mistimed pregnancies than heterosexual women and are more likely to need abortion services as well. Specifically, the report found Lesbian (22.8%) and bisexual (27.2%) women who have been pregnant are more likely than heterosexual women (15.4%) who have been pregnant to have had an abortion according to a new analysis of the 2017-2019 National Survey for Family Growth (NSFG) conducted by the Human Rights Campaign Foundation.
GLAAD President/CEO Sarah Kate Ellis, head of the largest LGBTQ+ media group issued this statement:
"The message here is clear and distressing: Americans are losing protected access to abortion, a constitutional right they have valued for nearly fifty years, and other rights to personal liberty are at risk too. The anti-abortion playbook and the anti-LGBTQ playbook are one and the same. Both are about denying control over our bodies and making it more dangerous for us to live as we are. Both divide our country into free and less free, the opposite of what the United States should be. Our bodies, healthcare and our future belong to us, not to a meddling politician or extremist Supreme Court justices, and we will fight back."
The governors of the three west coast states, (Washington's Jay Inslee, Oregon's Kate Brown and California's Gavin Newsom) issued a "Multi-State Commitment to defend access to reproductive health care, including abortion and contraceptives, and committed to protecting patients and doctors against efforts by other states to export their abortion bans to our states."
Governor Jay Inslee's statement:
And, Justice Clarence Thomas made it clear that he and other right wing justices plan on overturning previous Court decisions that struck down Sodomy laws and gave same sex couples the right to marry.
Not surprisingly, social media is full of posts about protesting today's Supreme Court decision with most of the protests apparently planned to happen around 5pm and centered on Seattle's Federal Building at 915 2nd Avenue in downtown Seattle. Others are calling to make this Sunday's Pride Parade an opportunity to protest against the decision as well.
(Visited 1 times, 1 visits today)