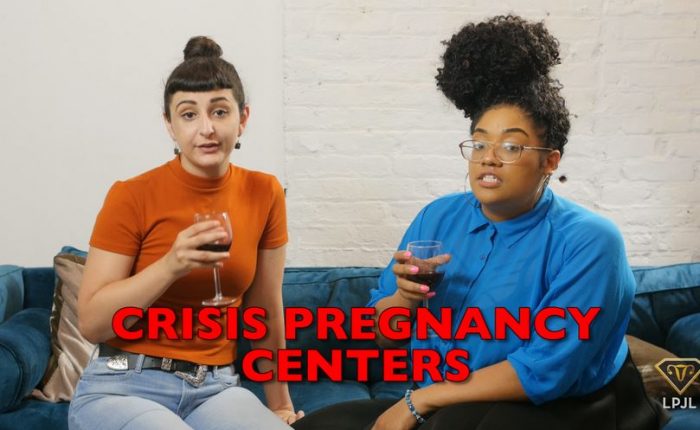 July 17th, 2017: Lady Parts Justice League and The Abortion Access Hackathon, in partnership with over 30 reproductive rights organizations, announce the launch of #ExposeFakeClinics— a national week-of-action running from July 17th – 26th, designed to engage activists to help expose the truth about fake reproductive healthcare clinics set up by anti-abortion extremists to discourage pregnant people from having abortions.
These sham clinics are known as Crisis Pregnancy Centers (CPC's) and there are close to 4,000 across the country versus only 780 clinics that provide abortion. In the US in 2013, 34 states CPCs were funded by taxpayer dollars, often those diverted away from programs designed for needy families.
CPC's use deceptive advertising that make vague claims that they will provide prenatal care and pregnancy options for women in need, but in reality, their sole mission is to coerce pregnant people to give birth by giving false information about the side effects of abortion or promising a wide range of pregnancy and childcare assistance they rarely deliver on.
"Feminist Army Activate: It's Time to Expose Fake Clinics" is a hilarious and terrifying video written and produced by Lady Parts Justice League (LPJL) for the #ExposeFakeClinics campaign. Using humor and outrage, this LPJL video brilliantly breaks down in detail the insidious tactics of CPC's.
The video also drives viewers to www.exposefakeclinics.com so they can access the #ExposeFakeClinic toolkit that includes simple and effective ways to join the movement in exposing the deceptive and dangerous tactics of these phony clinics during our week-of-action.
At www.exposefakeclinics.com everyone can find ways to participate online including accessing sharable infographics and memes with facts about CPC's or instructions on how to review and upvoting reviews on sites like Yelp that describe the actual "services"  CPC's provide. The #ExposeFakeClinics website also provides on the ground action items like printable signs, chants, and fact sheets about CPC's that activists can use to protest a CPC.
"Abortion providers are being outnumbered by unlicensed, unregulated crisis pregnancy centers. At its heart, this is a consumer protection issue," states Emily Loen, Co-Founder of the Abortion Access Hackathon. "The #ExposeFakeClinics campaign invites real people to share real experiences had with CPC's. Crowdsourcing truth is a powerful way to expose these fake clinics for what they are– anti-abortion centers posing as medical offices."
In addition to the video and the Week of Action, #ExposeFakeClinics also includes testimonials from a number of abortion providers on how CPC's have impacted their practice. 36 reproductive rights organizations from around the country have partnered with the #ExposeFakeClinics campaign including Abortion Care Network, National Network of Abortion Funds, NARAL Pro-Choice America, Shout Your Abortion, and Physicians for Reproductive Health to name a few. The Abortion Access Hackathon is tackling the issue of crisis pregnancy centers at their next Hackathon, Sept. 15-17, in New York City. Engineers, Designers, Law professionals and Reproductive Rights supporters of all experience levels are invited to register at AbortionAccessHackathon.com.
More information about #ExposeFakeClinics,
including specific calls-to-action and other partnering organizations can be found at www.exposefakeclinics.com
Week of Action FB page https://www.facebook.com/events/1945960292348032/
EFC FB page: https://www.facebook.com/exposefakeclinics/
ExposeFakeClinics.com
Week of Action July 17 – 26
Instagram @calloutfakeclinics
Tags: #ExposeFakeClinics, Abortion Rights, Lady Parts Justice League, Reproductive Rights, Women's Health Issues