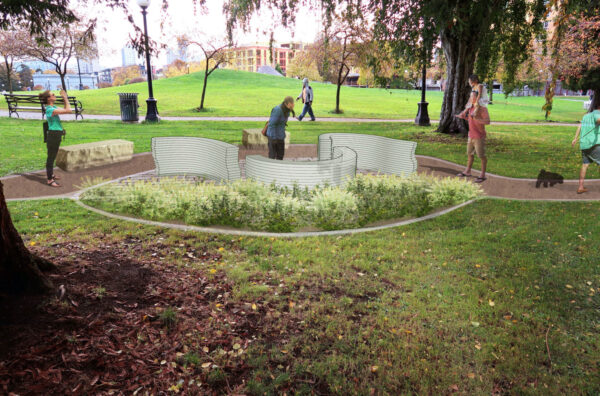 It took an extra year but the final piece of the Seattle AIDS Memorial Pathway project is completed and ready to be dedicated this Thursday, June 30th at the installation site at 920 E. Barbara Bailey Way on Capitol Hill adjacent to the Capitol Hill Light Rail Station and Cal Anderson Park.
Years in the making, the Seattle AIDS Memorial Pathway debuted 3 of the four components of the project a year ago in June of 2021 in a relatively low key event due to restrictions caused by the Covid-19 pandemic. (It was also the weekend of the "Heat Dome" with 100 degree tempertures). Since then, several of those pieces have become important landmarks for the community, especially "andimgonnamisseverybody" the official name for the large sculpture in the shape of a big "X" and made out of stereo speakers that stands in the plaza at the Capitol Hill Light Rail station and created by artist Christopher Paul Jordan.
Other popular pieces include "We're Already Here" which consists of colorful protest signs, scattered around the plaza and the adjoining Cal Anderson Park.
On Thursday, the final piece will be officially "open" for the world…it's Horatio Hung‑Yan Law's "Ribbon of Light", laminated glass scupltures which will light up at night and located on the park side of Barbara Bailey Way (aka Denny Way) between 10th Avenue East and 11th Avenue East. The project was delayed for months due to fabrication delays).
Map showing the locations for all the components.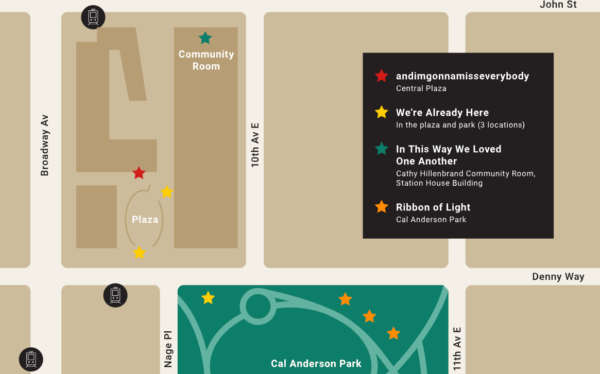 The public is invited to an opening ceremony on Thursday at 8pm. Horatio Hung‑Yan Law will be present and remarks will be made by the artist and representatives from the AMP Project and Gay City: Seattle's LGBTQ+ Center.
More info!
Hear brief remarks from Horatio, Gay City: Seattle's LGBTQ+ Center, and the Office of Arts and Culture. Enjoy some light entertainment and see the AMP in its completion.Remember to download the AMP app at theamp.org/artwork/augmented-reality-app

Horatio Hung-Yan Law was born in Hong Kong to Chinese parents and moved to the US at age 16. With this multi-cultural background, he has developed an artistic practice whose subjects include the Chinese immigrant's experience, reinterpretations of cultural icons, trans-cultural adoptions, the Iraq War, and the current culture of consumption. His work often tackles weighty subjects with ephemeral and unexpected materials, creating quiet, conflicting, meditative, and evocative works.

The AMP: AIDS Memorial Pathway uses public art and technology to create a place for remembrance and reflection in Seattle about the AIDS epidemic. Learn more and download the AMP app with augmented reality features at theamp.org

See the Art Beat Blog by the Office of Arts & Culture for more details: https://artbeat.seattle.gov/…/the-amp-artworks…/
(Visited 5 times, 1 visits today)